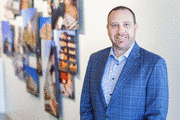 Brinkman Real Estate has promoted Pete Yoo to Chief Financial Officer. Yoo has spent his career in real estate accounting across various states leading financial planning and analysis for property management and REIT firms. He has been with Brinkman for six years, spending two years as Accounting Manager and the last four years as Director of Finance and Accounting. During his tenure, Yoo was mentored by Jane Everhart, who held the CFO role for seven years and has transitioned to the role of President for the company.
Pete's contributions over the last six years include leading the company's transition to a certified B Corp and expansion throughout the Intermountain Region.
As Chief Financial Officer, Yoo will take on a more strategic role in the overall management of the company. His primary responsibilities include managing all accounting and finance, forecasting, strategic planning and debt procurement of the company and its owned and managed assets.
Yoo holds a bachelor's degree in Accounting from Tulane University in New Orleans and a master's degree in Business Administration from DePaul University in Chicago.