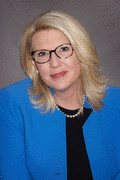 The Community Foundation of Northern Colorado Board of Trustees announces it has hired Kristin Todd to serve as president and chief executive officer. Kristin officially began her duties in Fort Collins on April 26.
She most recently served as executive vice president for the Denver-based Daniels Fund, one of the largest private foundations in the Rocky Mountain West, with assets of approximately $1.5 billion. Kristin, who joined the Daniels Fund staff in 2003, oversaw all aspects of the organization's grants program. Before the Daniels Fund, Kristin was associate vice president of El Pomar Foundation, based in Colorado Springs. She has served in multiple volunteer roles, including chair of the board at the Colorado Nonprofit Association and as a board member of Philanthropy Colorado, and played key leadership roles in advancing Colorado's philanthropic and nonprofit sectors.
The Trustees cited her history of executive leadership at foundations in Colorado, her experience in maximizing community impact through strategic philanthropy, and authentic collaboration as qualities that will serve the Foundation and its communities well. Kristin graduated from the University of Georgia, earning both magna cum laude and Phi Beta Kappa distinctions. She earned her master's degree in public administration with a concentration in nonprofit management from the University of Colorado.