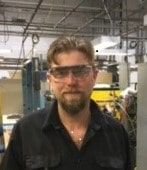 Whip Mix West welcomes Chris Fink to the company. Chris is the new Manual Machine Operator in the shop, reporting to Thomas Bender.
Chris comes to us from Front Range Community College in Longmont, Colorado. He hopes to finish his CAD/CAM schooling and his CNC training this December.
We are pleased to have Chris as a new team member of our Whip Mix West Team!