Emerging business leaders to be recognized Wednesday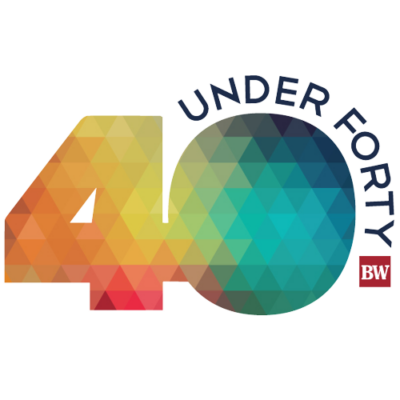 BERTHOUD — Top emerging business leaders from Northern Colorado and the Boulder Valley — 80 of them — will be feted at an award celebration Wednesday, Sept. 27.
For the first time, BizWest has merged its 40 Under Forty programs from the two regions, with 40 young and emerging business leaders from each region to be recognized. Award winners were nominated by their peers, employers or families and selected by panels of previous recipients of the award.
The event will be at Grace Place, 375 Meadowlark Drive in Berthoud, which has an indoor and outdoor event space just off U.S. Highway 287. Tickets are almost sold out but a few remain at $70; deadline for buying tickets is Friday.
This year's honorees from the Boulder Valley are:
Amanda Cole, Leadline Project Management.
Angelica Segura, The MELTprjct.
Brad Hugunin, Adams Bank & Trust.
Camila Uzcategui, Vitro3D.
Carla Colin, Latino Chamber of Commerce of Boulder County
Dakota Meshell, Eclipse Cannabis Co.
David Goldfarb, Berg Hill Greenleaf Ruscitti.
Drew Albee, Comprise.
Eliza Leach, Crestone Capital.
Elizabeth Froehlke, Berg Hill Greenleaf Ruscitti.
Emily Vogt, Venture Partners at CU Boulder.
Evy McUmber, The National Center for Atmospheric Research.
Garrett Chappell, Premier Members Credit Union.
Henry Vogt, Hazelett Marine.
Jamie Brandess, Boulder SBDC.
Jarrod Ferstl, Better Employee Benefits.
Jens Nicolaysen, Shinesty.
Jess Steinitz, Concord Direct.
Joey Azolfeifa, Arpeggio Biosciences.
Jorge Navarrete, BC Home Services.
Josie Bunch, Graduate School of Banking.
Kathleen Baker, Hexa Custom.
Kurt Miller, Cloud Campaign.
Laura Norris, Arpeggio Biosciences.
Laura Roecker, Front Range Community College.
Lawrence Myers, Berg Hill Greenleaf Ruscitti.
Layne McBride, The Colorado Group Inc.
Matt Hannon, Boulder County – Partners for a Clean Environment.
Maye Cordero, Boulder Chamber.
Melissa Christensen, Comprise.
Mike Hennesy, Wana Brands.
Mohamad El Gharamti, The National Center for Atmospheric Research,
Nick Larson, Brownstein Hyatt Farber Schreck.
Rachel Austefjord, Summit Commercial.
Rachel Garcia, Boulder Small Business Development Center.
Rachel Rohrig, Market Real Estate.
Rose Vasquez, Front Range Community College.
Sarah E. Brown, Sastrify and author.
Shay Castle, The Boulder Beat.
Sorin Thomas, Queer Asterisk Therapeutic Services.
Honorees from Northern Colorado are:
AJ Vasquez, Azteca Boxing Club.
Alea Rodriguez, Larimer County.
Alicia Ready, Elder Construction.
Amy Powell, Well Works.
Amy Tallent, Tallent Co Real Estate.
Andrea Samson, City of Loveland.
Bobby Barber, Institute for Shipboard Education.
Brandon Grebe, Uplift Development.
Collin Eisenhart, FMS Bank.
Crystal Vilkaitis, Crystal Media LLC.
Danielle Jordan, Palmer Flowers.
Debbie Swann, Colorado State University.
Dillon Thomas, CBS News Colorado.
Elizabeth Leos, RE/MAX Alliance.
Emily Francis, City of Fort Collins.
Giuliana Diaz, Beckman Coulter Life Sciences.
Hally Strevey, Coalition for the Poudre River Watershed.
Jamie Blanchard-Poling, Compost Queen.
Jaime Quinones, Farmers Insurance.
Jared Rivera, Verde Clean.
Jennifer Shoop, University of Northern Colorado.
Jerick Flores, Colorado State University.
Jordan Lockner, Collab Architecture.
Jordan Wagner, Country Kickup.
Katelynn Martinez, OneCanopy.
Katie Foster, Timnath Kids Dentistry.
Kendra Kellogg, Arula Consulting.
Kim Moeller, Alliance for Suicide Prevention.
Lauren Weller, CSU Spur Campus.
Maggie York, Linden Marketing.
Maria Cabrera, FirstBank.
Patrick Soukup, Soukup Real Estate Services.
Reed Miller, Northern Colorado Insurance Agency.
Solomon Howes, Backbone Fiber Systems LLC.
Stacie Sutter, Crossroads Safehouse.
Tatiana Zentner, CARE Housing.
Tatum Cochran, Horse & Dragon Brewing Co.
Tyler Jones, Larimer County.
Tyler Marr, City of Fort Collins.
Zaya Thompson, Millennium Financial.
The event starts at 4:30 p.m. and runs until 7:30 p.m.