Wells: Looking at factors that shaped real estate in 2021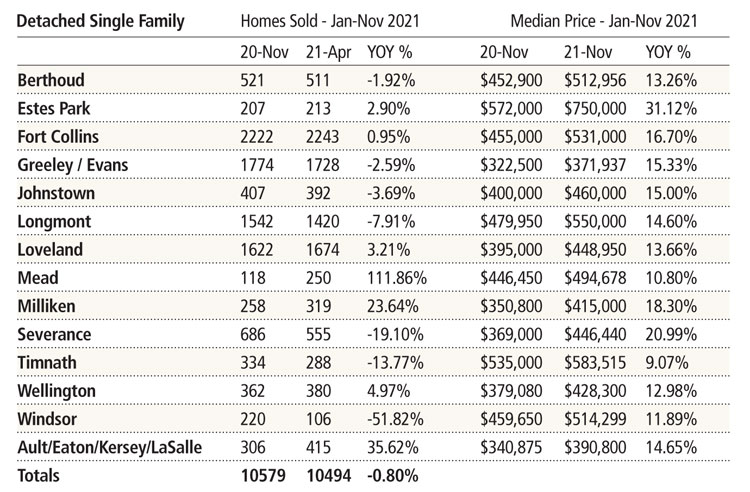 A
s we end the year it is important to reflect on what we discussed last January at our annual real estate forecast — those story lines we predicted would shape the landscape of 2021 and if they made an impact on the marketplace. Two themes we anticipated at the beginning of the year that would emerge across Northern Colorado were (1) that dust and dirt would fly and (2) that "supply chain" would be the word of the year.
Here's what we witnessed:
Dust and Dirt
We found that 2021 was a year of preparation and movement, with developers and builders starting new projects to deliver much-needed housing inventory to Northern Colorado. While we did not see an abundance of bricks and sticks taking shape, it's clear that the dust and dirt that rolled across our skies over the past year is setting the stage for major changes in 2022; many large-scale projects will begin to turn from dirt into vertical construction. Here are just a few that will add to housing inventory as they change the visual landscape of Northern Colorado in 2022.
• Kinston: 2,800 homes on 630 acres. Located north of The Promenade Shops at Centerra, just east of Interstate 25 in Loveland.
• Hansen Farm: 370 homes on 69 acres. A combination of multi-family and single-family residential, located at Timberline and Zephyr roads in Fort Collins.
• Timanth Landing: 278 homes on 385 acres. Single-family residential located at Harmony Road and Timnath Parkway in Timnath.
• Fossil Creek Meadows: 284 homes on 254 acres. Single-family residential located east of Interstate 25 and north of State Highway 392 in Windsor.
Supply Chain
While supply chain issues have become common challenges for almost all aspects of life, they have certainly made a difference for real estate. From home construction and remodeling to household supplies and the shortage of skilled labor, the impacts have been felt across the board. After starting the year with major shortages and huge price spikes in lumber, we ended the year with concerns about inflation and rising cost of materials and labor. Look for these factors to continue in 2022. Growth in home equity and low interest rates have combined to keep housing markets stimulated, and we do not see that trend slowing in 2022, despite the upward pressure on interest rates and the expected actions by the Federal Reserve to try to curb inflationary pressures.
Home Prices
In 2021 we experienced another banner year for median price growth in Northern Colorado (see chart for data through November). While we do not have the final numbers for 2021 at the time of writing this column, we can look at some rather compelling data from the Federal Housing Finance Agency through three quarters of 2021. For the Loveland and Fort Collins MSA, we saw the largest appreciation since 1994 at 14.4%, and the fourth-highest on record since 1978.
Ask a Realtor, or anyone with a role in real estate over the past two years, and they will agree that this market has been unlike anything they have experienced in their career. While many have predicted doom and gloom for Northern Colorado real estate, or expressed doubt about the market's sustainability, I for one continue to see a bright future for our region. To learn more details, please consider streaming our 2022 Annual Real Estate Forecast on Jan. 26. Find details at The Group Inc.com.
Brandon Wells is president of The Group Inc. Real Estate, founded in Fort Collins in 1976 with six locations in Northern Colorado. He can be reached at bwells@thegroupinc.com or 970-430-6463.