Rising to the top
For CSU alum Parsons, the school's presidency is a homecoming
FORT COLLINS — Two months into the job as Colorado State University's 16th president, Amy Parsons is still full of wonder and excitement.
"It's been amazing," she said. "I am a CSU alum, and I worked here for 17 years, so a big part of it for me is that it feels like I'm coming home, coming back to my alma mater and the place where I spent a lot of my professional career, so it's really been amazing to be back and such an honor to be sitting in this seat."
She came to the presidency from a private-sector job as founding CEO of global e-commerce company Mozzafiato LLC, an American firm that represents a collection of Italian beauty brands. But before she took on that post in October 2020, she had served in various senior executive leadership roles at CSU and its system. After earning a bachelor's degree in political science from CSU and a law degree from the University of Colorado Boulder, she worked as a litigation attorney for Denver-firm Brownstein Hyatt & Farber from 1999 to 2004, then returned to CSU first as deputy general counsel and associate legal counsel, then served six years as vice president for university operations and then five as executive vice chancellor of the CSU system.
Parsons hailed the influence of Tony Frank, who had been CSU president for a decade before becoming the systemwide chancellor, for helping her rise through the ranks.
"I was part of the administration here for a long time under Tony Frank's leadership," she said. "He was the type of leader at the university who really built very strong teams around him. He had experts in all different areas, so I'm hoping to emulate that as well. Coming into this position I have several open seats in high-level leadership positions, so one of my first jobs right here at the start is to fill those seats with the best people I can and to build a really strong leadership team so we're ready to continue to support the great trajectory the university is on today and to meet new challenges for the future. That's my area of focus right out of the gate here.
"Right now we have an interim dean serving in the role of provost and executive vice president. That is really the No. 2 position at the university, the person who is responsible for the academic side of the house and is really a partner to me and all we do. We're about to launch an international search to hire a new provost and executive vice president, and I think we'll get a very strong pool there. We're also just about to fill our position for vice president for advancement."
According to the terms of her five-year contract, Parsons needs Frank's approval to hire or fire vice presidents or deans. That language wasn't in the employment contract of Parsons' predecessor in the presidency but was part of a policy the Board of Governors clarified in 2021.
One hire Parsons already has made is that of Demetri E. "Rico" Munn, who is leaving his post as superintendent of Aurora Public Schools to become her chief of staff beginning June 1. As a member of CSU's Board of Governors in 2014 when it was taking its final vote to authorize the controversial on-campus football stadium, Munn bluntly rejected calls for the appointment of an independent consultant, one not tied to the development and construction interests, to review the project because, he said, that would constitute a challenge to Frank's leadership.
Munn "served on our Board of Governors and was the chairman of our board for some time," Parsons said. "Bringing Rico on board as chief of staff is going to bring such an amazing perspective and talent and quality when it comes to access for K-12 students and to higher ed, and navigating state and federal relations when it comes to higher ed. He was a real catch, and we're excited to bring him on board here."
Munn had headed the state's department of higher education under former Gov. John Hickenlooper, "so he has a tremendous knowledge of the state process," she said. "He'll be right here in the president's office with me and we'll be a team on the operational management side of the university. I'll look to him to see what initiatives he wants to lead up."
Frank hailed Parsons as "extremely hard-working and always striving to improve," as well as "self-aware of her strengths and weaknesses" and someone who "has overcome barriers in the past."
One of those barriers was dealing with some strident opposition from the CSU Faculty Council and American Association of University Professors when she was named sole finalist for the presidency last year. They decried her background in operations instead of academics and research, the university's primary roles, and were uncomfortable with her close ties to Frank, whose push for the on-campus football stadium a decade ago stirred a fierce debate at CSU as well as in the surrounding city.
"With regard to the stadium, I think that over the years we've shown that game day can be a great benefit to the town," Parsons said. "Our operations are pretty smooth in terms of bringing in fans and what happens after the game and fans who are spending their dollars in the city of Fort Collins with dinners and everything else while they're here. That has achieved what we hoped it to be, which is an asset to the entire community."
That controversy was the first of several involving the university that Parsons' hiring was hoped to calm. Frank was succeeded in the presidency by Joyce McConnell, CSU's first female president, who resigned last June after defending the freedom of expression of some CSU freshmen who posed in blackface in the wake of a "Black Panther" movie. Her last day was June 30, and Rick Miranda served as interim president until Parsons took the reins Feb. 1.
Mending fences with elements of the faculty could be made easier by Parsons' push for more-competitive salaries.
"One thing I know that we need to address is, over the years of COVID especially, the salaries of our faculty and staff have begun to lag behind," she said. "Having a world-class excellent university starts with the quality of our faculty, so that's something that we really need to prioritize and address over the next few years as we're recruiting and retaining the best faculty and investing in them from a salary and compensation standpoint. That's something we need to pay attention to and do some corrections on. We can't be the university we want to be without excellence in the faculty."
Another part is listening.
"I'm always looking at it through the student lens. What can we do better to provide access to success for our students, and there's always opportunities to do that," Parsons said. "We've got a really energized campus of thousands of passionate people who care about CSU and see a great future for us, and it's really just an honor to be among them. I'm doing a lot of listening to people right now, what their dreams and visions are for CSU and how we can achieve them. It's really just so exciting to be part of it right now."
Being a part of the community is exciting for her as well.
"It's been a really pleasant experience for me, coming into this role, to see what strong ties we have with the city," she said. "I've met with the mayor and the city manager, and everybody seems to feel really good about how the university is partnering with the town. We have liaisons with the city. We have people at the university whose job it is to work with the mayor and the city manager on big things and small things. I've met with all the Larimer County commissioners and we have tremendous partnerships with them. They hire our students, our students intern with them, we have joint projects on mental health and affordable housing around town. So I would say the relationship between the university and the city and county leaders is really strong right now. They're pleased with the level of cooperation.
"We are the biggest employer in town," she said, "so it behooves both sides to work well together. It feels to me like that relationship has really worked."
Relationships with other employers also are crucial, she said.
"Working with the business and industry community is extremely important. It's a high priority for me," Parsons said. "We have tremendous partnerships already with our corporate partners in each one of the colleges, but they're important for a few reasons. Our students are going to be graduating and going into the workforce, so we need our industry partners to be more than just advisers. We need them to be actively involved with our faculty and leadership, advising us on the best curriculum to prepare our students for success. I really want to constantly be expanding our industry partnerships in terms of internships, hiring our students. Nothing beats having hands-on experience in industry to pair up with your academic learning at the university, and I think that's what most prepares students for success.
"It really should be important to most universities, but CSU is especially able to create meaningful partnerships with industry because that's our history, that's who we are as a land-grant institution," she said. "It's not just about academics and research. It's about outreach and access. We've been working with companies and industries all around the state of Colorado for our entire history. We have a presence in every county in Colorado, We're in communities. We're listening to what communities need, what businesses need, and translating that into our students. So I think it's critical to make and create those connections with industry for ourselves and our students as well.
"Across the board, we're looking at industry partnerships with all our colleges and where we can strengthen those and where private partners can invest in us so that our students have more access to internships and job opportunities, and they're investing in scholarships and in the physical plant at the university."
Embracing change is high on Parsons' agenda.
"Any great university is always changing in critical ways, changing to meet the needs of Colorado and the demographics around the country, and to make sure we're providing access for all students who have the talent and desire to achieve a four-year degree here at CSU, and that we're providing the type of programs that are going to get them where they want to go and succeed in life," she said. "A lot of our fundamentals should never change. We're a 150-year land-grant university, so our role is access to excellent programs, and we always need to remain true to that, but at the same time we need to be very cognizant of the world changing around us and the different needs of industry and employers and the different types of jobs and skill sets that are needed for our students and to make sure we're adjusting to get the students the very best start in the world. So it's always a combination at a university like this – holding true to the fundamentals and doubling down on excellence but at the same time adapting to the needs of the students coming in and the industries that they're going into."
Part of that change was adding the three-building Spur campus at the National Western Stock Show complex in Denver, which Parsons oversaw when she was executive vice chancellor.
"The Spur campus was my primary responsibility in terms of funding, design and construction of those facilities," she said. "I served on the National Western center board and was part of that project from the very beginning. I left in 2020 when they were in the middle of construction on the final building, so to be able to come back now and see all three buildings open, and to see the impact they're already having on Denver and across the state, and just how beautiful those buildings turned out — I think they're really exceptional.
"The art is beautiful, the buildings are inspirational, and I honestly think no university in the country has something like Spur, something that really focuses on where our areas of expertise are from an academic and research standpoint and also the history of the university," she said. "And to put it right in the middle of the city and turn the university inside out where students and anybody can walk in the doors and experience it for themselves is a really novel idea and one that I think a lot of universities are looking at and wondering how they can do it themselves.
"We think that the Spur campus is really at the forefront of what a land-grant university should be. It doesn't hurt that it's spectacular buildings with beautiful views of the city and the mountains, a place where the general public is welcome. If you go in there today you'll see classes of K-12 students from all around the city moving throughout the buildings and learning and getting inspired for their future careers."
The Spur campus is a great tool for luring kids to consider attending CSU as well, she said.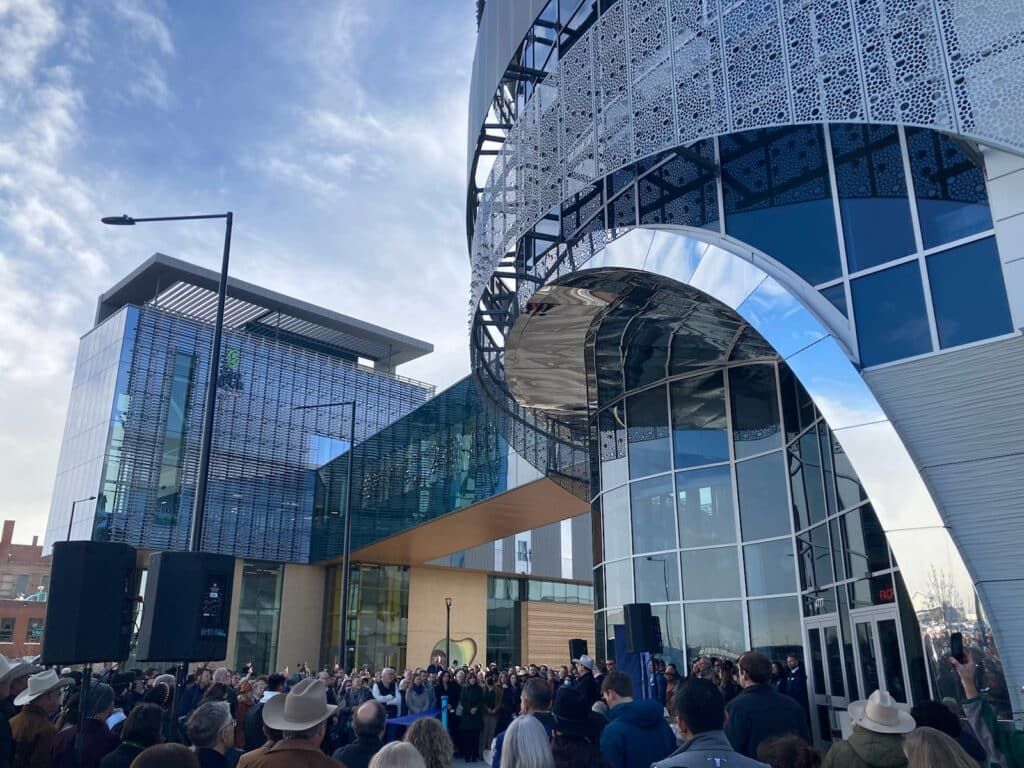 "We have the leading program in the country when it comes to veterinary medicine, and we're leaders in One Health, which is the intersection of human health and animal health and the environment," she said. "We want K-12 kids to come walking through there and see that CSU is a university that is working on some of the biggest challenges in the world and see themselves as being part of the solution. That's our job, is to inspire kids to understand what the challenges are and understand that they have a role to play. If we're doing our jobs right, we're sticking with those kids all the way up to when they graduate from high school and letting them know that college is for them, and that they can afford it, we will help them financially, we'll provide that access and support for them to come. We want those kids to be inspired to be their best selves and where their passions are – but of course we want them to come and be CSU students and to contribute to those disciplines and to be leaders in the world.
"It's a recruiting tool as well as a great public engagement tool, which is also part of our mission."
That ambitious agenda is going to require even more new construction on campus, she said, over and above the major projects the campus has seen in the past decade.
"CSU is honestly on such a great trajectory right now. Our student population is growing, we're really growing in our research portfolio and we're in such a great place to be moving into the next position up among American universities in our rank and our role and our reputation and our prominence," she said. "So I'm looking at the areas across campus where we can invest to move up to that next level, and there's a lot of them."
One main focus will be the veterinary school.
"We have probably the best veterinary medicine program in the country, which means it's obviously one of the best in the world, and they are in need of some new facilities over there, so investing in capital improvements on the south side of campus, which is where veterinary medicine and a lot of our hard sciences are, is top on our list as well," Parsons said. "So in order to maintain our No. 1 position in that, we have to invest in it and continually invest in infrastructure and our capital improvements.
"We're also about to undertake a major capital improvement of the Clark Building, which is our largest classroom building on campus," she said. "It serves liberal arts but it also has some of our largest classrooms and some of our freshman-level courses. Pretty much every student who enrolls at CSU has classes in the Clark building. Right now it looks about the same as when I was a student here, so that's an area that needs some love and a refresh.
"We're always looking at where we can improve campus infrastructure to provide the very best experience for our students and our faculty, and that's a major priority of mine as well. It's a beautiful campus, we've invested a lot in this campus over the past decade and it really shows. That's part of the reason we're showing record enrollment now is because of our investments across campus. But we always have to be vigilant. There's always the next project to do on campus and keeping up to where we meet the standards of excellence of teaching that's happening in the classroom, our facilities have to reflect that as well."
Financing all that construction is always a concern, she said.
"The university has an excellent bond rating right now. When we use the debt tool, which we don't always, it can be a really great way for us to even out the payments so it helps ease some of the budget constraints so we have enough funding to meet our goals with regard to compensation and keeping tuition low," she said. "It's a valuable tool when we get excellent rates, but it's definitely not the only tool that we look to.
"For example, we're looking at potentially building a new residence hall because our student population is growing. Those residence halls pay for themselves with the students who live in them, so it doesn't necessarily affect our bond rating or capacity. It's something we're always looking at, especially if we undertake larger and larger capital projects."
Parsons envisions the new residence hall rising north of the stadium, in line with the other dormitories along that spine to fit in with the landscape.
"We'll be taking that to our board of governors this year, putting the new residence hall options in front of them this year, along with our plan of finance," she said. "Once they approve it, we go out to market and we hire our architects and construction firms and get going on it. But I am hoping that we'll have approval on it by the end of this calendar year."
Donors are a key piece of the financing mix, Parsons said.
"Philanthropy is also an important tool, as are revenue-generating assets as well as state investment," she said. "Each project is different, and each comes with a different financing lens and what we can do. We've been able to do tremendous work on campus through philanthropic funds as well, and that will continue to be a more and more important area for us as a university to look to where donors can make a major impact and where they can invest in the future success of the university."
An important part of her job, she said, is "setting the priorities for fundraising for the university, working with our deans, working with our faculties, and understanding where our highest priorities are, working with our alumni association to engage our hundreds of thousands of living alumni across the world. Being an alum myself and a donor myself, I'm very excited about this work. It's really the part of the job that I love, being out there meeting alums, meeting donors, understanding what they're passionate about. I want it to be a significant portion of my time."
Nothing makes a typical graduate want to be more involved with his or her alma mater like cheering on its athletic teams.
"One area that I'm working quickly to get up to speed on is that I serve on the board of the Mountain West Athletic Conference," she said. "That's been a learning experience for me even though I'm already passionate about athletics."
Many alums pushed hard for the new football stadium in the belief that it could help propel the Rams into a Power 5 conference.
"I don't think that anybody can say for sure what's going to happen with conference realignment," Parsons said. "There's a lot of changes coming. We see changes among the Power 5 happening frequently, and rumors about which schools are moving in which direction.
"So for me, my goal is to dominate the Mountain West and to be competitive in every sport in our own conference," she said. "If we are successful at that and we start to be in the conversation as it develops, as people might want us in a different conference, we're available to have those conversations with them and evaluate our options, but there's nobody who can predict what's going to happen with conference realignment over the next few years. So we focus on our fundamentals, we focus on being great within our conference and competitive in every sport, and then we'll see how it all plays out."
It's all part of an overall vision for the school, she said, including building a better experience for her daughter, a freshman liberal-arts major focusing on communications and business.
"Our goal at CSU is to be the very best university in the country for the overall student experience," Parsons said, "and I think that we can achieve that, and we're on our way to that."
Editor's note: This is an expanded version of an article that appears in the April edition of BizWest.
FORT COLLINS — Two months into the job as Colorado State University's 16th president, Amy Parsons is still full of wonder and excitement.
"It's been amazing," she said. "I am a CSU alum, and I worked here for 17 years, so a big part of it for me is that it feels like I'm coming home, coming back to my alma mater and the place where I spent a lot of my professional career, so it's really been amazing to be back and such an honor to be sitting in this seat."
She came to the presidency from a private-sector job as…
THIS ARTICLE IS FOR SUBSCRIBERS ONLY
Continue reading for less than $3 per week!
Get a month of award-winning local business news, trends and insights
Access award-winning content today!
Dallas Heltzell
Staff writer
Latest by Dallas Heltzell: