Odell's new CEO faces industry change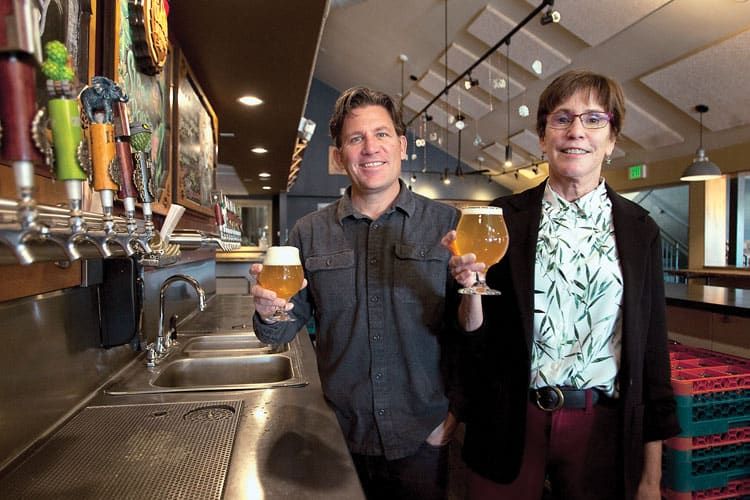 FORT COLLINS — It may be 2020, but it's not the end of major changes at the two largest craft brewers in Northern Colorado.
At the end of January, Eric Smith will complete his transition from Odell Brewing Co.'s chief marketing officer to the brewery's top job after years of succession planning. He's taking that role at a time when the Fort Collins beer scene and the greater craft industry is in the midst of its biggest upheaval in recent memory.
The Odell veteran
Smith, 46, certainly fits the mold of a craft brewer born and raised in Fort Collins. His brown, mid-length hair is brushed back, revealing his graying sideburns, and he wears a gray flannel shirt and jeans to work. His employees call him "Smitty" to differentiate him from the other Smiths in the office.
But that wasn't always his look. Co-founder Wynne Odell recalls when she first met Smith in March 1994, when he was a recent college graduate looking to land a job at Odell cleaning and delivering kegs, a particularly dirty job.
"We had half a dozen guys come in who just rolled up and looked like they had not washed their clothes in weeks," she said. "Eric showed up in a sport jacket and tie, which was overkill for the job. But it did really make an impression."
Two years later, Smith started to manage Odell's fledgling wholesale and keg delivery operation. After Odell started to bottle and package its beers, Smith started handling sales accounts for vendors in Wyoming, South Dakota and in Colorado's mountain towns before becoming the brewery's head of sales and marketing.
He has never worked at another company.
Succession plan
Wynne Odell started Odell Brewing Co. alongside Doug and Corkie Odell in 1989 after converting a turn-of-the-century grain elevator on the outskirts of town. She began thinking of retirement about five years ago, talking with employees about who would make sense as the company's day-to-day leader.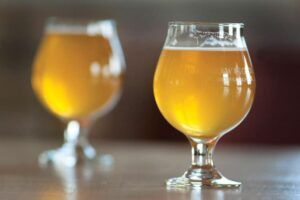 Wynne Odell, now 61, is weeks away from no longer running the day-to-day operations of the brewery that bears her name after almost three decades. She plans to do what retirees do: traveling, reading, riding bikes. But she also plans to keep her mentoring role at Colorado State University and take more volunteer leadership posts at local nonprofits.
"I want to get involved in hands-on stuff in the community," she said. "I'm a board junkie."
Wynne Odell and Smith have been co-CEOs over the past year in an effort to smooth out the leadership transition, and made several promotions to round out an executive team of 19 people over the summer.
"He's been soup-to-nuts in the company; it's not like he needed any training," she said.
The Odell family will also maintain some level of ownership in the brewery after it sold 70 percent of the company to executives and to an employee-ownership stock trust in 2015.
Although Wynne Odell and her family won't be running the brewery's everyday operations, they will remain on the company's board as advisors on Odell's growth trajectory.
Her model company for steady growth? California burger chain In-N-Out.
"It's a story I absolutely love," she said. "It's still family-owned and they've been going like this for many years. And it's one of those cool things people look for, because it's always been so good. They are so clear about what they offer, so clear about maintaining their quality and I mean, that's the kind of company we want to be."
Fort Collins' independent giant
If you haven't been on the internet or in Colorado in the past two months, let's get caught up: in November, New Belgium Brewing Co. announced it would sell itself to Lion Little World Beverages Ltd., a subsidiary of Japanese beverage giant Kirin Holdings Co. Ltd. The deal was approved by its employee-owners at the end of December. Financial terms were not disclosed.
At the time of the announcement, New Belgium was not just the largest independent brewing company in Fort Collins or in Colorado, it was the fourth-largest craft brewer by volume in the U.S. It leveraged its Fat Tire amber ale to become a nationally distributed brand with a satellite taproom in Denver and a sister brewery in Asheville, North Carolina.
The sale was fairly unexpected and sparked discussions in the region about whether customers can continue to support New Belgium after it gave up its local ownership status.
That leaves Odell, the 23rd-largest craft brewer in the U.S. by volume, as the biggest player in Fort Collins' independent beer community.
Big brewing and consolidation
The craft industry today is in the midst of a major hangover.
In 2013 and 2014, independent microbrewery production was increasing by about 18 percent annually, according to Brewers Association data. The number of breweries operating in the U.S. tripled in six years from 2,475 in 2012 to 7,450 in 2018, powered by small brewers setting up neighborhood taprooms.
Meanwhile, established craft brands were trying to establish footholds in a consumer market long dominated by domestic giants such as Budweiser, Miller and Coors. New Belgium started construction of its 100,000-square-foot Asheville brewery and distribution center in 2014 at the height of the craze and completed it in 2016.
The timing could not have been worse. Between 2014 and 2016, beer production growth fell from 17.8 percent to 6 percent, and craft's share of the U.S. beer market inched up from 11 percent to 12.3 percent in that same period.
Bart Watson, the Brewers Association chief economist, previously told BizWest the slowdown in growth is a sign that craft has matured as an industry and isn't necessarily a sign of weakness.
However, consumers are drinking less alcohol in general, and they're increasingly reaching for alternatives that promise fewer carbs and calories. Beer's share of the U.S. alcohol market dropped below 50 percent last year.
Those trends, along with a relatively strong economy and low interest rates, fueled a buying spree between major beverage makers and big craft brewers stuck fighting for smaller portions of a growing pie while carrying higher debt loads.
In Colorado alone, A-B Inbev SA (NYSE: BREW) took over Breckenridge Brewery in 2016, a year after Breckenridge opened a $36 million campus in Littleton. Avery Brewing Co. opened a new $30 million brewery and restaurant in Boulder in 2015 after reaching capacity at its old location. Two years later, Spanish firm Mahou-San Miguel purchased a 30 percent stake in the company.
Smith believes the current dynamics of the industry has made it all but impossible for one of the thousands of microbreweries operating today to emerge as a dominant player while remaining independent.
"There's so many breweries, 7,000 plus, that are out there," he said. "And obviously, not many of them… are going to turn into large regionals and probably not any are going to turn into the size of breweries like New Belgium or Sierra (Brewing Co.). I think those days are behind us."
"Managed growth", Denver taprooms, wine and the future
Despite that dour look at the future of Big Craft, Wynne Odell said the industry's smaller players have survived and thrived by finding opportunities outside of beer.
Odell is no stranger to thinking outside the brew kettle. The company is in the midst of opening a joint taproom and pizza restaurant in Denver's Sloan Lake neighborhood, and already runs a taproom in the River North district. It also announced plans over the summer to start a winery operation and second bar area north of its main brewery.
Odell is also preparing to add more states to the 19 where it currently distributes. But it plans to do that slowly, Smith said, and there are no plans to become a national or global brand.
That attitude is the embodiment of the "managed growth" policy Wynne Odell has enforced at the company, which has avoided the leverage traps that have caused its cohort brewers to see buyouts.
Smith said he will maintain that slower approach to new distribution areas and products as head of the company. However, he thinks Odell's methodical approach could be its biggest strength and stabilizer, but also one of its biggest weaknesses.
"We've moved a little slower than most, and that's not a negative at times, but a benefit to us, because we didn't move too fast," he said. "…Maybe we need to look at things a little quicker, move a little faster to stay ahead."