Seeking a downtown vibe
Town Center plan raises hopes for long-awaited Broomfield downtown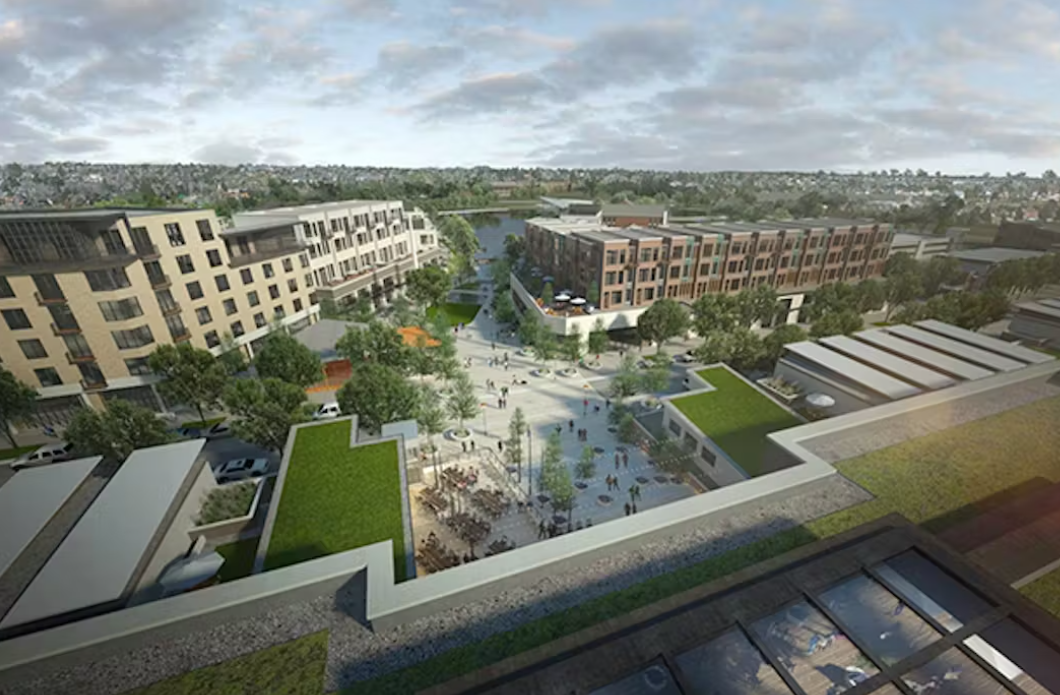 BROOMFIELD — Broomfield has many things: a population of more than 76,000 residents, headquarters of major international companies, status as both a city and county. But it's missing one important thing: a proper downtown that imbues the community with a sense of identity.
"There's a downtown vibe that people would like to see," Broomfield Chamber of Commerce CEO Pat Monacelli said. "… We don't have that right now."
That missing piece could soon materialize, and excitement is building among Broomfield neighbors, government officials and business leaders.
"Having a downtown place for people to go and spend money has been a top priority of mine," Broomfield City Councilmember James Marsh-Holschen said.
Broomfield City Council unanimously approved in September a site plan for the Broomfield Town Center, an ambitious plan spearheaded by a well-known developer that could transform nearly 40 acres north of West 120th Avenue and east of Main Street into a community gathering place with hundreds of new residences, tens of thousands of square feet of commercial space, restaurants and shops surrounding a publicly accessible (and potentially swimmable!) lake.
Should the project come to fruition as envisioned, it would mean the city has achieved a long-stated goal for Broomfield leaders to "create a civic center district that serves as a key focal point for the community and civic activities," Broomfield senior planner Lynn Merwin said. The hope is that the city's planning and land-use processes will result in a "signature town square that is uniquely Broomfield."
Broomfield Town Center is taking shape alongside the site of the chronically underutilized 1stBank Center, a 6,500-seat concert, sports and entertainment venue that opened in 2006 and will soon close.
The Broomfield Urban Renewal Authority voted in May to terminate its contract with Peak Entertainment, the venue's management partner.
Peak will vacate the BURA-owned 1stBank Center by Nov. 30, 2023, after which the site at the U.S. Highway 36 and Wadsworth Boulevard interchange will likely be demolished and redeveloped.
Broomfield Town Center, in the works in some form or another for a decade, will be developed in phases by Broomfield Town Square Alliance LLC, a consortium led by Joe Vostrejs, whose resume includes Denver's Union Station and Hangar 2 mixed-use developments, and builder Milender White Inc. The developer is getting assistance from the city in the form of land donations and public financing, the precise dollar amount of which has yet to be finalized, but will likely be in the millions.
Plans for the overall project "were approved for a mix of uses including up to 643 residential units located north of East 1st Avenue and up to 187,000 sqft of commercial development including the redevelopment of the former Safeway site as a market hall," according to Broomfield planning documents.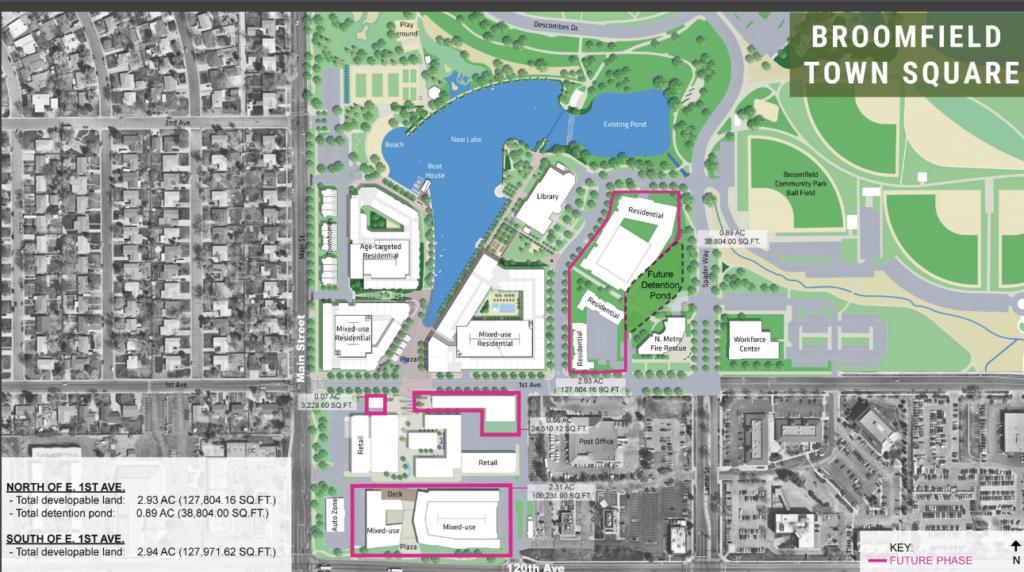 Construction on the first phase of Broomfield Town Center could begin as soon as 2025.
That phase of development, according to planning documents, is expected to include:
Approximately 471 multifamily residential units and 12 townhomes.
Approximately 63,590 square feet of commercial development including a new market hall in the former Safeway building.
An enlarged lake with trails and gathering areas incorporated throughout, including a plaza near East 1st Ave, a beach and future boathouse at the northwest edge of the lake.
Space for a potential future expansion of the Broomfield Library/Auditorium facility on the east side of the expanded lake.
Parking primarily located within parking structures set within the mixed-use buildings.
Realignment of Community Park Drive.
Site improvements such as grading, drainage and utilities to serve the site.
Uses on the site are expected to include a "coffee house, chef-driven restaurants, beer gardens, wine bars, the right kind of residential, collaborative workspace, opportunities for startups to have commercial space," Vostrejs said.
The developers have "tried to create a 15-minute city where you can experience all of your daily needs within a 15 minute walk of where you live," said Tim Fredregill, development executive with Broomfield Town Square Alliance LLC partner Milender White.
Nearly all of the residences in the first phase of the Town Center are expected to be apartments, with a small percentage set aside for seniors.
"The proposed project does include an affordable housing commitment of 20% of the units to individuals and families earning at or below 60% of the area median income," according to a planning memo. "The total obligation with buildout of this phase is 99 units" or a cash-in-lieu payment of about $2.7 million.
"Not every building is 100% designed yet," Fredregill said, and the alliance's eventual residential construction partner will have a say in final design of the apartment buildings. "What we've done is introduce character, materials and color pallets. The heights and setbacks and things of that nature were set forth in zoning."
One of the unique elements of the Broomfield Town Center concept is the 4.5-acre lake that will reach about 12 feet deep. Plans call for maintenance techniques that will ensure that the water quality is high enough so that visitors can swim in it.
"The lake was an original and compelling part of this vision and what separates it from virtually every other project we can think of," Vostrejs said. "… Blue space is as important as green space."
Broomfield Town Center has the potential to become a place that "truly develops a heart and cultural identity for our community," Broomfield resident Lois Vanderkooi said during a September public hearing session on the project.
The central commercial area of the Broomfield Town Center is planned for the "market hall" that will take the place of the shuttered Safeway grocery store, purchased by the city with an eye toward redevelopment in 2015.
"I believe that the Town Square project will open up increased economic opportunities for our city," Monacelli said. "… We've seen in other areas around us with downtown renewal projects or the creation of downtowns where one did not exist, that there has been increased activity and visitors."
Regarding the blighted and commercially inert Safeway property, Vostrejs said that "reimagining this building and connecting it to the street is a top priority."
While the Town Square project appears to have broad support — a rarity among large-scale development efforts with the potential to transform the character of neighborhoods — it's not without its skeptics.
While the financial particulars of the public-private partnership are expected to be ironed out next year, there are some in the community and among Broomfield's leadership who worry that Town Square could be another debacle like the 1stBank Center, which is expected to end up costing taxpayers tens of millions of dollars.
"The 1stBank Center is a cautionary tale that should teach us some humility," Broomfield resident Adam Galveti said. "… This project needs to be canceled, and if not, I would ask that we do not spend taxpayer money on it. …We don't need to stress our city budget" by contributing funds and land to the project.
Broomfield City Councilmember Austin Ward said he "begrudgingly" supports the Town Center plan, but remains concerned about "a financial benefit to the city."
There is no such thing as a development "that's risk-free," Broomfield City Councilmember Todd Cohen said, but the structures of the public-private partnerships used for the 1stBank Center and for the Broomfield Town Center project are very different.
The 1stBank Center was built at the cost of $45 million, financed on the back of $59.8 million in bonds. If the city were to play out the string on the initial bond issuance, Broomfield will have paid $135 million for the venue by the expiration date in 2029.
The finances of the venue are complicated because the venue is owned by the Broomfield Urban Renewal Authority, which collects its revenues from different sources than the city's general fund, staffers said during a hearing on the 1stBank Center's future this spring.
The city owns about a dozen acres south of the site, which could eventually be combined with current venue acreage to entice a developer that might be more interested in a larger, contiguous plot.
"They made the best decision at the time as they could," Broomfield city and county manager Jennifer Hoffman said in May, referring to Broomfield leaders in office at the time when the venue was approved and built. "We're just moving forward."
Because the venue has failed to generate the revenue necessary to justify its continued operations, "the time has come to rip the Band-Aid off."
City officials have been in discussions with consultants who they hope can help guide the process of developing the site, where the city controls about 22 acres. Any future development plans are likely to dovetail with the nearby Broomfield Town Center.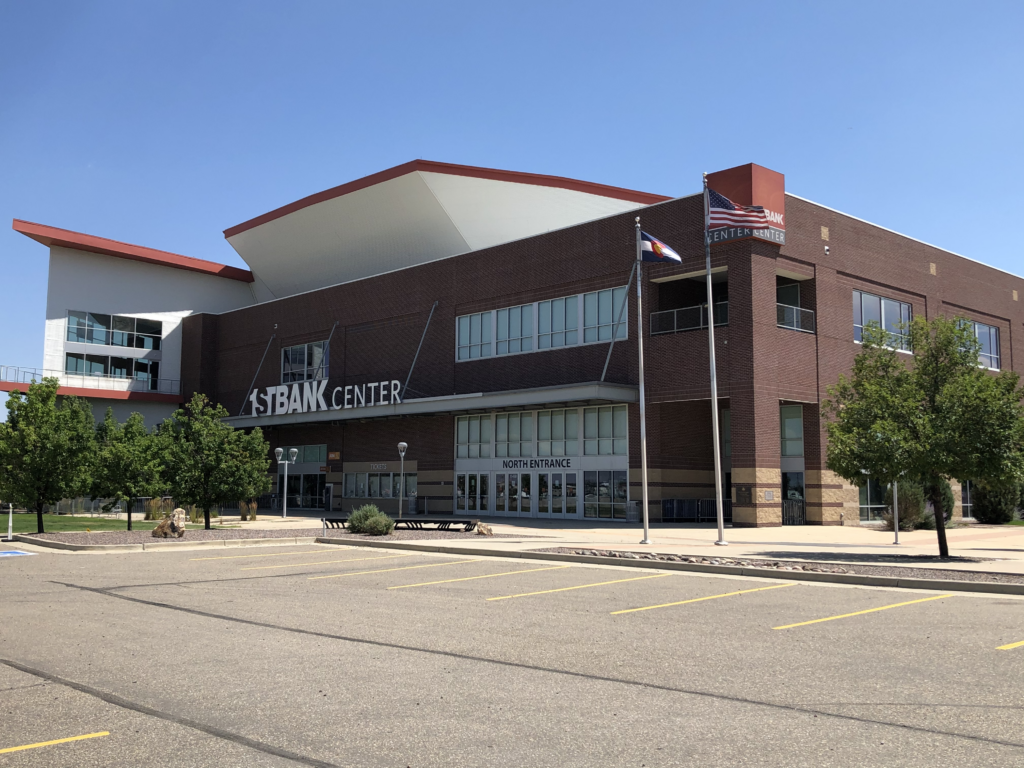 Lucas High
Latest by Lucas High: