Life-changing tech showcased at innovation event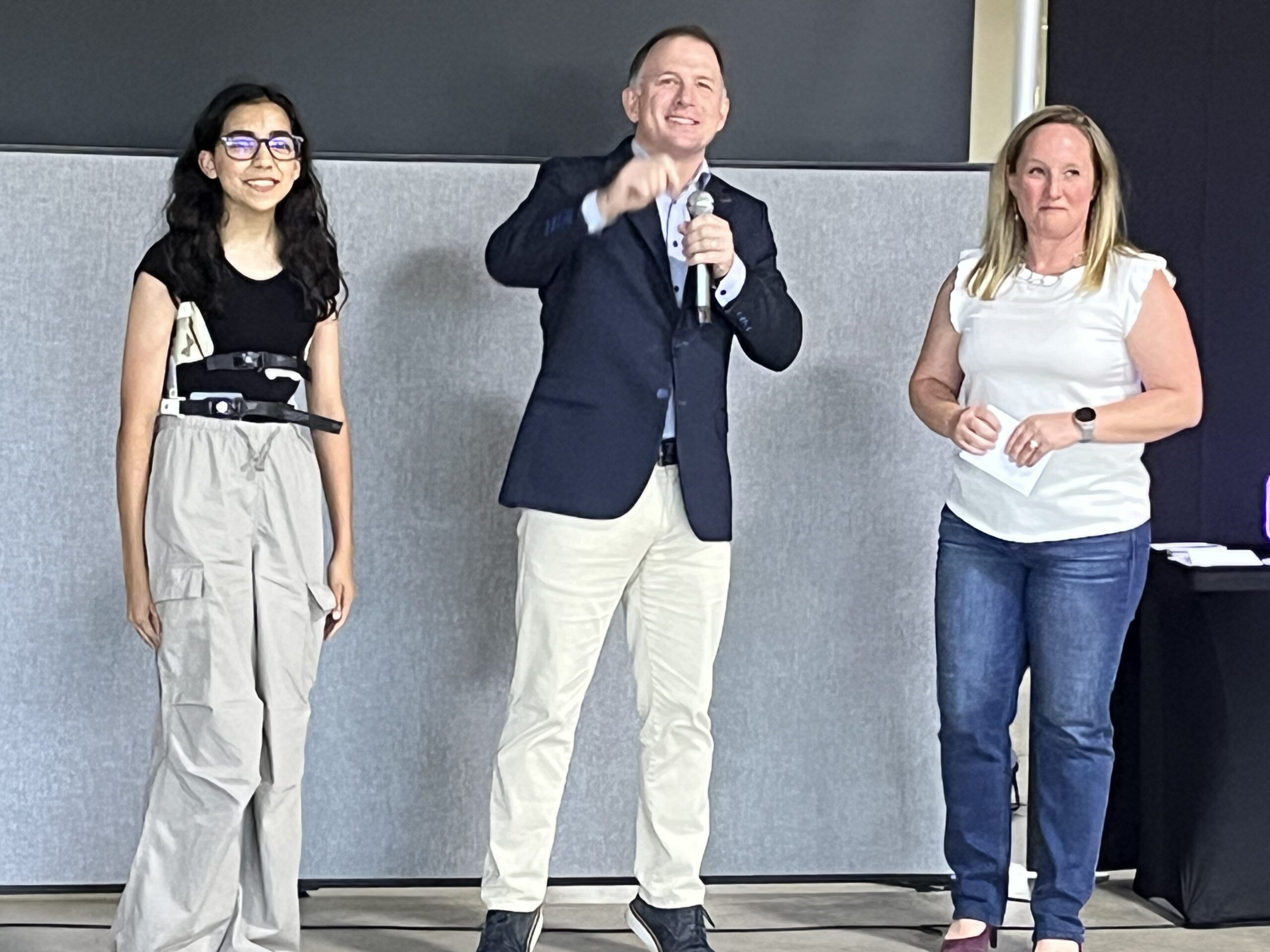 LOVELAND — New technologies and techniques were the order of the day at the Warehouse Innovation Showcase Wednesday. The products demonstrated were capable of changing business outcomes, not to mention life outcomes.
Take Green Sun Medical LLC, a Fort Collins-based startup, which offers a flexible brace for people suffering from scoliosis. The company's Whisper brace enables adolescent patients to move with flexibility and, when worn as doctors prescribe, permits patients to avoid spine stabilization surgery that can have life-long consequences.
Scoliosis is a sideways S shaped or C shaped curve of the spine. About 3% of adolescents have scoliosis, said Jamie Haggard, CEO of Green Sun.
For more than 50 years, the treatment has been the same: A rigid brace is fastened around the patient. While it can be effective if worn 18 hours a day, it prevents common movements such as bending to pick up a fallen item or tie a shoe. Because the rigid brace is uncomfortable and limiting, only about 30% of patients follow through with the prescription and thus the remainder end up with a surgical solution, Haggard said.
Enter Green Sun, which developed the flexible brace. A proof of concept attended with the company CEO — Sueda Uctuk, a young patient from Fort Collins whose bubbly personality provided evidence of the success of the treatment.
Green Sun was awarded the Most Innovative Product award at the innovation showcase.
Haggard said the company knows that the potential customer base is far greater than it can accommodate right now; it is quickly working to scale up to handle more. Its first targets are children's hospitals that treat young patients. Also on the target list are insurance companies, which, said Haggard, are willing to pay for the new treatment device because results can be seen within three years, thus avoiding higher costs from surgery.
Other companies recognized with awards Wednesday included Rapicure Solutions, a Loveland company that won both the Most Disruptive Business Model award and the People's Choice award.
Rapicure, represented by its CEO Heather Rubin, is a speciality chemical company that is commercializing a thermoset resin technology that enables quicker development of parts with less carbon impact. From tiny mechanical parts to massive wind turbine blades, the technology permits a company to avoid massive bills for curing molded parts and, in the case of turbine blades, manufacturers could avoid large transportation costs of completed blades because they could be produced in the field.
Winning the Best Path to Scale award was Loveland-based X2F, which is commercializing new molding technology with controlled viscosity using low pressure technology to mold products that other companies aren't able to produce. It uses materials that were previously thought to be impossible to mold, said CEO Mike Slowik.
Other companies participating in the pitch slam at the event were:
Cargador Co., an electric vehicle charging solution company based in Loveland.
Wood & Slate, a family-run art company in Loveland that prints photos onto nontraditional materials.
LogiLube LLC, a Loveland technology company helping extend the life of equipment in the oil and gas industry.
Dev&Hold ERP Systems LLC of Greenwood Village provides enterprise resource planning technology for the solar energy industry.
Meshcomm Engineering of Johnstown provides wireless or satellite (starting in 2024) based sensor and telematics platforms to monitor fleets or equipment.
Ousia Labs, trade name for Essential Extraction Corp., a Loveland company that provides equipment to extract essential oils.
Intelligent Growth Solutions, a Scottish vertical farming company that located its North American headquarters in Loveland.
The event was held at The Warehouse, a business accelerator housed at The Forge, which is former Hewlett Packard campus in Loveland.