CSU Spur campus wins sustainability award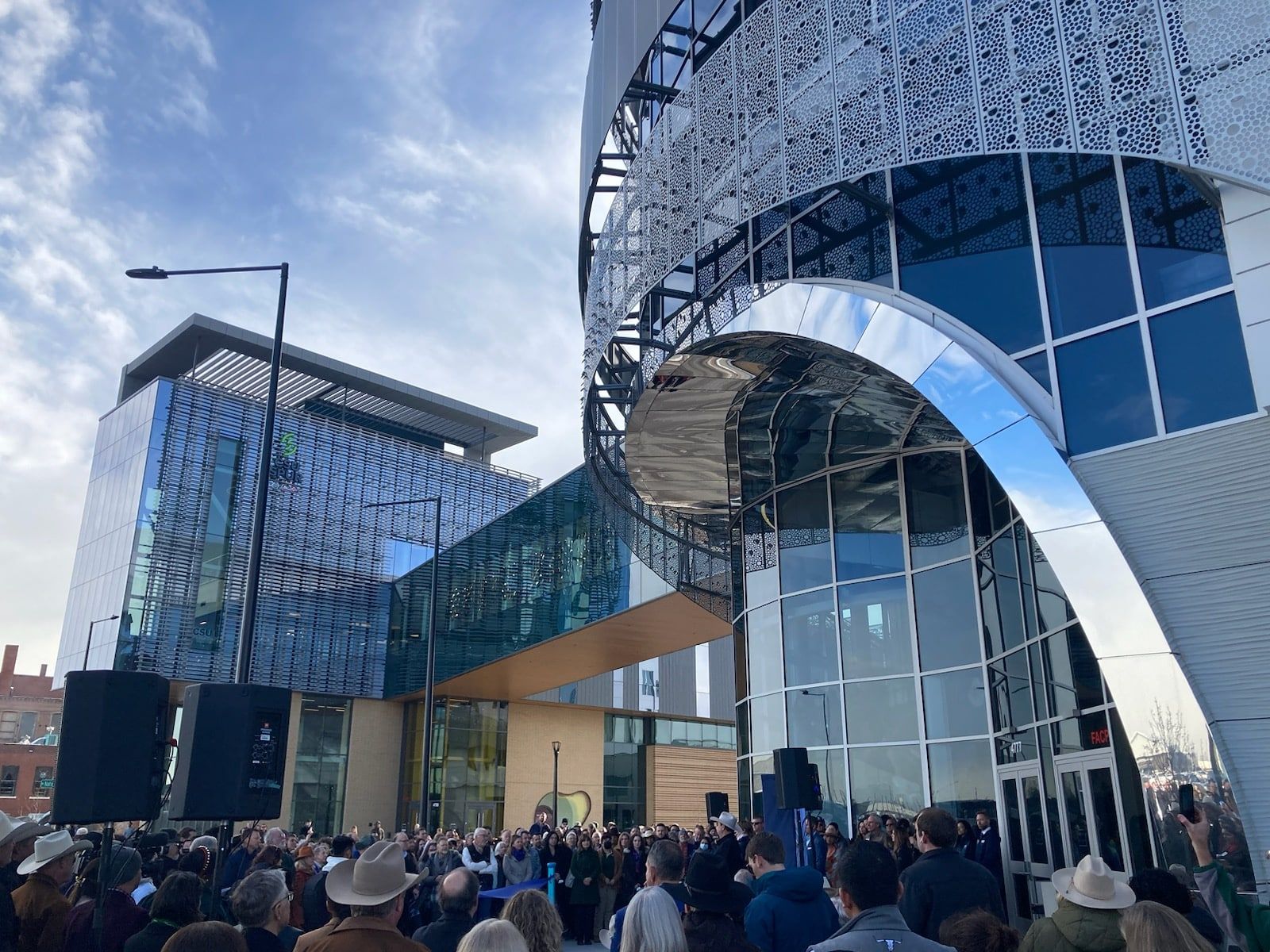 ORLANDO, Florida – Colorado State University's Spur campus in Denver has received a 2023 Excellence in Sustainability Award from the National Association of College and University Business Officers.
CSU president Amy Parsons accepted the award Sunday in Orlando at the association's annual meeting.
The campus, near the National Western Stock Show complex, focuses on water, food and human and animal health.
"This award speaks to CSU's long commitment to sustainability, and to the creativity of our faculty, staff, and students in approaching the challenges we face as a society," Parsons said in a prepared statement. "What makes CSU Spur unique is that it advances this work while demonstrating a new way to engage the public and learners of all ages in the search for solutions."
The award citation notes that Spur's three buildings were all designed to LEED Gold standards, forming a campus that serves to "model, test, and motivate conservation practices and technologies."
The Vida building, focused on human and animal health, opened in January 2022, followed by the food-centered Terra building in June the same year. The campus has been fully open since January following the completion of the water-themed Hydro building.   
"I'm so proud of all our colleagues and partners who made the vision for CSU Spur a reality," said CSU System Chancellor Tony Frank. "This campus reflects our land-grant mission and has the potential to inspire a whole new generation of sustainability leaders."
Achievements and capabilities at CSU Spur that motivated the award included:
CSU Spur is part of a broad redevelopment effort at the National Western Center in north Denver. The site is bounded by a section of the South Platte River that had long been inaccessible because of above-ground sewer pipes running beside it. These pipes, which have now been buried, created an opportunity to build a sewer-heat recovery system. The resulting system, the largest of its kind in North America, meets 90% of the heating and cooling needs of the three CSU Spur buildings and one additional building at the center, and will provide heating and cooling for at least two additional buildings when the redevelopment project is complete. 
Each building at Spur was constructed using low-emitting, recycled, and regional building materials, and high efficiency, low-flow water fixtures contribute to a 40% reduction in indoor water consumption. Efficient irrigation and landscaping with native and adaptive plants account for a 50% reduction in outdoor water use, and the use of occupancy and vacancy sensors throughout the buildings reduce the use of lighting.
In the water-focused Hydro building, a graywater system captures water from sinks and showers for the flushing of toilets, saving an estimated 264 gallons of water each day. A stormwater capture system in an outdoor garden area will support irrigation in food production areas, and a 7,500 square foot agrivoltaic plot help meet the site's electricity needs while allowing CSU researchers to optimize systems for food production combined with photovoltaic panels. By preserving and restoring an existing building on the site, and connecting it with the new building, the project yielded estimated savings of 396.5 metric tons of carbon dioxide.
The Vida building has a 6,000-square-foot, 160-megawatt photovoltaic system on the roof and incorporated biophilic design principles.
A bridge connecting Hydro with the neighboring Terra building allowed for consolidation of boiler and chiller systems, freeing up extra space for a 2,800-square-foot research green roof on the Terra building. In its first season, this green roof, a project of CSU agricultural research faculty, yielded more than 350 pounds of produce, most of which was donated to nonprofit partners supporting food security in neighboring communities.
A research greenhouse and multiple growth chambers will advance research in controlled environment agriculture and provide additional produce for use on-site and by community partners.
Since the campus opened in early 2022, CSU Spur staff have facilitated field trips for about 9,000 students in kindergarten through 12th grade, as well as teachers and chaperones from schools in Colorado and beyond. These exploratory visits highlight the expertise of CSU faculty and emphasize conservation, sustainability, and academic and career possibilities in such areas as food production, water testing and filtration technology, and veterinary medicine.
The association presented two sustainability awards at Sunday's event, with the other award going to Michigan State University in recognition of that campus's establishment of a facility focused on reusing surplus items and diverting material from landfills.
Founded in 1962, the association is a nonprofit professional organization representing chief administrative and financial officers at more than 1,700 colleges and universities across the country.