CEO Roundtable: Innovating companies among those that took SVB hits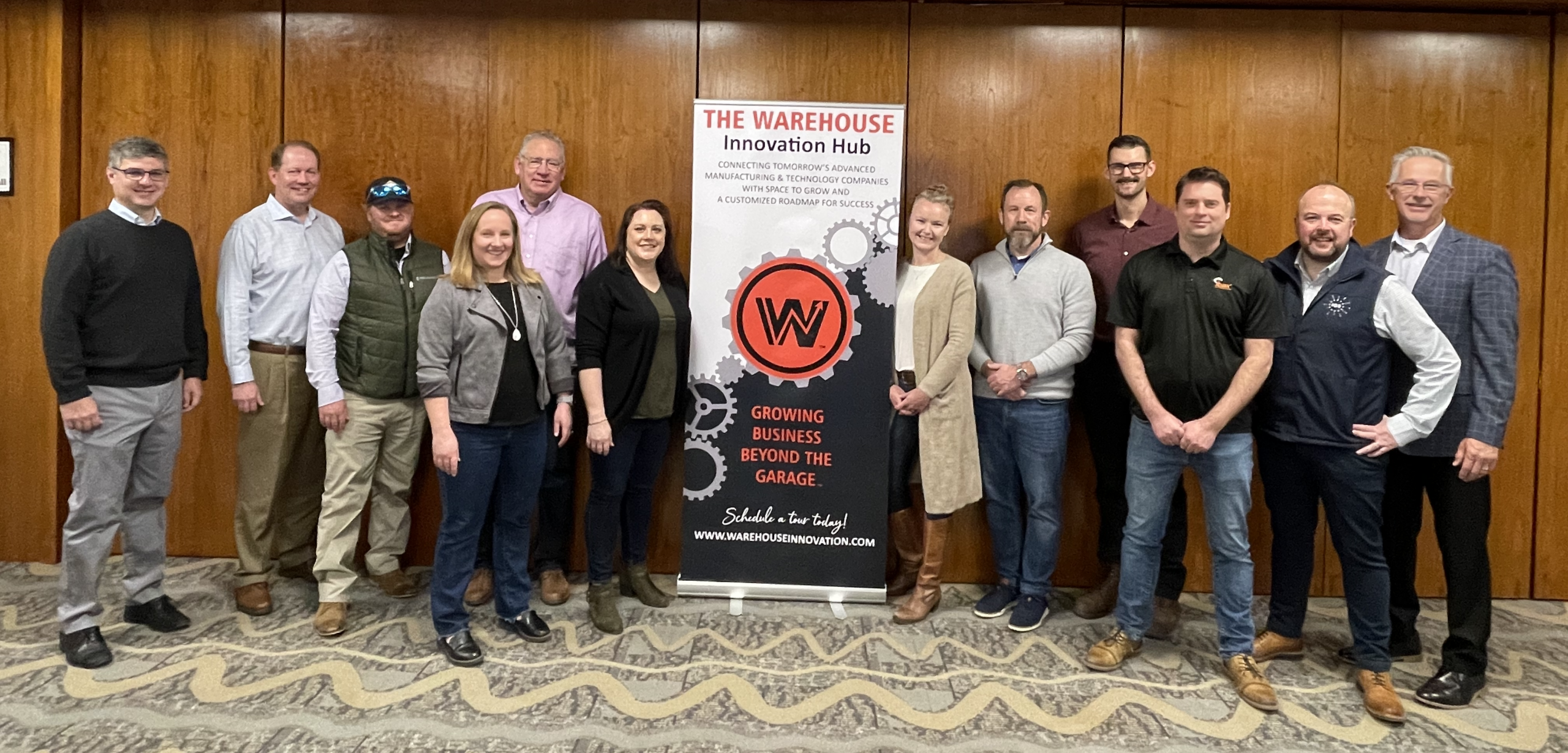 Editor's note: This report was edited to correct the spelling of Seamus Nally's name.
LOVELAND — At least two companies that were participating Tuesday in a CEO Roundtable discussion on innovation were "100% caught up" in the failure of Silicon Valley Bank.
"Every dollar we had was frozen at SVB, and we had payroll to meet," said Jennifer Henderson, CEO of Tilt, the software company that is developing and marketing a product to help employers meet the time-off needs of employees. She said private investors had to step in with personal checks to cover payroll until the firm's bank accounts were released the following week.
Tilt is the trade name for Career Allies Inc., which just in the past weeks received a $10 million capital infusion.
Her comments launched a lengthy discussion by attendees at the BizWest CEO Roundtable, held Tuesday morning at The Forge in Loveland, about the impacts of the bank failure, which even for those not invested in SVB have trickled down in noticeable ways.
Henderson said the issue for her company goes far beyond Federal Deposit Insurance Corp. coverage. "$250K doesn't do anything for us in terms of protecting assets," she said of the $250,000 deposit insurance on typical bank deposits.
"Things (deals) are taking longer; we're still seeing growth. We're not anywhere near profitable. If we can't find capital investors, that's the end of the company."
Seamus Nally, CEO of TurboTenant, a software company developing a suite of software services for landlords, said his company was also 100% tied up by the SVB collapse. And in his case, because of the venture debt line that it had with SVB, it was required to have all cash deposited in the bank.
The advice that he and Henderson have received — to have cash for a couple of payroll cycles invested in other banks — would not have been possible in TurboTenant's case because of the loan covenants.
"We didn't draw out ahead of the shutdown because we didn't want to break covenant," he said. He did acknowledge that as soon as today he is beginning discussions to renegotiate the terms of the covenants to permit the company greater flexibility in where it places cash for deposit.
Andrew Hendrickson, CEO of SurgiReal, which makes models that surgical students can use to practice techniques, said companies need to spread payroll dollars between at least two banks and "consider where your PEO (professional employer organization) is holding its money. How safe is that?"
Slowdown
Multiple companies represented at the roundtable reported a slowdown in sales activity just recently, although not all of it was related to the banking-industry issues.
Ryan Billson, business director at 3D printing bureau Avid Product Development LLC, said growth had been strong through January — "we had our best January ever" — then significant clients scaled back their orders.
Jay Dokter, CEO of contract manufacturer Vergent Products, said he also experienced a similar slowdown.
"We had some large accounts that had been pushing out orders … and we did see an increase of orders coming out of COVID (when supply-chain constraints affected manufacturers) but maybe they're discovering that demand isn't as great as they thought."
Grant Middleton, head of manufacturing and supply chain with Intelligent Growth Solutions Ltd., a Scottish company that established its U.S. headquarters in Loveland within the past few weeks, said the issue is worldwide, not just in North America. "We're still getting a lot of inquiries, but customers are more cautious and take longer to decide," he said. IGS manufactures vertical farming equipment.
Likewise, Pete Temple, operations manager with E.I. Medical, said customer funds are drying up. Customers "bought and bought" because they couldn't get materials, and now that supply-chain issues have lessened, they're slowing down and playing it safe. "Revenue is growing, just not as fast as before," he said.
As a result, E.I. Medical is slowing investment a bit and focusing on product lines that have the most interest among customers.
Paul Aitken, CEO of DroneU, a newcomer to the Loveland market from Albuquerque, New Mexico, also said his company saw a marked slowdown beginning in February. He asked whether the banking situation is affecting business decisions.
"With the Fed (Federal Reserve, Federal Deposit Insurance Corp., others) backstopping everything, does that give you confidence? Or are you considering (other places for your money) such as bonds at 5% interest?"
Nally said bonds are not on the horizon for TurboTenant, which can't afford to tie up its cash for longer terms.
Jana Sanchez, CEO of Alchemy with Words consulting firm, said nonprofits are looking at bond markets for their investments because donations have slowed.
Sanchez said she's seeing three things among startups. First is that "we need to bootstrap as long as we can." Second, "for the smaller folks, the economy is going to screw itself" — fear is going to cause the problem, rather than the economy itself. And third, "I don't know how to plan for this, so I'm doing as much backstopping as I can because things aren't behaving like they have in the past," she said.
Richard Magid, vice president of technology transfer for Colorado State University Strata, said companies that he works with are seeking seed capital, and interest is being expressed in the region, not from west or east coast investors.
Changing economic conditions have caused LaborJack LLC, a company that uses a software system to benefit both employers and people looking for work, to reconsider its strategy. High rates of growth are off the table for a while.
"We retracted our 'growth-at-all-costs' plan. Instead, what does payback of investment look like in the short term," asked Blake Craig, co-founder of the company.
The pandemic also caused the company to consider its culture and happiness of employees. "Happiness is as important as money" in some cases, he said.
Dokter said, "we're doing everything we can to protect our team. We're thinking through before hiring more; we're being careful. … We'll probably add capacity because Q3 and Q4 are looking strong. We'll need our team to hit the ground running when we get there."
Sanchez said the companies she has been working with are also "securing critical employees, locking them down and seeing that they're happy."
Nally responded that he likes to hire people who are happy when the work is hard. "Some people enjoy hiking the peak the higher the peak is. That's who we're looking for."
Funding
While recent experiences with the banking system made participants wary, they also acknowledged that they need banking services and also need to find investors, venture capitalists and others to help them grow their businesses.
Allison Seabeck, executive director of the Warehouse Innovation Hub, which is headquartered at The Forge, said participants in the incubator are taking things more slowly than they might have before.
"The companies seeking capital are taking a couple of more months before going after that next round of fundraising. For investors, they're looking for 'founder grit,'" Seabeck said.
She described founder grit as a "core passion in your soul. It's being relentless. Creativity. You don't know what you can't plan for; you have to figure it out when it happens. You need people who will stay at the table and be creative when the path forward doesn't look possible. You keep at it. You find a way. You find the path forward that no one else has seen. … All of these things combine within a few people who take the idea and are able to scale the company," she said.
Hendrickson of SurgiReal said both grit and endurance are needed. "It will take five to 10 years longer than you think," he said. He quoted a mentor who said, "your business has to be your teacher."
SurgiReal is seeking non-dilutive funds. The advice it has received is to get something set up now because there's uncertainty down the road, Hendrickson said.
Dr. Jeff Donner, a spine surgeon who founded a company called SI-Technology LLC that is developing innovative spine products, said his company is self-funded but is subject to the stresses that have afflicted health care institutions. "We need to get health care people to come back to have operating rooms operating efficiently again," he said. The company may find strategic partners who help on the financial side, he said.
Magid said finding funding partners for companies coming out of CSU can seem easier, because the university has so many lines of scientific inquiry to generate interest among investors. He noted, however, that companies using Small Business Innovation Research grants may eventually get money, but it takes time — time during which a company doesn't advance. "We encourage them (companies) to use them (SBIR), just not as a primary."
Henderson from Tilt said her company stumbled upon Advanced Industry Grants through the state Office of Economic Development and International Trade. "The application process was rigorous, but we truly would not have been here without it. It was a game changer at our stage," she said.
Sponsors of the BizWest Northern Colorado Innovation CEO Roundtable are Plante Moran, represented Tuesday by Mike Grell; Elevations Credit Union represented by Darin Atteberry, and law firm Berg Hill Greenleaf Ruscitti.