Kubin extends a hand at CSU Extension
2013 Women of Distinction - Education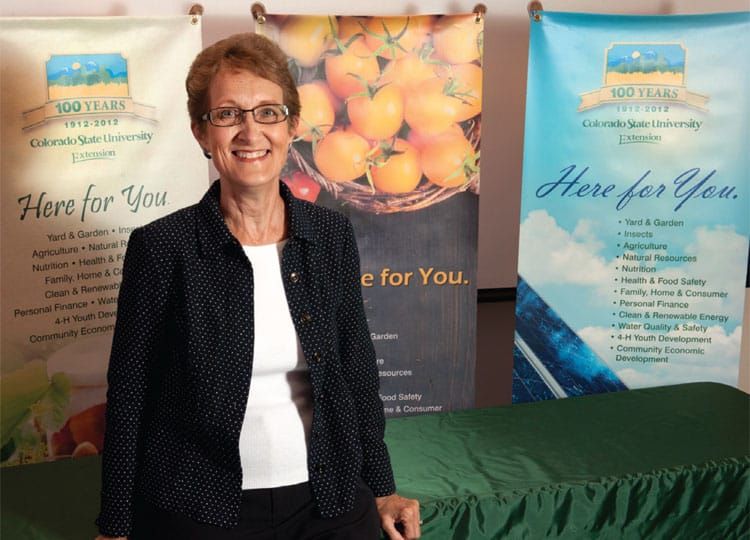 Working as director of Colorado State University Extension's Larimer County program is an extension of Laurel Kubin's childhood on a farm in eastern Colorado. Growing up, she was involved in the outreach program's 4-H youth group and her mother belonged to its Homemaker's Council, which teaches rural Coloradans about nutrition, budgeting and home management, among other things.
Kubin, 64, is being honored as a 2013 Woman of Distinction for her work in education. "What fills my cup is seeing the light bulbs go on when people are learning how to apply what we teach in their own lives, to improve their situations,´ said Kubin. "I love to help people learn."
Kubin also got a bachelor's degree from CSU in consumer sciences and housing, in addition to a master's in family economics from Oregon State University.
Community outreach through extension programs has become a major mission for land-grant universities such as CSU, which were started by Congress in the 1860s to promote agricultural and mechanical education. These days, the CSU Extension provides information based on its research to rural and urban Coloradans statewide who need help with problems ranging from tackling garden weeds and livestock management to budgeting money and child care.
In Larimer County, Kubin and her staff teach 1,000 people a year on average, said Kubin, who has worked in the county since 1992.
"Laurel has a strong service drive,´ said Jacque Miller, an extension agent at CSU Extension/Larimer County who has worked with Kubin for 20 years. "She is very committed to being responsive to needs in the community."
Because of the recent economic downturn and Kubin's expertise in financial education, she and her team have focused on creating initiatives such as Make Change NoCo. In partnership with United Way, Make Change offers workshops and classes in areas such as personal finance, estate planning and investing.
"Financial education can be kind of scary, especially when you know you're required to be in a class because you're not managing your money well,´ said Kyle Christensen, Make Change NoCo coordinator. "Laurel has an amazing ability to speak to their needs … to show people they can do it, to empower them."
Kubin also designed and teaches classes such as "Build a Better Credit Score" and "Take Charge of Your Money Matters," the latter involving two-hour classes that provide students "tools" for getting control of their personal finances, including creating a spending plan and using credit cautiously, with follow-up counseling.
"We work to help people have the skills to stay out of poverty, or to come up out of poverty," Kubin said.