Tightened lending affects commercial real estate market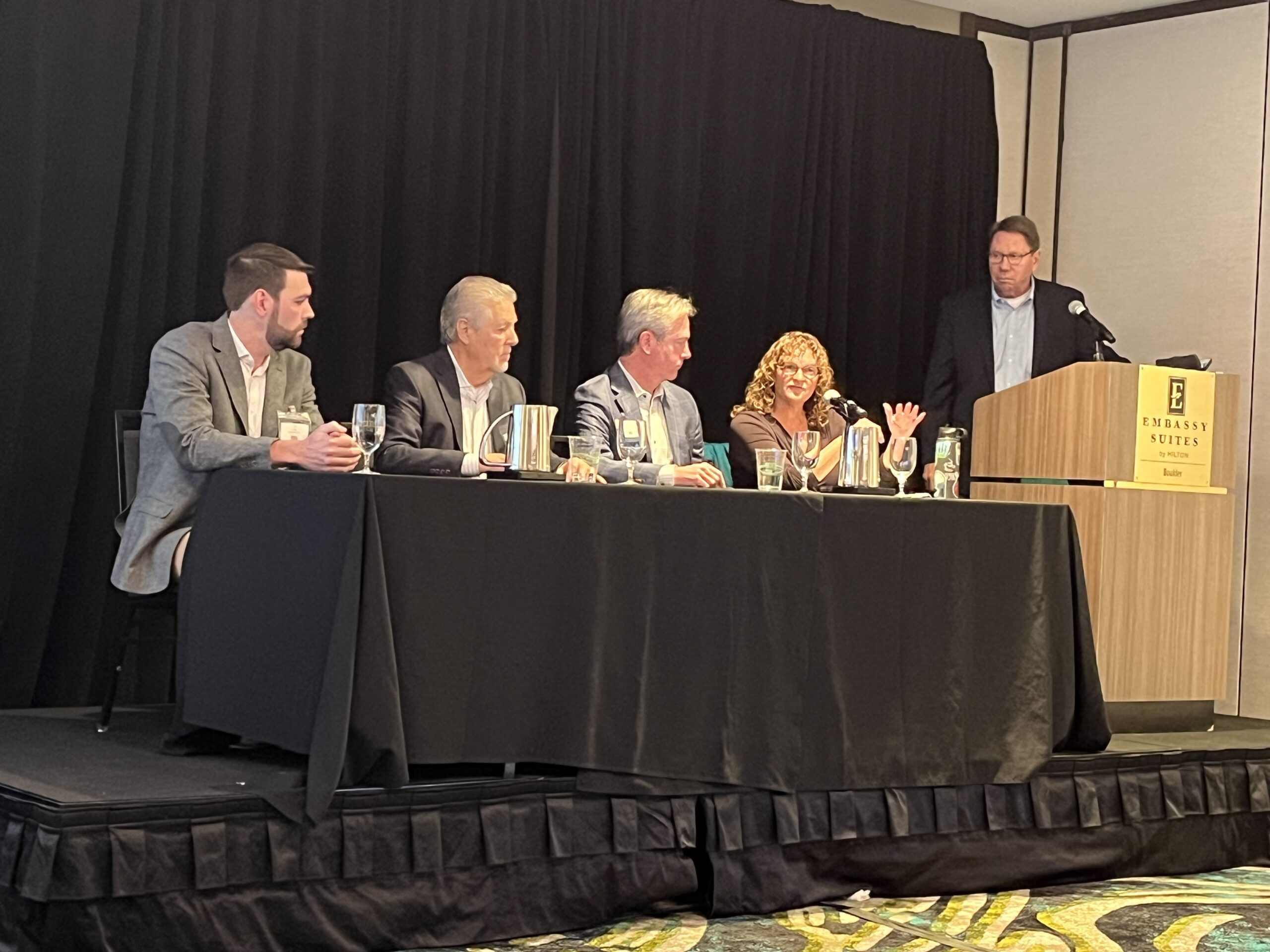 BOULDER — Relationships make all the difference when it comes to business transactions involving banks and commercial property owners.
At one time, if a borrower was on time with payments, there was no danger of having a loan called. That's not the case anymore.
Bankers and a commercial property owner discussed the state of affairs involving commercial lending in the Boulder Valley during BizWest's annual Boulder Valley Real Estate Summit held Thursday at the Embassy Suites Hotel in downtown Boulder.
As related by property owner Stephen Tebo, the banker/property owner relationship comes down to familiarity and genuine interest in the work of the other party.
He related a story involving a Louisville property:
"On a global scale, we have had all the local banks working with us. The large banks out of New York haven't been working with us as well," Tebo said.
He told about a 40,000-square-foot Louisville property. The tenant decided not to renew because it wasn't using that much space. "We let our bank know, which was a large corporate bank. It said it would give us 90 days to pay off the loan," Tebo said. His company was current on loan payments and had the resources from other properties to service the 3% loan or to add collateral to the loan. But the bank said the lack of tenants violated the loan covenants and it wanted repayment. It wouldn't renegotiate.
"We went out and used other properties and borrowed money to pay the loan off. We had to borrow at 6% to pay off a 3% loan," he said.
In a similar situation, Tebo was leasing a building in Boulder to the city. The city had a 90-day exit clause in the lease, and it exercised the clause.
"This was financed with a local bank, and it was willing to take another building as collateral. It honored the loan at the 3% rate."
In still another situation, Tebo lost a tenant in Longmont, and a local bank wanted to call the $1.5 million loan. In that case, Tebo had "tens of millions of dollars" of other loans with the bank, and the bank was willing to figure out a different solution instead of potentially losing all of the business, he said.
"Relationships that you have with banks are omni-important," he said.
Bankers agree.
Karen Klerman, senior director of community banking for FNBO, said banks are required by regulators to reassess loans at least annually. As market conditions change, and regulations change, if a borrower has a relationship with the bank it is far easier to work out adjustments that everyone can live with.
"Banks don't want to own real estate," she said. Foreclosure is the last thing a bank wants to do, she said.
"Who you're banking with is probably most important. The bank doesn't want to be a guinea pig when the developer is trying something new. Borrowers should consider a full banking relationship — not just a single loan. We'd like to see deposits. We'd like to see you use some other bank services such as remote capture, fraud protection, use of our wealth group," she said.
Aaron Spear, market president for Bank of Colorado, concurred. Banks want commercial customers who have long-term leases and good tenants. "These are the things we look at. We consider (our) experience (with the borrower) to be really important."
Both Spear and Klerman said that they are forced to comply with bank regulators, and sometimes that means working with borrowers to make sure that loans can be maintained without attracting the attention of regulators.
Banks look at three major things:
Cash flow from rents.
Relative financial strengths of the people behind the loan.
And if the property owner has to sell, what is the ability to do so.
"Our regulators require that we continually assess the repayment ability of our borrowers, typically every year. With interest rates rising so high so quickly, we see softenness in parts of the market that we haven't seen before," Spear said.
Joe Kalb, first mortgage officer with Blue Federal Credit Union, speaking about residential lending, said all lenders are seeing a tightening in the market as interest rates have risen.
"High interest rates make it more difficult to purchase. They make it more difficult to get approvals for borrowers," he said. As a result, "Lenders are getting more creative using more adjustable rate mortgages or working in situations to buy down interest rates," at least for early in the loan so that home buyers can into properties.
Borrowers seeking to buy multifamily properties can still find deals, but there's been a slowdown.
"An investment in Boulder is a more secure and solid investment. … (but) interest rates and rising taxes creates a problem for return on investment. Owners can't pass everything on to renters," he said.
Tebo noted that bankers are asking for information to get a more complete picture of the borrower. In his case, Tebo Properties has 125 loans on 275 properties. The banks want to know when all of those loans are coming due — and as the property owner, he needs to know that information, too.
"Bankers want to continue the relationship; they don't want to call any loans. They (bankers) need to provide information to the people they're accountable to," he said.
Tebo is confident about his tenant base; he has just 20% of his properties in the more vulnerable office category.
"The ones we have are fairly solid. During COVID, we had a whole different situation. Maybe 20% or 30% came to us and said they couldn't pay the rent. We didn't evict a single tenant during that period," he said, noting that national restaurant corporations were the most difficult to work with.
"If our tenants are successful, we get paid back," he said.
Spear's advice: "Don't surprise your banker. Have a plan and how you want to implement that plan."
Ken Amundson
Managing Editor
Latest by Ken Amundson: