Aggressively passive
Passive homes take shape in Marshall Fire burn scar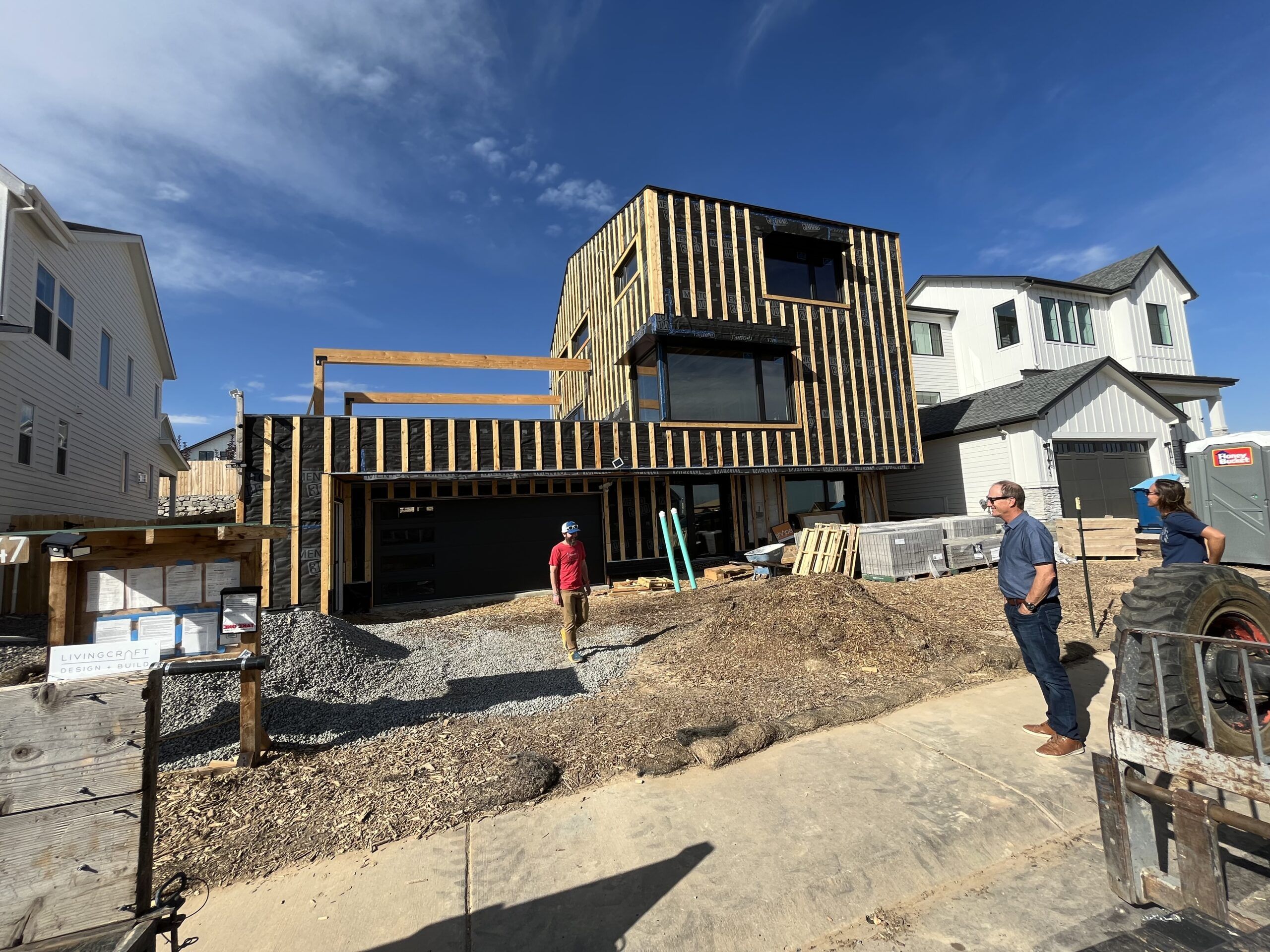 LOUISVILLE and SUPERIOR — A pair of homeowners, unrelated, whose homes were destroyed in the December 2021 Marshall Fire have decided that building back the same isn't enough. Instead, they want to create something better that aligns with their beliefs in environmental sustainability.
"We're doing the very best we can for the planet," said Kevin Lombardo about his family's decision to go the distance with a three-story passive home in Louisville near McCaslin Boulevard. Lombardo is an information technology professional with the National Renewable Energy Lab in Golden.
Passive home construction uses techniques that achieve a finished product that is 90% more efficient than a traditional home and are so resistant to exterior weather forces that their internal temperature varies little from season to season.
While Lombardo has taken a fairly standard approach to rebuilding with contractors executing on passive home designs, across U.S. Highway 36 in Superior, Matteo Rebeschini and Melanie Glover at 181 Mohawk Circle are using Homewrights LLC, which offers a service that enables home owners who aren't builders to act as their own general contractor. The Mohawk Circle home, in addition, was designed by Brighton-based ColoradoEarth LLC, which also has manufactured a compressed earth block that will achieve the passive home performance while making the home fireproof, according to ColoradoEarth's founder Lisa Morey, an engineer and architect.
Morey, a North Carolina native who "became enthralled" by passive construction, earned her engineering degree and then went to New Zealand to study architecture. While in New Zealand, she was exposed to passive techniques that included compressed earth blocks, or engineered adobe blocks. She found what she wanted to do in life.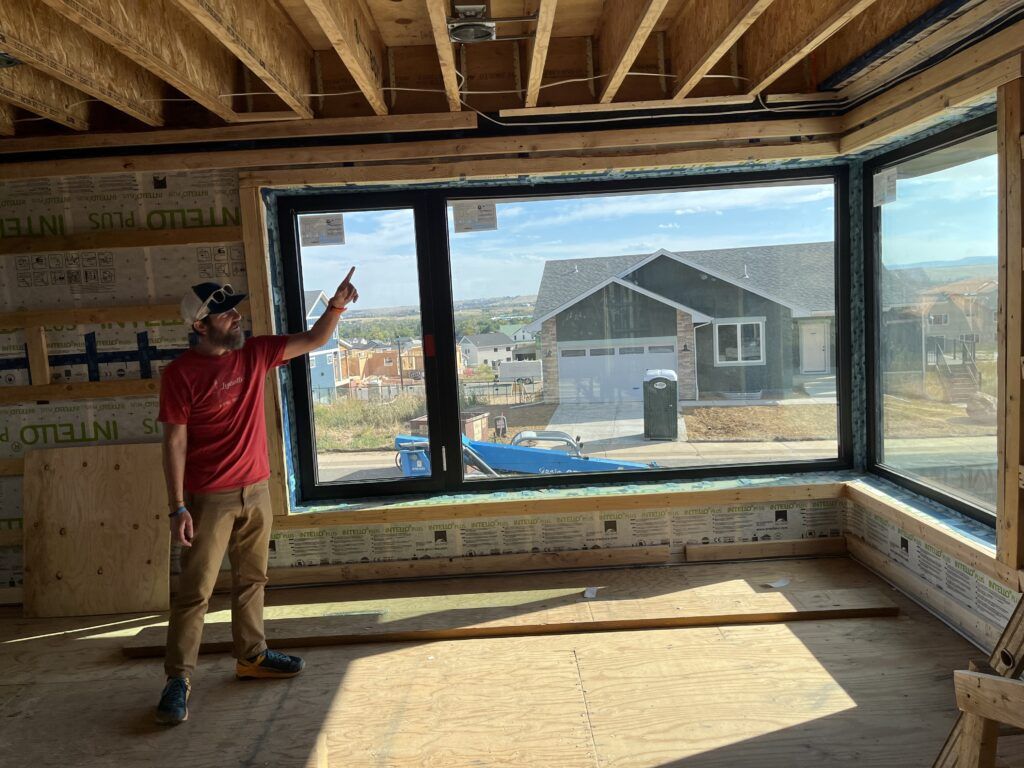 Morey takes what she called the "natural fines" or quarry fines from a granite quarry off Colorado Highway 83, mixes a percentage of Type S lime and compresses the mixture into blocks. The blocks are not fired but are cured much like concrete would be cured.
"It cures on the pallet. We wrap the pallet so it doesn't cure too fast," she said.
The blocks are laid into walls using a Type S lime earthen mortar. The mortar is aesthetically similar in color and strength to the blocks, she said.
RELATED STORY
Two walls of block, separated by a three-inch cavity, are raised for each side of the structure. Vertical rebar grouted with concrete is used to reinforce the structure. The finished wall is 15 inches thick.
The three-inch cavity, in addition to being a pathway for electrical conduit, is filled with an insulation such as Perlite or cellulose. The Superior home uses Perlite, which is similar to the little white balls that can be found in potting soil.
The home is two-stories plus a basement.
The exterior finish of the home, which as of late September was not yet applied, will be a lime plaster finish that will look like stucco. The finish will get stronger over time and will absorb carbon, Morey said. And it will be fireproof — a consideration that Marshall Fire victims likely have top of mind. The roof will be metal, also fireproof.
"It won't add any fuel to the neighborhood," she said in reference to how the fast-moving Marshall Fire swept through the streets of Louisville and Superior in a matter of minutes.
The interior finish of the blocks will be either a clear sealer or a lime-based paint that contains a pigment. The pH of the lime prevents growth of mold, another benefit of the technology.
Both the Superior and Louisville passive homes use Alpen high performance windows.
Morey said the home will have an R value of about R-17.
Use of the earthen blocks is relatively new to the region. Morey will have another project starting in Longmont soon and has built others in Parker, Castle Rock and elsewhere in Colorado, Utah and Missouri.
She will be working in the coming months with NREL's West Gate entrepreneurship program to partner with scientists in studying the thermal mass R values of the compressed earthen blocks.
Meanwhile Lombardo noted that the key to his passive home's construction is a design that separates the garage and second-floor patio from the main envelope of the home.
Lombardo's home is three-story, but it doesn't have a basement. The floors including the ground floor are wood, not concrete. The first floor will include a playroom for the kids, an art studio and working space. The second floor will include a living room with majestic views of the Flatirons, dining area, kitchen and access to the west-side patio that sits on top of the garage. The third floor includes bedrooms.
Shape Architecture Studio, Denver, designed the home. Living Craft LLC of Arvada is the builder. Lombardo hopes to move in by Feb. 29 next year.
"Is there a Leap Year in 2024," he joked. "It might be longer."
Ken Amundson
Managing Editor
Latest by Ken Amundson: