Inflation Reduction Act, regional collaboration energize power projects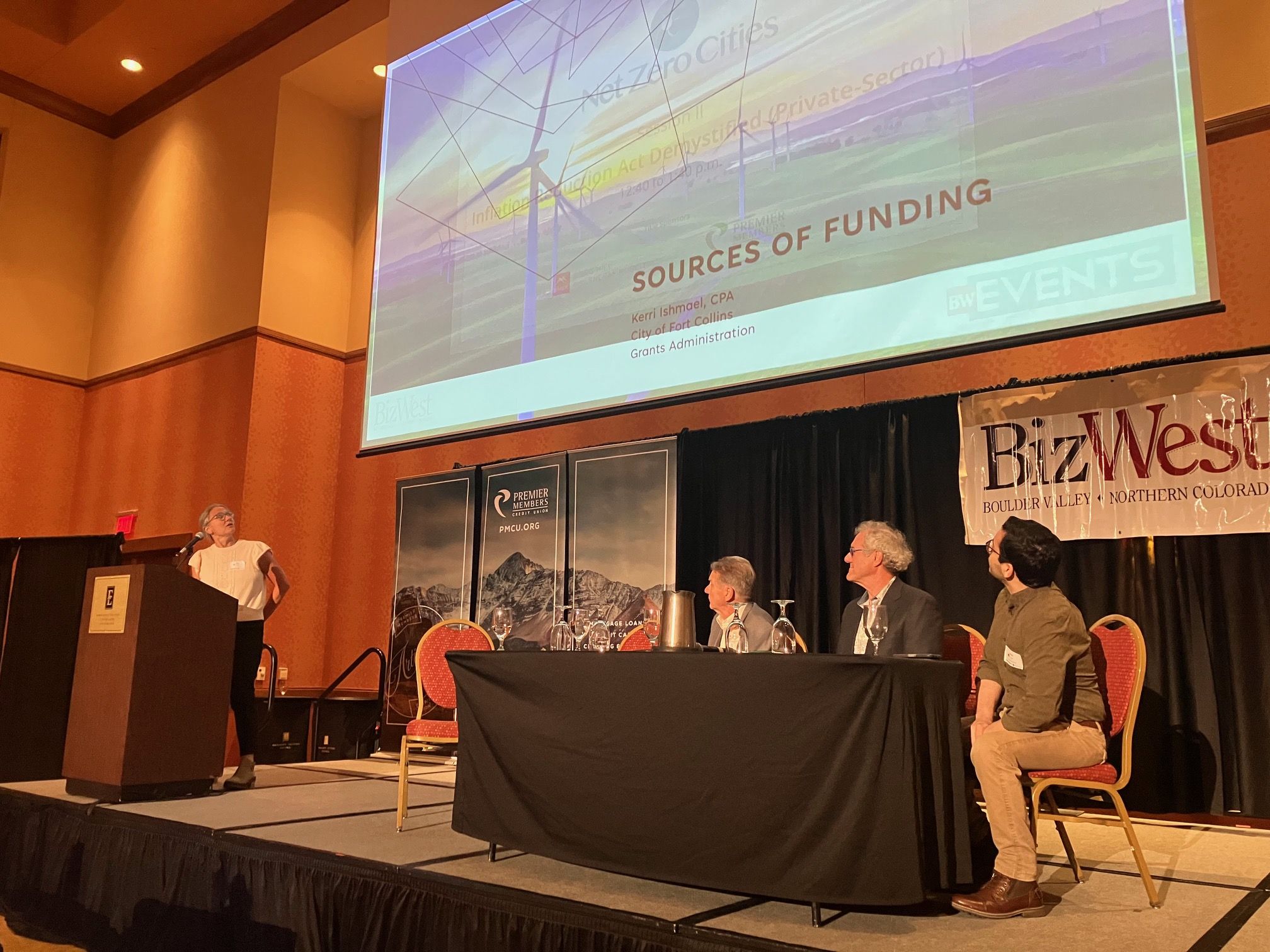 LOVELAND — The Inflation Reduction Act, which represents the single-largest federal investment in climate and energy policy, and increased regional collaboration have the potential to serve as a game changer for local government and power companies as they strive to improve sustainability and combat climate change.
Leaders and stakeholders in the electricity space from Northern Colorado and the Boulder Valley gathered at BizWest's Net Zero Cities event to chat about ways the law, along with other factors such as increased regional and public-private collaboration, can help communities reach their green-energy goals.
Net Zero Cities featured panel discussions from local government and industry leaders that focus on key issues around climate change and sustainability. The event was held Wednesday at the Embassy Suites Loveland Hotel and Conference Center in conjunction with BizWest's Confluence — Colorado Water Summit, which featured programming centered on water issues in Colorado.
Fort Collins grant analyst Kerri Ishmael said IRA funds and other grants and tax credits can be combined to create "braid opportunities" that can help get critical projects across the funding finish line. "You can stack 'em" to leverage "more federal dollars covering your project," she said.
The IRA also helps with long-term planning efforts, because it lessens the traditional "start and stop" pattern driven by ever-shifting government policy decisions, Scout Clean Energy CEO Michael Rucker said. "Having a long planning horizon for us is really a game changer."
Longmont was able to tap into a variety of funding sources in the years prior to the passage of the IRA to build its new wastewater-treatment facility, which is an "amazing resource with a lot of potential" to clean water, recover nutrients and produce renewable energy, deputy city manager David Hornbacher said.
Loveland director of water and power Kevin Gertig said he is "very proud" of the city's focus on sustainability, but municipalities ought not try to go it alone.
"We strongly believe in partnerships (and) collaboration … looking at it as a system and not as an individual city," he said.
From the perspective of electricity utilities, the Southwest Power Pool, which manages the electric grid and wholesale power market for a wide swath of the western United States, and other joint efforts represent the "next step in the evolution" of collaborative electricity production and delivery.
Colorado State University systems engineering professor Steven Conrad said that water utilities can be both consumers of energy and a source of renewable energy. Operators should analyze "interconnections" between inputs and outputs and examine the holistic system to achieve efficiencies.
Another important interconnection is water availability and agriculture, National Renewable Energy Laboratory researcher Brittany Speetles said. "It's really valuable to talk about food and water together."
Lucas High
Latest by Lucas High: