McGraw turns problems into progress
2013 Women of Distinction - Outstanding Mentor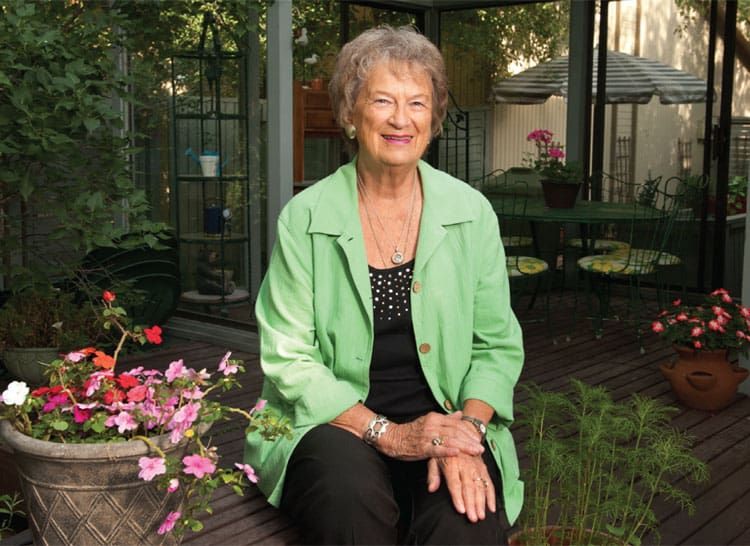 What she didn't know is that she would become a ground-breaking educator and the first woman principal in the Poudre School District. Those roles (and her role as wife of Thurman "Fum" McGraw, Colorado State University athletic director) gave her a unique opportunity in Fort Collins to make a difference in others' lives—which she does with kindness, empathy and panache.
McGraw, 82, is being honored as a 2013 Woman of Distinction for her work as a mentor. After graduating from East High School in Denver, she enrolled in CSU (then Colorado A&M) in 1948. She and Fum started dating at the start of her first semester. He'd had his eye on her since meeting her earlier that summer. And the rest, as they say, is history.
McGraw received her degree in science education and went on to teach in Wellington and at Blevins before moving to Rocky as Dean of Women. She was offered a position as interim principal at Lincoln Junior High—a position that lasted five years.
McGraw remembers many times students, teachers, administrators or parents came to her help during tough times. She was known as someone who could see issues through their eyes.
When teachers at Lincoln expressed concern about a group of Hispanic boys who wore black jackets and seemed to be in a "gang," she recruited them to monitor seventh graders, who tended to wander the halls during school dances, and keep them occupied and in one place. They named themselves the Low Riders and got to wear their jackets. The situation was defused.
Also at Lincoln, there were students who hated PE class and would take an F rather than dress out. McGraw gathered them together and asked them to assist special-needs students in a PE class that was being instituted especially for that population. The special-needs kids were engaged and active and the other kids got their passing grades.
These are just a few of the countless examples of how McGraw used insight and compassion to create positive outcomes. She was recognized by the district when they named McGraw Elementary School after her. "Growing up, I went to 14 different schools," she said. "I know how it feels to be on the outside."
McGraw was recruited by former Mayor Ray Martinez after she retired from PSD to help build a playground where children of all abilities could play together. Inspiration Playground was completed in 2007 at the west end of Horsetooth Road. She was also instrumental in creating the Youth Activity Center in midtown.
When dear friend Glenna Cribari was diagnosed with breast cancer, McGraw and other friends took it upon themselves to drive her to appointments. This is when she realized the need for a centralized Cancer Center that offered "…one stop shopping. I never knew how difficult it was to get to the doctor or to a CAT scan or the wig shop. It's overwhelming." Enter McGraw. She worked with the PVH and MCR Foundation to raise the funds to build a world-class Cancer Center.
And the list of everything McGraw has done to mentor young people and contribute to the Fort Collins community goes on and on…