Hutchison: Chamber's 'get it done' person
2013 Women of Distinction - Nonprofit Trade Association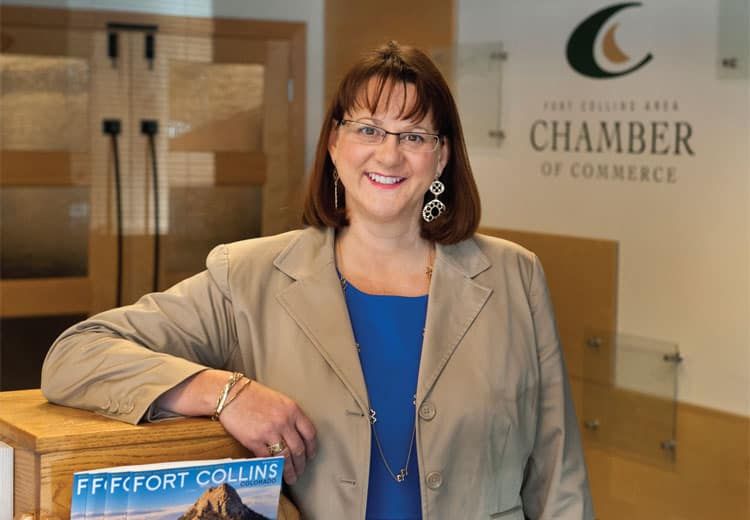 Ann Hutchison is not afraid of hard work. She is a firm believer that if you want something bad enough and work hard enough, you can achieve anything.
Hutchison, 44, is being honored as a 2013 Woman of Distinction because of her work with the Fort Collins Chamber of Commerce, a nonprofit trade association. Hutchison, the executive vice president of the Fort Collins Area Chamber of Commerce, attributes her philosophy to growing up in a small Colorado town to parents who encouraged her to "do anything and everything, work really hard and have a lot of fun."
Hutchison spends a great deal of her time working with the chamber's Leadership Fort Collins program, which informs participants about the history, government, economy, social issues, needs and opportunities available in the Fort Collins area, while helping them hone their personal leadership skills. She also was integral in the formation of Leadership Northern Colorado, which is a joint venture between the Fort Collins, Greeley and Loveland Chambers of Commerce, the Community Foundation of Northern Colorado and the Community Foundation Serving Greeley and Weld County.
"I'm so proud of our leadership program here in Fort Collins … I love when I get to see one of those graduates turn around and do something phenomenal for our community," she said. "To think I had a tiny part of them becoming this fantastic leader for our community is incredibly powerful. I'm so thankful for that opportunity."
She added that she believes she has the best job in the universe.
"I get to work with the most outstanding people in our business community every single day. …That is such a powerful experience. I don't know that I've changed them, but they have changed me," she said.
Sharie Grant, president of the Northern Division of OfficeScapes, has known Hutchison since 2003, when they served on the Chamber's Legislative Affairs Committee together.
"That's when I first saw Ann's tremendous passion for community issues. She's very intelligent. Her intellect and her widespread engagement in a variety of community issues, not just related to her job but things she volunteers in personally, make her a tremendous resource for people to rely on and go to when they need to coordinate or facilitate action,´ said Grant. "She does it humbly, shares her knowledge, doesn't always get credit, but she is a strong piece of the puzzle when critical things are being done in the community."
Hutchison's passion for leadership initiatives started at a young age. In college she held many leadership roles. A graduate of the University of Northern Colorado with degrees in journalism and speech communications, she thought she would end up being a PR whiz in a major city.
"Fate took me on a completely different path, but the path was perfect for me," she said. "I have the perfect job right now. I'm a fantastic No. 2 in an organization. I'm the get-it-done person. That's so exciting because every day I know that what I'm doing isn't just spinning my wheels but is helping us move our organization ahead."