Cassidy brings hope to the vulnerable
2013 Women of Distinction - Leading Lady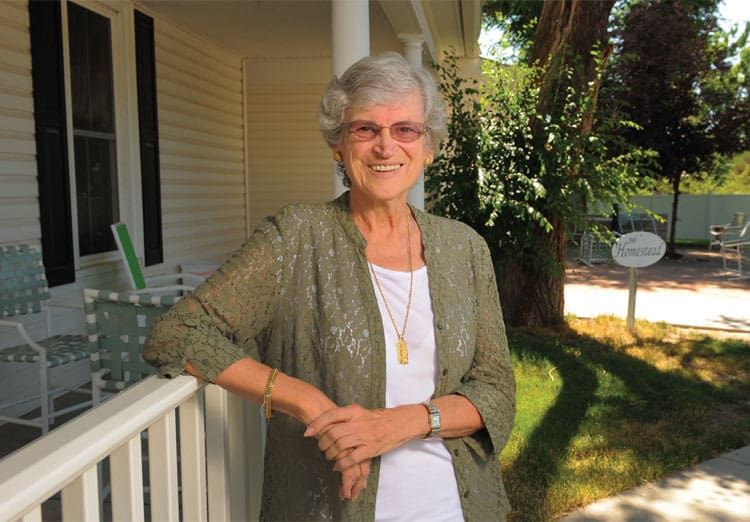 Patient Advocacy Team; Hospice of Weld County; Camelot I & II; Leyden House; Brighton House; Downtown Service Center; The Greeley Center for Independence; Eldergarden; North Colorado Therapy Center.
These programs and facilities, serving thousands of people in the region, grew from the personal tragedy of one woman who wanted to spare others similar heartbreak. In the process Hope Cassidy has changed laws, lives, and won the admiration of countless people in the community.
Cassidy, 75, is being honored as a 2013 Woman of Distinction for her outstanding work as a "leading lady" in the community. Nearly 40 years ago, Cassidy's mother died, in part, from the poor care she received at a nursing home. The crushing experience drove the music teacher to singlehandedly create Patient Advocacy Team – an army of 250 volunteers who visited nursing homes, and facilitated a pet therapy program. In the process the organization became a model for advocacy programs on the Front Range.
"Lord, I'm only one person, but if you show me what to do and give me the courage to do it, I will give you 100 percent," Hope says today of her determination to make a difference in the lives of vulnerable patients like her mother.
Cassidy was off and running. With hard work and collaboration came a string of successful organizations. State lawmakers drew on Cassidy's knowledge and experience when crafting Colorado's first hospice regulations. She also organized hospice facilities in Oklahoma, Kansas and Nebraska.
As she saw needs change, not just for advocacy, but also for direct services for people in nursing homes and the disabled, Cassidy adapted. The Patient Advocacy Team became the Greeley Center for Independence. A grant writing, fundraising dynamo, Cassidy's next achievement was the North Colorado Therapy Center – with wheelchair accessible pools – offering water- and land-based therapy for the disabled.
From there, Cassidy set her sights on helping people with acquired brain injuries. She raised enough funds to purchase the Stephens homestead in Greeley, eventually building the Hertzke House, a new residential facility.
Her decades-long efforts have also won her the prestigious El Pomar Award for female Colorado Humanitarian of the Year. El Pomar also gave The Greeley Center for Independence the excellence in self-sufficiency award.
A choral music teacher by training, Cassidy can scarcely imagine her life now if she'd remained in the classroom.
"Before I started down this path, my biggest goal would have been to have the best sixth grade choir in the state. It's been a wonderful life, a wonderful ride. What a ride it's been."
The people of the Front Range are grateful she took it.