At 88, W.D. Farr seeks new challenges
1998 Bravo! Entrepreneur - Lifetime Achievement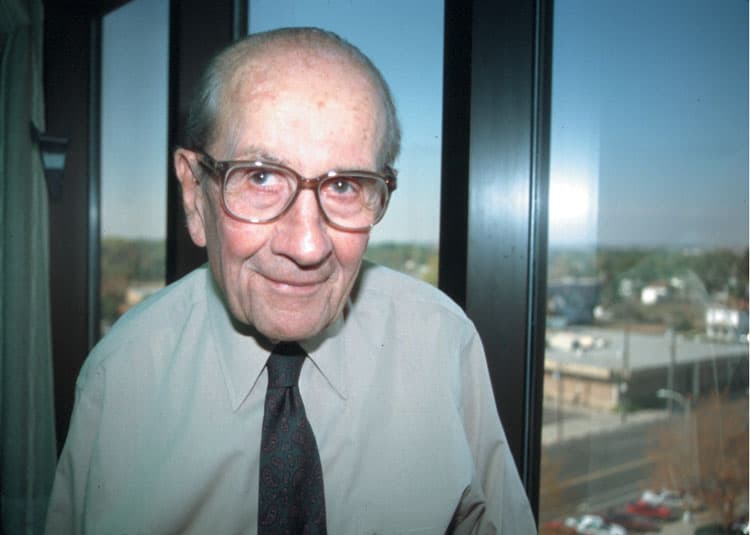 Water, cattle pioneer sees new opportunities for Northern Colorado
GREELEY – W.D. Farr has spent a lifetime trying to make things better in the cattle and banking industries and in bringing water to the Front Range, but he isn't resting on his laurels.
At age 88, Farr has his vision fixed firmly on Northern Colorado's future, and he already is looking ahead to changes that can make what he calls a great area even better.
"It's a whole new world, and I've told lots of people I'd like to be starting out," Farr said in a recent interview with The Northern Colorado Business Report from his sixth-floor office in Greeley's Bank One Building that he visits nearly every day. "We still have a lot of future, and I think the future's much brighter than it was, because we know so much more.
"I'm fortunate, now that I'm getting close to 89, that I'm still able to come here and keep up a little bit with what's going on and understand today's problems to a certain extent," he added.
William Daven Farr was known as Bill in his earlier years but has gone by W.D. in his later years in deference to one of his four sons, Eaton banker Bill Farr. Another son, Dick, manages the successor to the family feedlot operation; son John is in insurance and investments in Summit County; and son Randall is in business in Oregon.
Farr has been looking for solutions to problems since joining the family business in 1929. His national prominence is based on helping develop cattle feeding into a modern science, but in Colorado, he is better known for his ability to foresee the major changes that would transform the banking industry and for his vision for water development that have given Northern Colorado's communities and industries the water they need to bloom.
The Greeley native's lifetime achievements are many, and for that reason he is the first recipient of the Northern Colorado "Bravo! Entrepreneur Lifetime Achievement Award."
"My whole goal in life has been to improve things and make them better," Farr said. "I was never quite satisfied; I thought everything could be improved.
"I could have stayed with one thing, or I could have tried to make a lot of money, but that never appealed to me. I wanted to do things to make this a great area," he added. "My grandfather came here as a young apprentice blacksmith, and he did well, my father did well, and I always knew I was going to stay here and make a living in agriculture. As these other opportunities came along, why they were just other things that you could do to be helpful. So I've spent a lifetime just trying new things and trying to make them better. I think that's about the story."
Farr transformed the family lamb-feeding operation into a cattle feedlot and is credited for helping develop the modern feedlot, with year-round feeding. He was the first cattle feeder to serve as chairman of the National Cattleman's Association in 1970-71 (previous chairmen had all been cattle ranchers) and started its office in Washington, D.C.
The son of a banker, Farr also served as director of several banks, including the Greeley National Bank and U.S. National Bank in Denver, which ultimately became United Bank, then Norwest and now Wells Fargo. As Farr foresaw the era of big bank holding companies emerging, he joined the Greeley National Bank with other outlying banks into Affiliated Bankshares of Colorado and, ultimately, Bank One.
But it may be his long-time efforts to develop Colorado's mountain watersheds for beneficial use in communities, agriculture and industry on the plains along the Front Range that will be his lasting legacy. Without the vision of people such as Farr, there would be no Colorado-Big Thompson Project or other trans-basin water diversions that have allowed the Front Range to grow and bloom.
"I'm proud of everything I've done, but I'm more proud of that than anything else for the reason that it's permanent," Farr said. "That water is here in perpetuity for generations to come, and nobody's going to change that."
Admittedly, use of Big Thompson water is changing – from 95 percent agricultural and 5 percent municipal/industrial in the early 1950s to 45 percent agricultural, 55 percent municipal/industrial today – but that is a change that doesn't bother Farr in the least (particularly since agriculture can still use the treated effluent).
"The important thing is that it's here for the people and for this area," he said. "If it weren't for that project, there wouldn't be any Budweisers or IBMs or Kodaks; they couldn't exist. There wouldn't be the water here to support them. There wouldn't be any Front Range, there wouldn't be any DIA – the only reason in the world that it's here is because of that project."
Farr's involvement in water development grew out of the Dust Bowl days of the 1930s and his recognition that both agriculture and communities needed to supplement their natural water supplies if they were going to grow.
"As I started with my father in 1929, the first thing we ran into was the drought of the '30s, and we just didn't have water enough to grow decent crops," he recalled. "We came to the realization that if Northern Colorado, the Front Range area, was ever going to amount to anything but dry, dusty towns, we had to go to the Western Slope and bring Western Slope water to this side of the mountains. Lots of people didn't think it was possible, but some of us had to believe and prove it, and fortunately it worked out.
"So naturally I have some pride in that," he said, quickly sharing the credit with others. "I didn't do it by myself by any means — I was just a small cog in the wheel — but I just stayed with it and spent a lifetime working on it and still do."
Farr served on the Northern Colorado Water Conservancy District Board for 40 years and just retired last year, but he still is actively monitoring water projects. He was the first and only chairman of the Greeley Water Board from 1957 to 1997, served on the Colorado Water Congress and was appointed by President Nixon to a national water-quality task force to deal with water pollution.
Farr also has been active in community and civic affairs, including Rotary and the Long's Peak Boy Scout Council. Judy, his beloved wife of more than 60 years, passed away last year, leaving a void in Farr's life, but he fondly remembers their years of raising their family and their love of the outdoors, hunting and fishing.
In fact, Farr celebrated Labor Day by fly-fishing the North Platte River near Encampment, Wyo., and catching and releasing a trout. Then it was off to inspect water projects in Grandby and up the Poudre River.