Bank report card: Despite obstacles, bankers express optimism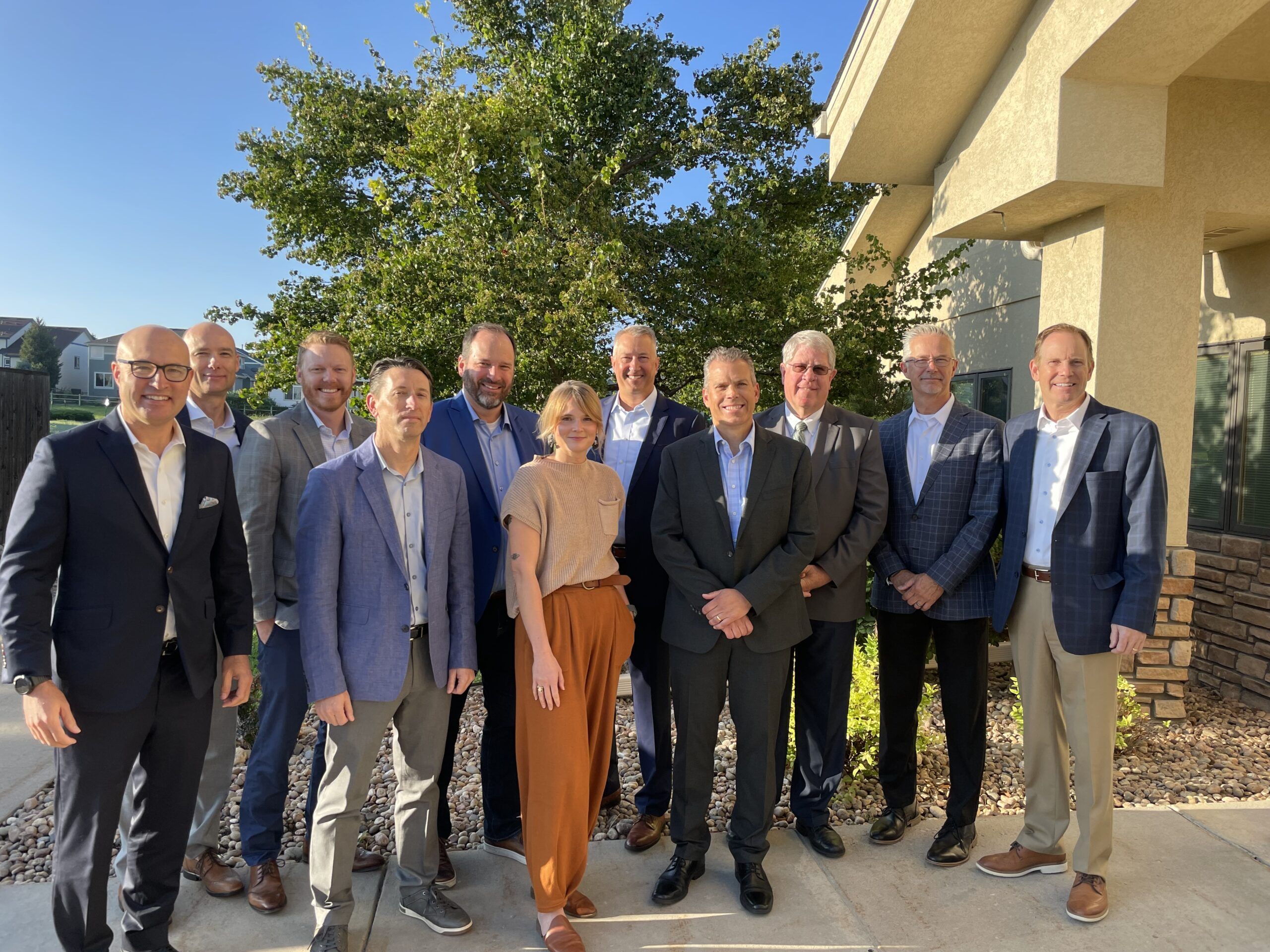 WINDSOR — Despite rising interest rates, inflationary pressures and, in some sectors, concern about a recession, Northern Colorado bankers expressed optimism about the state of economy in the region and about the health of their relationships with banking customers.
Executives of regional banks and credit unions met with BizWest at a CEO Roundtable Tuesday held at the Windsor office of the Better Business Bureau for Northern Colorado and Wyoming.
"We're not hearing as much about the state of banking. From a customer standpoint, customers are being more reserved or cautious, given high interest rates. PPP funds have evaporated but there's not a lot of angst" among customers, said Nathan Ewert, Colorado market president for First National Bank of Omaha, also known as FNBO.
"All banks have seen an evaporation of liquidity. Customers are looking for where to put their deposits for best use. Customers are looking to make a better return. For so long, banks weren't paying anything; now it's a complete 180 (turn)" he said.
Ryan Beiser, Colorado regional president for PNC Bank, said that after the failure of a couple of big banks on the West Coast, there was "some flight to the largest banks, but that's changed now."
Tom Chesney, president and CEO of AMG National Trust Bank, concurred. "There's a flight to quality. Banks with strong ratings" are popular with customers, he said. "Customers are looking for a return of their money, not a return on their money," he quipped in reference to institutions perceived to be safer.
Darin Atteberry, market president for Elevations Credit Union in Northern Colorado, said that his institution is seeing an increase in commercial project lending and "pre-approvals for (home) mortgages are really high as well. Consumers are eager," he said.
Dave Fritzler, Northern Colorado regional president for Collegiate Peaks Bank, said operating companies, unlike real estate investors, are seeing success in the market. "Real estate investors are concerned, but operating companies aren't there. They (operating companies) feel more in control," he said.
Mark Brase, president of Points West Community Bank, said the decline in deposits that bankers were seeing has subsided. "With bank failures, there was keen interest in deposits, in FDIC insurance and many questions about 'how am I covered.' We had outflows and inflows, so it was kind of a non-event for us."
Neal Weber, chief financial officer for Blue Federal Credit Union, said customers were asking a lot of questions after the bank failures but now "people think the economy is strong. Six months ago, there was concern about a recession but we're in a pretty good position going forward," he said.
"From an optimism standpoint, it's (confidence) still there," said Chris Chippindale, senior vice president, northern operations, for Ent Credit Union. "Customers are looking to hire and continue to grow but maybe at less of a clip," he said.
Jason Jones, executive vice president of Adams Bank & Trust, said that "when banks were failing, we as a bank started to reach out to customers to assure them that things were going to be OK. We're back to the fundamentals of banking to have conversations with customers. Communication lines with customers are much improved. Relationships are stronger. People are looking for bankers they can call who can be problem solvers for them," he said.
Recession or not?
Bankers in Northern Colorado represented at the roundtable were not expecting a recession, at least not on the order of the Great Recession.
Chesney said his bank's in-house economist "is predicting a soft landing. He doesn't see a full-blown recession."
Weber said some regions of the country — "the coasts" — might experience a recession but not in the heartland.
Beiser countered, "We've never had a soft landing with interest rates rising as fast as they have. (But) the data is fairly positive. I agree with Neal (Weber) that a soft landing or mild recession is likely, particularly in Colorado.
And even if the state experiences a recession, it might not hit Northern Colorado, Ewert said. "Northern Colorado is more insulated than the rest of the state and nation," he said, citing the university presence of the University of Colorado, Colorado State University and the University of Northern Colorado.
"And the federal research centers help the area be more protected," Atteberry chimed in.
Ewert said "the astonishing amount of construction activity" is noticeable.
Said Chippindale, who lives in Littleton, "It feels different here than elsewhere. It's busier, a lot of things going on. Other parts of the country are not like here."
Brase said that even in the past more-significant recessions, "We certainly didn't have the dips that other parts of the country had. The unemployment rate is still low. Major employers are still looking at Northern Colorado."
Ewert said the area is not without headwinds. "The one thing that could hold us back: Infrastructure is bursting at the seams. Housing in general could hamstring Northern Colorado.
Concern about office properties
Even though owners of office properties in Northern Colorado haven't been as impacted as those landlords in the Boulder Valley and in Denver, there are concerns.
"At the macro level," Atteberry said, "it ought to be very concerning. Locally, it depends on the property. In Fort Collins, when you have part of the Hewlett Packard campus vacant, it affects the vacancy numbers. When there's vacancy (at a property) and people come in for refinancing, we're looking closely. At the micro level, there are still high performing projects in the office space."
Office property owners, and employers of office workers, have yet to come to grips with the work-from-home scenario that exploded during the COVID-19 epidemic.
Ewert said he does not think employers will return to five days in the office. "I think the pendulum swung too far, but it won't come back completely."
"Generally, there's a concern that we're losing something, the water cooler conversations. Plant managers are still trying to figure that out," Atteberry said.
Fritzler said that office acquisitions are down. "Property owners are still proud of their properties, and they don't have to sell. Buyers find that they need (to pay) more down in order to buy."
Bankers bemoaned situations in which large institutions attempt to capitalize on tenant vacancies that can throw a property into covenant default. Such situations can permit a bank to shed low-interest loans for higher-interest refinancing, but, as Fritzler noted, "you always want the bank to take care of the client."
Ewert said the market may see the repurposing of office space when landlords can't fill the space. He referenced the Midtown area of Fort Collins that failed to be successful. Greater density may be the solution. "As a general note, repurposing will be the word you hear," he said.
Beiser cautioned that "it's almost easier to start from scratch," instead of attempting to remodel office space into something else. "There isn't a precedent of that working extremely well," especially when it comes to converting office to multi-family housing.
"When we talk about development and real estate lending, you have to look at it by category. Think about real estate lending in the subcategories," Beiser said. Lending to owner-occupied offices that are "paying for it with operations of the company, those deals can look really different (from the landlord/tenant operation)," he said.
Jones agreed. "We're still seeing requests that come in with flexibility. Projects with owner- occupied space plus some space to lease out, we can cash flow the operation with the owner-occupied side."
Brase noted that Points West is seeing some pushback on loans in the commercial sector when the rates are too high. For residential, "Buyers are able to get into a home, but it's costing the builders to buy the rates down. The builders are subsidizing those housing deals."
Beiser and others expect interest rates to remain high for a while longer as the Federal Reserve tries to slow the economy in order to tamp down inflation. That means that property owners who need to refinance as their original loans come due will have decisions to make.
"There will be some real conversations as these come due," Brase said. Redevelopment may result, "but you can't turn everything into a pickleball court," he joked.
Jones said bankers would be wise to be thinking further ahead and "walk through what-if scenarios" with customers. "If their loans are going to be repriced, we need to be talking to customers now about how we'll walk through this."
Foreclosures
The bankers were not seeing the prospect of mass foreclosures. When it comes to housing, most homeowners have equity. "They can sell if they need to" in order to avoid foreclosure, Jones said.
Ewert said the first indicator of a downturn in the financial markets is not foreclosures but delinquencies. Noting that FNBO has a lot of credit-card customers, he said that credit-card delinquencies "have been extraordinarily low." But that part of the market may be starting to shift. After credit card delinquencies come consumer loans, then auto loans before housing loans become an issue, he said.
Housing
Banks and credit unions said that residential loan activity remains active — "slower but still robust," Chippendale said. "People still have to move for jobs or their families grow or they have a reason" to take out a new mortgage. "Our lending group in Northern Colorado is still happy with activity."
"All purchase activity, not refi, right?" asked Ewert.
"Yes," multiple participants said with laughter.
Still refinancing is a strategy about which today's homebuyer is well aware.
"If you can buy a house (at today's higher interest rates), you can refi later. You take the longer game and know that over a longer period, we're going to be OK," Chippindale said.
Silver linings
Bankers acknowledged that today's financial conditions and uncertainty about what might be ahead helps to reinforce the basics.
"Relationships matter," Atteberry said. "Loyalty from a depositor standpoint seems to be really important. Will people jump to a better rate, or stay with an institution they've had a relationship with for decades," he asked.
Beiser said that "Banks and bankers who bring ideas will be winners here. If the economy stagnates, then everyone goes after the same pot. How do you differentiate?"
Bankers need to remember that banking is about more than loans. "Opportunity may not be just loans, loans, loans but the entire suite of services we offer," Ewert said.
"Customers bank with banks but they stay for the banker," said Jones.
"Kiss 'em until their lips are chapped," said Chesney.
CEO Roundtables in Northern Colorado are sponsored by Plante Moran accounting firm, represented Tuesday by Sean Nohavec; Berg Hill Greenleaf Ruscitti law firm, represented by Ashley Cawthorn; and Elevations Credit Union, represented by Darin Atteberry.