Banner Health leader's Rx: Treat staff with grace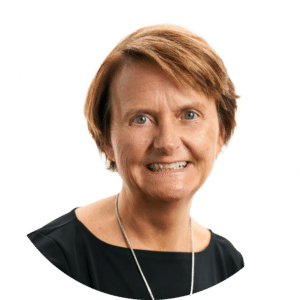 2022 Women of Distinction Honoree – Health Care
Margo Karsten
Banner Health
The philosophy that governs Margo Karsten's work was formed just after graduating from college, when she was working as a staff nurse at Methodist Hospital, which is part of the sprawling Mayo Clinic campus in Rochester, Minnesota.
""I watched how different leaders treated front-line staff," she said, "and I thought that if I ever had a leadership role, I committed to myself that I would treat the front-line staff well and be their advocate and focus on building a healthy culture for everyone."
Karsten put that philosophy into practice in 2016 after being named chief executive officer for Banner Health's Fort Collins Medical Center as well as McKee Medical Center in Loveland and North Colorado Medical Center in Greeley. In 2018 she became president of Banner's Western Division, providing overall leadership for those three hospitals along with an additional 14 acute- and critical-access hospitals in six states.
"I like to make sure people are appreciated and treated with grace," she said. "We're all trying to do very hard work, and sometimes you just need a little kindness and grace to get you through the day."
That need was never more evident than during the height of the COVID-19 pandemic.
At Banner Health, Karsten said, "we started every incident command meeting with three moments of gratitude. I honestly believe that made a huge difference on resilience and getting through that hard time together as a team. It was probably the hardest, most intense time of my career."
Over the past 20 years, she has held leadership roles at hospitals in Colorado and Wyoming, including nearly three years as chief executive of Cheyenne Regional Medical Center and three as CEO of Creative Health Care Management Inc. The Minnesota native said she wanted a change of pace from her home state's brutal winters and found it "when great career opportunities brought me out west."
She is active in many community boards including the North Colorado Economic Alliance, Greeley Chamber of Commerce, Colorado Hospital Association and the American Hospital Association.
Karsten has a bachelor's degree in nursing from the University of Minnesota, a master's in nursing administration from the University of New Mexico, and a doctorate in organizational development from Colorado State University. She taught a class at the University of Colorado Denver and served on the affiliate faculty at Regis University.
She is the proud mother to two grown sons and a daughter in college.
"I love to do anything outdoors," she said, "including paddleboarding, running, hiking, skiing, snowshoeing — and I just tried skate skiing, which is awesome."
However, she also still has some professional goals in mind.
"I would like to write and publish either articles or books or do a podcast on how important it is to be a leader and create cultures that allow people to be their best and be acknowledged for their work," Karsten said. "And I might go back for another degree. I'd really like to volunteer in hospice, and I'm looking into how best I could do that."