Kathy Collier inspires with vision of future
2009 Women of Distinction - Government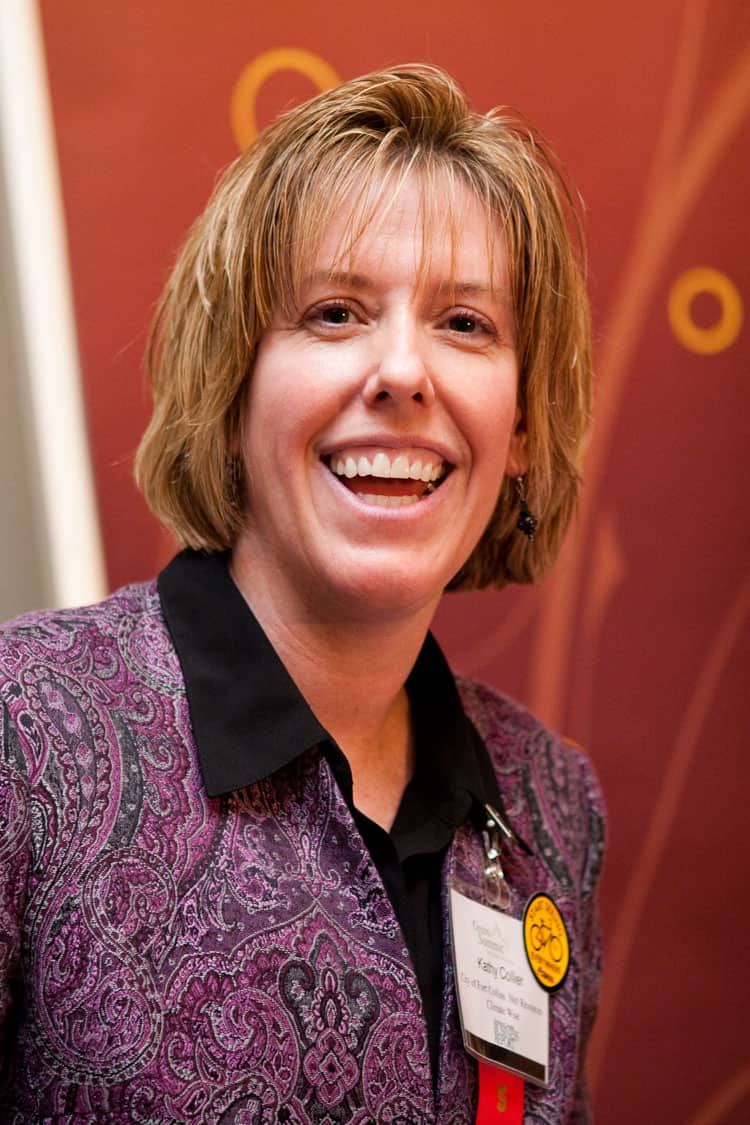 Saying that Kathy Collier's enthusiasm is contagious would be an understatement. Her energy and passion are evident in everything she does, and when she's on a roll, she takes everyone with her.
Witness to that is her success in drawing local businesses into the city of Fort Collins' Climate Wise program, a voluntary outreach program that helps local organizations reduce greenhouse gas emissions. Collier, an environmental planner for the city's Utilities and Natural Resources Departments, and this year's Northern Colorado Woman of Influence in Government, coordinates Climate Wise and has helped bring close to 170 businesses into the program. They have logged a collective reduction of more than 100,000 tons of carbon dioxide per year.
What inspires Collier? "One of the most important things in my job is to see a business contact's face light up when they realize they can make a difference in the community by just making some small adjustments," she said. "The only real reason I'm in this job is that I see a way to impact the community."
There's another side, she admits. "My kids, Hannah and Claire, also inspire me. Knowing that I'm creating a healthy environment for my kids is really exciting. And, it's not only creating a quality of life for the kids but putting things in place that will sustain it." And Colorado is the perfect place to do just that, she said.
Although not a native, Collier was Colorado-bound from a very young age. "I'm originally from Chicago but, when I was a kid, we practically lived out here. We always vacationed here, skied here and I knew I'd be coming here."
She graduated from Purdue University with a bachelor of science in management, marketing and statistical analysis and she and her soon-to-be-husband, Scott Roark, came with her in 1990.
Collier has been with Climate Wise since January 2005 but, even before that, her mind was on the environment and fostering a higher quality of life. "In the mid-'90s, I helped the city of Loveland with bike programs," she said.
She also spent time working for the city of Greeley until, in 2002, she was lured away by the North Front Range Metropolitan Planning Organization to work on transportation demand management efforts. At the MPO, she helped create the SmartTrips program and developed the analytical pieces for business outreach data as well as creating programs and promotions that would encourage the use of alternative transportation.
When the MPO separated from the city and started to close the TDM program, the timing was right for Collier to join Climate Wise. "I needed a new challenge and wanted to do something more than just transportation," she said. "So this was a perfect fit: energy, water, sustainability and transportation all together."
About the same time, National Geographic magazine published its climate issue. "I remember thinking I have to surround myself with positive people who want to make great changes and that's when I heard about the job at Climate Wise."
Collier loves her work and knows it's what she wants to do. She recently had brain surgery and while she was in the hospital in Denver, she looked toward the mountains and the famous Brown Cloud. "I knew my work wasn't done."