Finances, family add up for The Group's Patty Weible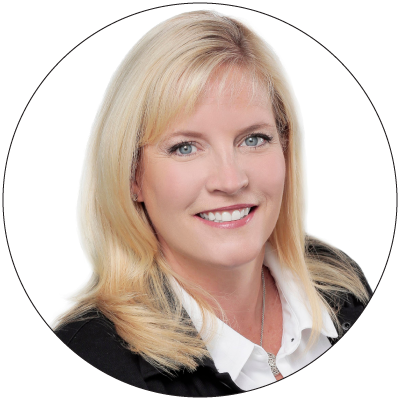 2023 Women of Distinction – Real Estate, Construction and Development
As chief financial officer of The Group Inc. in Fort Collins, Patty Weible is in charge of fiduciary oversight for the largest privately held real estate company in Northern Colorado, which generates more than $3.3 billion in transactions annually and more than $65 million in sales commissions across eight locations in Colorado.
But that's just a part of her story.
Weible also is a single mother raising three children – including her youngest, Jack, 9, a bright and cheerful boy with autism – so child care is a major focus for her at home and in her charitable work. Weible serves on the leadership committee of WomenGive and the financial committee for Respite Care Inc.
A program of United Way of Larimer County, WomenGive has grown from its founding in 2006 to a network of more than 500 members who use their financial resources to help women achieve economic independence.
"WomenGive provides single moms with scholarships and funding for day care so they can pursue either undergrad or graduate degrees," Weible said. "I'm passionate about women's education and self-sufficiency, so being in that position is definitely an honor."
Respite Care, a Fort Collins-based nonprofit organization founded in 1982, provides short-term, quality care for children with developmental disabilities and respite to their families, enabling them to enhance their quality of life.
Through her work with Respite Care, Weible said, "being able to help families with children with special needs is special for me, too."
She has also been board president at Flagstaff Academy and the Niwot High School Education Foundation.
The world of finance attracted Weible early on. She enrolled at the University of Colorado's Leeds School of Business because "I decided I should pick something challenging because it would help me when I tried to find a job after school," she said. "I'd heard from other people that if you understand the finance side, that's really important to adding value to a company."
She earned an undergraduate degree in business and finance at CU, then got her master's in international business from Regis University and spent more than 25 years working in a variety of Colorado industries including technology, education and health care,
She was an Oracle implementation manager and financial analyst at Quantum and then a controller of operations at Sun Microsystems before it was acquired by Oracle Corp. in 2010. At Oracle in Broomfield, she worked as a senior manager for sales operations. Her next posts were as a chief financial officer and financial consultant for Abstract Insights LLC in the Denver area and a senior manager for financial planning and analysis at Medtronic in Boulder before coming to The Group in 2018.
Her post at The Group, she said, is "the dream job, and I get to live it every day. I continue to add value and help the business grow, especially since we're employee owned. It's not hard to convince people to do the right thing when we're all owners. The team that works with me is amazing."
Dallas Heltzell
Staff writer
Latest by Dallas Heltzell: