Danielle Bock has an appetite for nutrition and more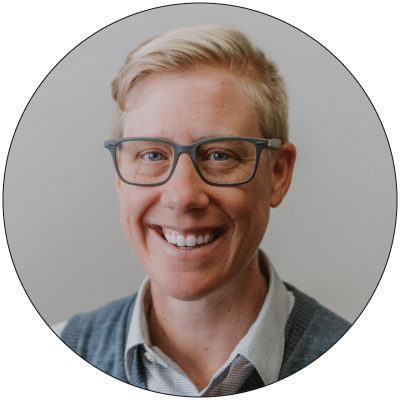 2023 Women of Distinction – Education
It's much more difficult for a school to nourish a student's mind when that child's body isn't nourished. That's where Danielle Bock comes in as director of nutrition for Greeley-Evans School District 6.
Described by colleagues as "a phenomenal and gifted leader with incredible accomplishments in feeding children nutritious and healthy food," Bock filled her plate with accomplishments in this past school year alone. She got the district's school board to cover the complete cost of all student meals – the only district in Colorado to do so. She served more than 20,000 meals per day to 94% of enrolled students, totaling about 4 million meals. Additionally, she was instrumental in creating programs such as school gardens, a farm-to-school initiative, in-school food pantries, a "culinary classroom," scratch cooking and replacing milk cartons that earned the district exposure on media outlets including "NBC Nightly News" and Rocky Mountain PBS.
Because of her state and national advocacy efforts, she was invited to attend the White House Conference on Hunger, Nutrition and Health. In March, Agriculture Secretary Tom Vilsack visited Greeley to learn more about the district's programs and initiatives.
Bock describes herself in her LinkedIn profile as a "driven operations leader offering extensive hands-on experience and a consistent track record in exceeding goals, cultivating growth and delivering sustainable gains" and "a self-starter with a proven ability to conceptualize and implement innovative solutions. Past achievements demonstrate a clear ability to utilize new, cutting-edge technologies as a means of updating processes and systems. Highly effective leadership and motivating skills support the development of cohesive teams in the achievement of strategic goals."
She also lists her "special focus on engaging in diversity, equity and inclusion work."
A graduate of the University of Colorado Boulder with a bachelor's degree focused on literature, Bock started her career as a sales representative for Bellevue, Washington-based National Specialty Sales, then became director of operations for Food Lifeline in Seattle. In that post, she increased food distribution 65% from 21 million pounds in fiscal year 2008 to 35 million pounds in fiscal year 2011, with a focus on capacity-building programs.
Returning to Colorado in 2012, Bock became food resource and transportation manager for the Weld Food Bank, then director of business development for MenuTrinfo LLC before briefly trying her hand at running her own business, Soup To Nuts, in which she offered to cook meals, run errands and even take on home projects.
Bock finally arrived at District 6 in November 2014, where she started as an area supervisor for information technology before advancing to operations coordinator and then taking on her current role in March 2017.
She also is a member of the International Food Manufacturers Association's food leadership council and the School Nutrition Association's public policy and legislative committee, as well as serving on the equity team for both that association and District 6.
Dallas Heltzell
Staff writer
Latest by Dallas Heltzell: