Lists
Log in here
PRODUCTS
SEARCH
PROFILE
ADD DATA
SUBSCRIBE
Product Details
Colorado Outdoor Directory 2017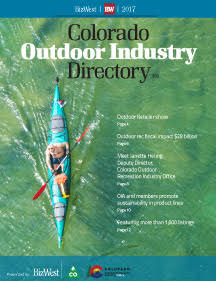 The Colorado Outdoor Industry Directory features Colorado companies and organizations involved in the outdoor-product sector. This comprehensive directory lists companies that manufacture and/or distribute outdoor products, in addition to associations and organizations that are involved with recreation. This annual directory includes more than 1,400 listings of Colorado's outdoor industry related companies.

Categories of companies include:
Advertising, Sales & Marketing, Adventure Travel, Apparel (Apparel includes: Activewear, Adventure/Race/Travel, Backpacking, Base Layer, Casual/T-shirts, Children's, Climbing, Cycling, Field, Fitness, Fishing - Fly, Fishing - Spin, Fleece/Pile, Footwear – Athletic/Running, Footwear – Casual, Footwear – Children's, Footwear – Hiking, Footwear – Mountaineering, Footwear – Sandals/Water Sports, Footwear – Snowsports, Hats/Gloves, Hunting, Motorcycle - Off Road/Street/Dual Sport, Organic/Eco-Friendly, Outerwear/Insulated, Padding/Swimwear, Snowsports, Socks, Sweaters/Knits, Snowmobile/ATV), Bicycle Sharing, Distributors, Events, Food and Drink, Gear & Equipment Manufacturers (Manufacturing includes: Archery, Backpacking, Belts, Bicycles – Custom, Bicycles – Electric, Bicycles – Frames, Components & Accessories, Bicycles – Mountain, Bicycles – Road & Track, Bicycles – Tandem/Recumbent, Camping, Canoes/Kayaks/SUPs, Children's Gear, Climbing Ice/Rock, Electronics & Technology, Eyewear, Exercise, Fishing - Fly, Fishing - Spin, Fishing - Tenkara, Hammocks, Helmets, Hunting, Hydration Packs/Systems, Lighting, Lubes/Cleaners, Maps/Navigation, Motorcycle - Off Road/Street/Dual Sport, Optics, Paddles/Oars, Paddling Accessories, Pet Products, Safety Equipment, Skateboard/Longboard, Snowboard, Snowmobile/ATV, Snowshoe, Skiing Equipment, Sports Products, Tents, Travel Packs/Bags, Vehicle Racks/Cargo Carriers, Water Bottles, Waterproof Cases/Dry Bags, Watersports), Manufacturing Services (Manufacturing Services includes: Assembly, Cut and Sew, Engineering, Inventory Management, Machining, Maintenance, Material Acquisition/Control, Testing/Quality, Safety/Health/Environmental Management), Nonprofits, Associations & Government, Outfitters, Professional Services, Publishers/Digital Media, Retail Consultants, Retailers, Skin/Lip Treatment, Ski Resort, Specialty Services.
Product
Records
Price
Cart
COLORADO OUTDOOR DIRECTORY 2017
file download. (All records that qualify)
1139
$195.00
Add to
my cart

Fields included in the COLORADO OUTDOOR DIRECTORY 2017 product:

NOTE: Some records may not contain data for every field listed below.

Company name
Street address
City
State
Postal code
County
Mailing address
Mailing city
Mailing state
Mailing postal code
Office phone
Office fax
Company Email address
Website
Facebook Page
Year founded
Products/Services
Number of Colorado employees (full time equivalent)
Advertising, Sales & Marketing
Adventure Travel

Apparel
Bicycle Sharing
Distributors
Events
Food and Drink
Gear & Equipment Manufacturers
Manufacturing Services
Nonprofits, Associations & Government
Outfitters
Professional Services
Publishers/Digital Media
Retail Consultants
Retailers
Skin/Lip Treatment
Ski Resort
Specialty Services
Suggest a new related category?
Person in charge
Person in charge: (First name, Last name, Title)
Return to products