New vendor pitches plan to resurrect airport's remote tower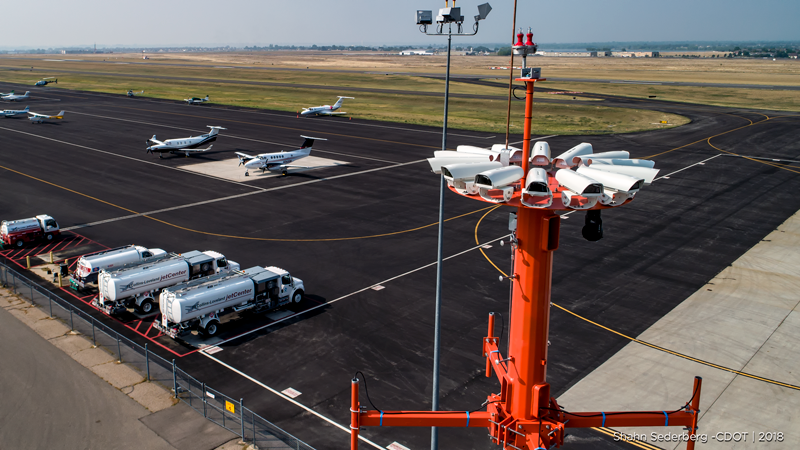 LOVELAND — A subsidiary of the company formerly known as Raytheon told Northern Colorado Regional Airport commissioners on Thursday that it would be excited to pick up operations of the airport's experimental remote tower, which was left in limbo after a Canadian vendor pulled out last month.
Rachel Jackson, director of strategy and customer engagement for Charlotte, North Carolina-based Collins Aerospace, a subsidiary of RTX Corp. (NYSE: RTX), the company which until July had been known as Raytheon Technologies, told commissioners that it has been developing the technology for several years using Raytheon's Standard Terminal Automation Replacement System (STARS), already being used in many air-traffic control centers around the country. She said her company partnered with Frequentis, based in Vienna, Austria, to develop a remote-tower system and has won approval from the Federal Aviation Administration to test it at the FAA's technology center in Atlantic City, New Jersey.
Jackson told commissioners that she hoped to begin testing at the tech center in February, which could lead to STA (system design approval) by December 2024 or the first quarter of 2025 – "and then go to an active airport.
"What we would like to do," she said, "is to plan on ordering hardware and installing it here in Fort Collins before we get approval, so that the minute we are done through the tech center, we just move the team to Fort Collins."
The airport, jointly owned by the cities of Loveland and Fort Collins, is located within Loveland's city limits.
"We'd also be making sure you have an off-ramp," Jackson added, "so that if we don't get through STA, you are not on the hook to have to deal with that hardware and that equipment. We'd come and get it."
She expressed confidence that FAA approval could be won. "We want to treat this project like we do STARS," she said, and would develop it with the "same rigor."
Bill Payne, president of William E. Payne and Associates, who the Colorado Department of Transportation's aeronautics division has appointed as program manager for the project, was nearly as confident in Jackson's team winning approval.
Noting that airport commissioners had shown mounting frustration with delays in the remote-tower project and were beginning to consider construction of a traditional air-traffic control tower instead, Payne said that "during this process, the airport simultaneously will be going through a siting process to site a sticks-and-bricks tower" using the FAA's Virtual Immersive Siting Tower Assessment system (VISTA).
"The siting process will take approximately 24 months," Payne said. "At any point, we will have an off ramp to go either way depending on what occurs at the tech center. But when you're dealing with the FAA, all bets are off."
DOT, the FAA and the airport had been collaborating since 2015 to bring the technology to Northern Colorado. Through video cameras and other sensing technologies, the remote tower is designed to emulate the operational safety and efficiency benefits of a traditional control tower at a lower cost.
David Ulane, director of CDOT's aeronautics division, which has paid for much of the remote-tower testing at the airport, told the commission that "I know that you all are considering an alternate path and looking at options regarding a traditional air-traffic control tower as we continue to move the remote tower project forward, which is still our intent from CDOT's perspective. We're very excited about this technology, and these people are extremely interested in coming over to pick up where Searidge left off."
Nepean, Ontario-based Searidge Technologies, the company selected by the FAA in 2018 to be the tower's technology partner, in October advised CDOT verbally and in writing to the FAA that it was pulling out over ongoing challenges with the remote certification of remote towers. New visibility requirements issued by the FAA in November 2022 triggered a halt in testing at the tower while new technology could be installed to meet the new standards. The FAA then extended the stop-work order for another six months. Searidge continued to work on upgrading the technology, but apparently wasn't getting paid for its work by the FAA during the stop-work order.
Payne reminded the panel that, "to develop a sticks-and-bricks or legacy traditional tower would be a minimum of at least five years" and could cost more than $65 million.
"It would be a far shorter time to get through the technical center testing," he said.
"It would be a crying shame to take the work we've done here and simply throw it away," he said. "I think the remote tower is the best solution here, and it gives the state a chance to do something extraordinary, which is set up a remote tower center to serve multiple airports."
Fort Collins mayor Jeni Arndt, who chaired Thursday's meeting, sounded a note of caution.
"Before we made any decisions, we would need to know what the FAA would put in," she said, "because these are big-money decisions, and because we don't have a remote tower up in the United States right now."
The FAA experimented with a similar system in Leesburg, Virginia, but halted that project in February.
Payne said that if Jackson's team were to withdraw from the project, "there is no remote tower contractor out there."
Along with construction of a larger terminal, which began in July, the airport needs air traffic control if it hopes to lure the return of scheduled airline service.
Loveland had been represented by City Manager Steve Adams and Mayor Pro Tem Don Overcash, who had chaired the commission. Arndt chaired Thursday's meeting instead because Overcash lost his bid to be mayor – and thus his City Council seat – in the Nov. 7 Loveland municipal election.
Adams said the Loveland City Council would meet Nov. 28 to select members to the airport commission, including Overcash's replacement. Loveland Mayor Jacki Marsh, who frequently has attended the meetings, told BizWest she would be interested in serving.
Dallas Heltzell
Staff writer
Latest by Dallas Heltzell: