People propel Gafner Group's growth in Longmont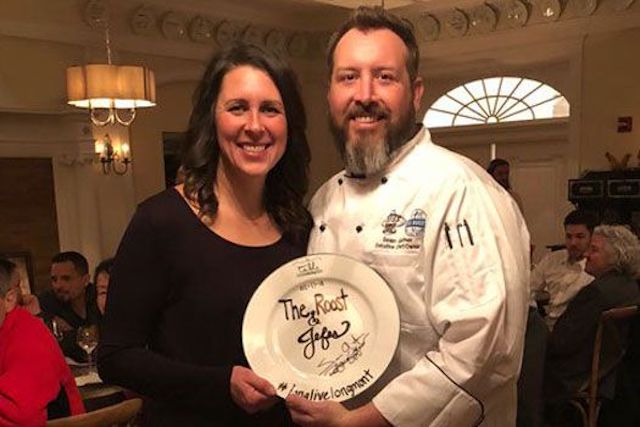 Editor's note: This is the fifth in a series of articles profiling this year's Boulder County Business Hall of Fame inductees.
LONGMONT — At first blush, a statistic that Sean Gafner cites as a measure of his success in Longmont's restaurant scene might not seem so telling.
It is this one: The Roost and three other establishments that make up the Gafner Hospitality Group employ 275 people, many of them newcomers, and the average length of time in their jobs is greater than a year.
That is almost unattainable for a fast-growing business group in a sector that labors under one of the highest employee turnover rates in the entire economy.
"Until a bunch of recent new hires, that number was up to 18 months," Gafner said. "Our number one goal is to be a great company to work for, and I think we're doing that."
The Gafners have raced to the top of Longmont's food-and-beverage ladder in less than 10 years, and for that will enter the Boulder County Business Hall of Fame at a Sept. 14 induction at the Boulder Jewish Community Center.
Gafner, his wife, Rebecca, and their four children made Longmont their home in 2015 after Sean had built an enviable record in Northern California's restaurant industry.
An accomplished chef who graduated with honors from the Golden State Culinary Institute, Gafner had made a splash at the upper end of Sacramento's fine-dining scene, making regular appearances on Northern California TV morning shows as the region's top chef.
He then moved on to Redding, where he continued his five-star career at the Tierra Oaks Country Club restaurant and with top-tier View 202, a downtown eatery with sweeping views of Mount Shasta and the Sacramento River.
Then, in 2014, he saw the movie "Chef." Director Jon Favreau's wry comedy tells the story of a star chef, hounded by a persnickety owner and a pompous, know-nothing food critic, who ditches his career for a food truck, puts his culinary passion on wheels and downsizes to a more modest, and much richer, life.
The story became Sean's and Rebecca's as they moved to Longmont, grew roots for their family and, in 2015, opened The Roost, a casual American restaurant that has elevated the city's restaurant offerings.
"I'm now as proud of what I do with casual restaurants as I ever was with fine dining," he said. "These are the important things: Are you proud of your product? Are you proud of the flavors that you present? Is your staff happy? Do they really enjoy what they do?"
Commitment to maintaining the best possible work environment became the focus of the Gafners' strategy as they springboarded from The Roost's success to open three more Longmont establishments.
The first, in 2016, was Jefe's Tacos and Tequila, a place that takes Mexican food in lots of innovative directions. Two years later Swaylo's Tiki Restaurant and Bar opened with a tropical Pacific design and menu so authentic that its Hawaiian offerings even feature Spam musubi. The newest, downtown's 99 Bar Saloon, opened in May with the literal brand used on the San Joaquin Valley cattle ranch owned by Sean's father, Randy Gafner, as Sean was growing up.
Employees at all four Gafner Group holdings enjoy a package of benefits that would be uncommon in any industry, but especially in the food-and-beverage segment.
"We require our managers to take three to four weeks a year of time off," Gafner said, "and we offer paid time off for our entire staff."
Free memberships at several area health and fitness clubs, free chiropractic care and free mental health counseling services round out a package that begins with higher-than-average compensation.
Success of all four Longmont businesses is something the Gafners take in stride, but not for granted.
"It's all because of the amazing people we have," Sean Gafner said.