Wells: Don't let interest rates cause loss of housing dreams
We have been led to believe by some pundits that the U.S. housing market is in the worst shape it has been in historically. I would like to showcase why that type of thinking is well off the mark
Let's reflect back to 1981, when interest rates and inflation were sky high. In fact, on July 31, 1981, the rate on the average 30-year fixed mortgage was 17.1%.
We can talk about how home prices were much less expensive in those days, and that's true on the surface. But here's some additional perspective about those 1981 interest rates: On average, homebuyers in May of this year are spending 32.8% of their income on housing. But in September and October of 1981 — when rates reached as high as 18.3% — buyers spent 51.3% of their household income on their mortgage payments (see chart below).
The real story? People in that era of higher rates still bought and sold real estate during this time and benefited from doing so when those interest rates finally lowered. They chose not to place their lives on hold, but continued to forge ahead. Creative financing, including owner carries, assumable loans, and other tools, became the norm to help solidify the dreams of homeownership.
Today, I believe one of the most challenging aspects of our economy is how the limited inventory of homes to buy is restricting opportunities for our next generation to acquire housing and the peace of mind it can provide. With the enormous amount of tappable equity floating around, and not many other investments performing very well, the asset class that still reigns supreme is housing.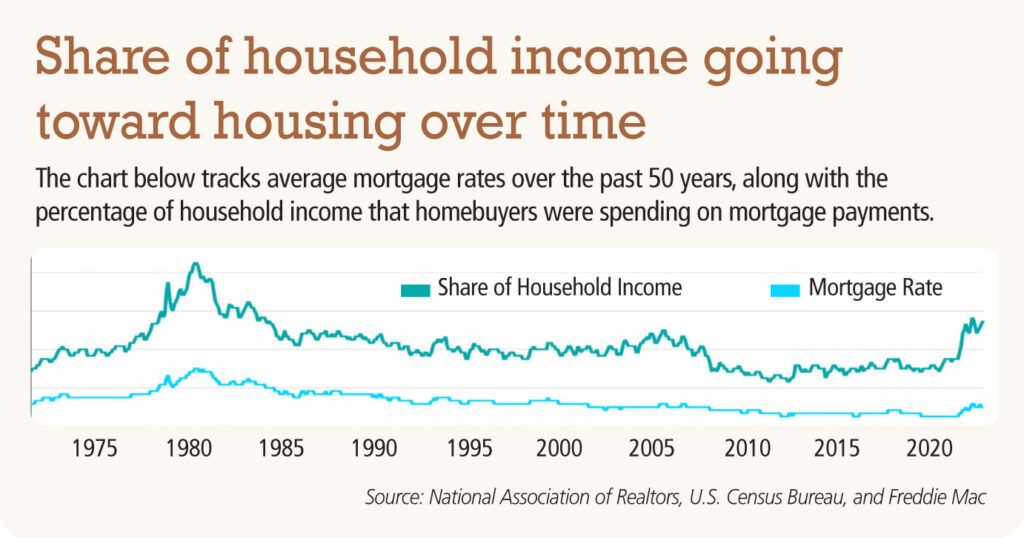 For parents of small children, the future is much more certain when you can provide housing security. Our founder Larry Kendall has always suggested that housing is the best way "to give your kids a chance."
When do we lose touch with what the meaning and purpose of home is? I'd suggest we need to rethink our reasons for buying a home in the first place, and look at the benefits beyond financial gain. It is time to stop solely looking at our home as an investment or an additional source of income.
The current fixation on inflation, interest rates, equity, home values, return on investment all have created a major perception shift. The true meaning of home has in many cases been lost as we start to look at the housing market as transactional.
The conversations about how many offers are made to sellers, how much a buyer pays above list price, and how much money somebody made during the tenure of ownership, are very interesting. But what seems to have been lost is the idea of living out someone's dream, creating memories, and the joy we get from the place we call home.
As the market has shifted over the past year, many dreams and visions seem to be either stopped, or frozen as a result of some of the transactional elements of the market (i.e., interest rates, affordability, etc.). People are nervous about getting the best deal, or potentially overpaying, or wanting to wait to solidify a better interest rate.
There will be a shift that occurs when people start to realize that putting their dreams on hold is a bad idea. Time is a precious resource, and one that none of us can predict how much we have left of. I am certainly not recommending that anyone do anything that is beyond their means or is not responsible financially. However, today's perception of the housing economy has placed an enormous physiological barrier between so many people and their dreams and aspirations.
Brandon Wells is president of The Group Inc. Real Estate, founded in Fort Collins in 1976 with six locations in Northern Colorado. He can be reached at bwells@thegroupinc.com or 970-430-6463.