Lindsay Lehrer aims to make youth sports a winner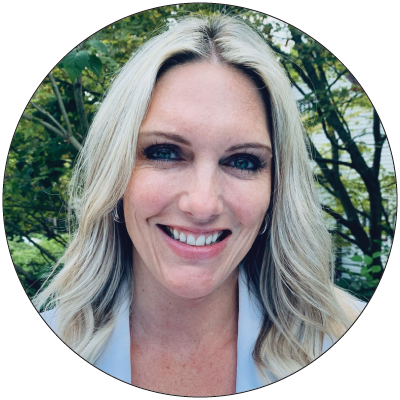 2023 Women of Distinction – Outstanding Mentor
Lindsay Lehrer, owner of Elite Youth Sports, with operations from Fort Collins to Longmont, is building local girls' flag football from the ground up.
"Every game when we play the boys, they kind of laugh at us," she said, "and then they end up crying at the end of the game."
The result can be more than just a victory on the scoreboard, she said, "when they find out they are just as fast and just as good. It's great to see their confidence grow when they see they can do everything the boys can do."
Because of her efforts to put together all-girls' flag football teams at every youth level, the first girls' game in Colorado was held on April 11, 2021, between two third- and fourth-grade teams. She also worked to get summer football tournaments to be held in Northern Colorado, and the state championships for five-on-five flag football was held June 19-20 at Colorado State University's Canvas Stadium.
Lehrer is coaching some of the teams to help build up the sport to the point where girls can continue to compete into high school.
"Some high schools and colleges are beginning to offer it now," she said.
At Elite Youth Sports, they call the journey of player development "the evolution of football." It is designed for all ages, genders and skill levels.
The organization partners with CSU, the National Football League and NFL Flag, USA Football and the Northern Colorado Football Coaches Association. Through its Game Changer Team Manager software, families, athletes and coaches can stay connected, view schedules, communicate with the team and let coaches know athletes can make upcoming events including games and practices.
A native of the Empire State, Lehrer earned a bachelor's degree in elementary education at the State University of New York's Oneonta campus, then worked as an executive assistant for five years before she and her husband decided to start a family. They moved to Colorado in 2014, and started Elite Youth Sports in 2020, she said, because "what I wanted to do is coach my daughters. I thought it would be a great thing for our girls to do.
"We started out only playing boys teams," she said, "and we ended up winning state that year. Bringing girls into a predominantly male sport and winning championships is really cool."
Although girls still compete only in its flag-football programs, she said, Elite Youth Sports now has at least 1,000 children and teens competing and has expanded into four levels of football: its original five-on-five no-touch flag game, seven-on-seven two-hand touch ("As soon as there's a touch, the play is dead"), nine-on-nine full-pads "hybrid" football in the spring and offseason ("getting kids ready who haven't played tackle yet"), and traditional 11-on-11 tackle football.
"I'd like to see a lot more girls play flag football," Lehrer said. "It's growing all over the country, and in other parts of the country it's bigger, so I'd like to see Colorado grow with females in football."
Dallas Heltzell
Staff writer
Latest by Dallas Heltzell: