Marshall Fire investigation concludes blaze originated from Twelve Tribes property, Xcel line
DA: 'No evidence of crime,' no charges being filed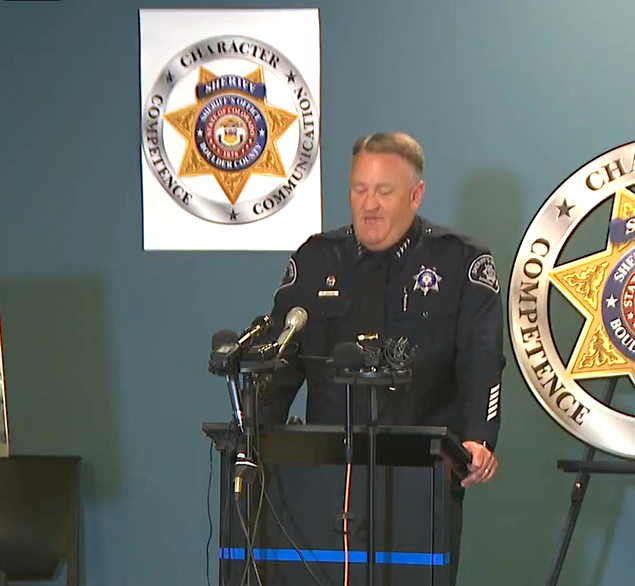 BOULDER COUNTY — After nearly a year-and-a-half-long investigation led by the Boulder County's Sheriff Office, county officials concluded that the Marshall Fire on Dec. 30, 2021, which killed two people and destroyed more than 1,000 homes and businesses, had two root causes: high winds that uncovered a smoldering, days-old fire at the residence of the Twelve Tribes religious group and a malfunctioning Xcel Energy Inc. (NYSE: XEL) powerline.
No charges will be filed, Boulder County District Attorney Michael Dougherty said Thursday.
Multiple families who are members of Twelve Tribes, an international organization with several thousand members that has been accused by past members of labor exploitation, child abuse and racist teachings, live together in a compound at 5325 Eldorado Springs Drive in Boulder County. Residents of that home burned material in a yard on Dec. 24, buried it and assumed that the flames were extinguished.
That fire was "not in violation of any law," Dougherty said.
A week later, a "high-wind event uncovered a previously buried fire," Boulder County
Sheriff Curtis Johnson said. "… Under the right conditions, smoldering combustion can occur for weeks or months."
Soon after the high winds on Dec. 30, 2021, transformed the smoldering material into a blaze at Eldorado Springs Drive, "hot particles discharged from an Xcel Energy powerline" several thousand feet away from the initial fire and started a new blaze in a nearby grassy area. Investigators found that this line malfunction was likely not related to the Eldorado Springs Drive residential fire; however, the two blazes quickly converged and together started the Marshall Fire.
"I recognize that Xcel might not share that view," Dougherty said of investigators' conclusion that company equipment played a major role in the Marshall Fire.
Investigators concluded that an "Xcel wire that had been unmoored from the pole," likely as a result of high winds, was one of the two causes of the Marshall Fire, Dougherty said.
The Sheriff's Office investigation's conclusion appears to contradict earlier information provided to the public. The day after the fire started, officials said that "Xcel Energy has been a very responsive and invaluable partner. At this point, they have inspected all of their lines within the ignition area and found no downed power lines."
Dougherty acknowledged that this communication may be confusing, but the language is "technically true" because the "unmoored" line didn't meet Xcel's definition of "downed" line.
While "the communication could have been more clear on all sides," Dougherty said, "there's no indication that there was an effort to mislead investigators."
In an emailed statement to BizWest, Xcel took issue with the characterization that a piece of Xcel equipment represents one of the likely causes of the Marshall Fire.
"The Sheriff's report cites several potential causes for a second ignition near the Marshall Mesa Trailhead that started roughly an hour after the first fire. We believe the second fire burned into an area already burned by the fire from the first ignition, and did not cause damage to any homes or businesses," Xcel said. "We strongly disagree with any suggestion that Xcel Energy's power lines caused the second ignition, which according to the report started 80 to 110 feet away from Xcel Energy's power lines in an area with underground coal fire activity."
The utility "did not have the opportunity to review and comment on the analyses relied on by the Sheriff's Office and believes those analyses are flawed and their conclusions are incorrect," Xcel said. "We have reviewed our maintenance records and believe the system was properly maintained.
Prosecutors must make criminal charging decisions "based on evidence and not based on emotion," Dougherty said. "… If we were to tell you today that we are filing charges, it would be wrong and unethical."
While there will be no criminal charges leveled against Twelve Tribes members or Xcel, the conclusions reached by investigators could certainly have an impact on civil lawsuits.
A class-action lawsuit filed last year by Eldorado Liquor owners George and Lisa Kupfner claims that the utility "substantially caused or contributed to the cause, origin and continuation."