Allison Hines named CEO of Boys & Girls Club of Larimer County
FORT COLLINS – Allison Hines, who had been senior vice president for resource development at United Way of Larimer County for more than eight years, will become CEO of the Boys & Girls Clubs of Larimer County on Feb. 1, the clubs announced Thursday.
Hines replaces Kaycee Headrick, who served as CEO from 2017 to 2022.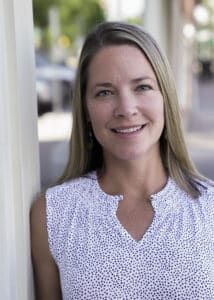 "She will undoubtedly continue to support and guide our organization in developing new and innovative ways to serve kids," said Pete Meyer, Boys & Girls Clubs of Larimer County board president, in a prepared statement.
Hines has more than 20 years of experience in the nonprofit and higher-education sectors. A longtime Fort Collins resident, she began working in nonprofit development after graduating from Colorado State University in 2001. During her tenure with United Way of Larimer County, she led the organization in increasing revenue by more than 40%. She grew several programs supporting local children and families, including establishing an endowed fund for WomenGive child-care scholarships and expanding the Colorado Reading Corps tutoring program into all three Larimer County school districts.
Hines was recognized as the Fort Collins Chamber of Commerce's Young Professional of the Year in 2015 and actively volunteers with Poudre School District, Foothills Rotary and the Fort Collins Soccer Club.
In her spare time, Hines enjoys hiking, running, skiing and spending time with her friends and family.
"The work of the Boys & Girls Clubs of Larimer County is vital to inspiring and elevating kids in our community, ensuring that every child who walks through our doors feels both supported and accepted," Hines said in a news release issued Thursday. "As a full-time working mom to a 10-year-old little boy, I know first-hand how important a feeling of connection and belonging is to his academic and developmental success. I'm excited to join the incredible staff at BGCLC and continue to expand our reach, ensuring that all families have access to our programs."
Deirdre Sullivan, president and CEO of United Way of Larimer County, added that "there is so much opportunity for expanded collaboration, partnerships, and demonstrating innovative ways of working to meet the needs of all youth and families in Larimer County. Allison's new role is a fantastic transition for our shared goals."
The Boys & Girls Clubs of Larimer County offers development programs to more than 2,500 youths ages 6 to 18 annually in Fort Collins, Estes Park, Loveland and Wellington. Its major partners include Bank of Colorado, PFS Insurance Group, Sage Homes and Dutch Brothers.