Controversy shrouds massive Superior life-sciences project approval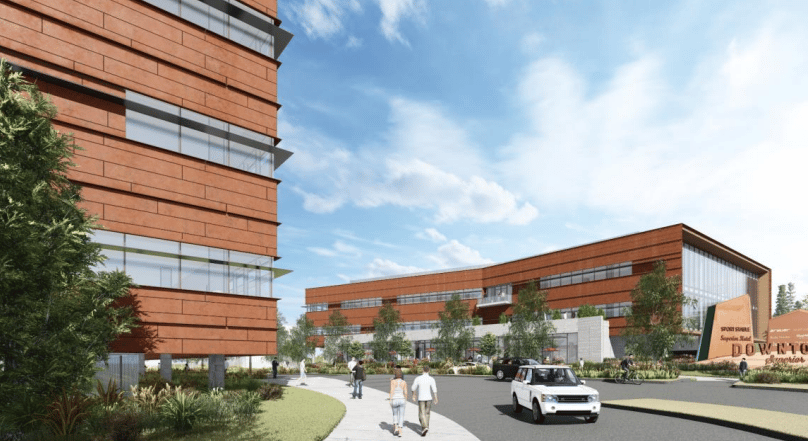 SUPERIOR — After a sometimes contentious, four-plus-hour Superior Board of Trustees meeting late last month — one that included a potential swing vote bailing before casting that vote — an out-of-state developer was granted approval to move forward with a office and laboratory project for life-sciences tenants that will reshape the face of downtown Superior.
The project, known as the Coal Creek Innovation Campus and developed on behalf of downtown Superior master builder RC (Ranch Capital) Superior LLC by San Diego health-care real estate developer PMB LLC, calls for the construction of four buildings totaling more than 366,000 square feet. A small percentage of that square footage will be dedicated to retail and amenities.
The $280 million Coal Creek Innovation Campus, approved on a 3-2 vote, is speculative, meaning that it is being developed before tenants have been identified.
"The anticipated tenant program is projected to be approximately 50% office space and 50% laboratory space," according to a memo provided to Superior planners by PMB.
According to PMB, which will develop the project with backing of investor Montgomery Street Partners, the "expected number of employees will vary depending on specific tenant and modality, ranging from approximately 300 to 700 square feet per employee."
On the high-end of that estimate, Coal Creek Innovation Campus could add more than 1,200 jobs.
"There aren't a lot of groups who could successfully do that," Ranch Capital LLC vice president and PMB senior vice president Bill Jencks said of PMB's track record with projects of Coal Creek's scope.
PMB, formerly known as Pacific Medical Buildings, was one of the developers of the Superior Medical Center, a 60,000-square-foot facility that was one of downtown Superior's first commercial projects.
Coal Creek is expected to break ground early next year with completion expected in the second half of 2024.
"Life sciences companies are looking to the Boulder/Denver region as a place where they can plant their flag or grow their operations. They are attracted to Colorado's highly educated and skilled workforce and ecosystem of educational and research institutions," Erik Abrahamson, senior vice president with CBRE, which is heading up leasing at Coal Creek, said in a prepared statement. "While historically it has been difficult to find available lab space in Boulder County, projects like Coal Creek Innovation Park are helping to change that."
Last week's approval, which has long been opposed by some locals on the basis of proposed building heights, the potential presence of hazardous materials, overall density, the inability for office space to energize the downtown area, and lack of transparency in the review process, was mired in controversy as Superior Trustee Laura Skladzinski, who attended the meeting virtually, logged out prior to casting what could have been a deciding vote.
Before leaving the Zoom meeting, Skladzinski spoke in opposition to the project, saying that she doesn't believe that "the life sciences campus will activate downtown."
In a blog post after the meeting, Skladzinski wrote that she "suspected a vote would be 4-2 in favor of the life sciences campus being approved" and took issue with the board's decision to extend the meeting beyond 11 p.m.
"As I have stressed repeatedly, it doesn't make sense to extend Board meetings late into the night – after a full day of work and five hours of the Board meeting, our concentration and reasoning abilities are weak," she wrote. "It's also clear that extending our meetings encourages us to waste a lot of time in the beginning that could be spent on much more important issues."
Superior residents opposed to the project vowed to remember the result of the Board of Trustees decisions in future elections.
"Live up to the promises you sold us, or we'll be pushing you out of the ballot box this November," Ryan Hitchler said in advance of the Aug. 22 vote.
Jencks acknowledged the opposition from residents and city officials, saying, "They've been vocal in their protest to this project, and I completely respect all of the input."
In recent years, the Boulder Valley has emerged as one of the nation's premier hubs for biotechnology. As such, millions of square feet of new and redeveloped office and laboratory space have been built for and marketed to life-sciences companies.
While many have cheered the phenomenon on — after all, life-sciences jobs pay well, and large-scale commercial operations help keep government coffers full — a groundswell of opposition appears to be taking shape.
In late August, members of Boulder's Planning Board grilled a conceptual redevelopment proposal by Boston-based investment outfit Beacon Capital Partners that calls for the construction of a 139,330-square-foot life-sciences building on what is now a parking lot in the Pearl East Business Park.
Concerns revolved around developers seeking to squeeze in traditional office space — which some local leaders and residents argue exacerbates the region's jobs-housing imbalance and does little to diversify the economy — under the guise of biotechnology-centric flex spaces with labs and manufacturing facilities.