For FirstBank VP, it's all Greeley, all the time
2022 Women of Distinction Honoree – Banking and Finance
Lindsey Galindo
FirstBank
For Lindsey Galindo, it's all about Greeley. Her work life, her volunteer efforts and her home life all are centered around the Weld County city in which she grew up.
"I still have a soft spot for Greeley," she said. "It's a wonderful community, doing a lot of great things."
Nearing her 16th year at FirstBank, Galindo is a senior vice president who also
serves as area manager over its two Greeley branches, which boast more than $200 million in total assets.
She has been a BizWest 40 Under 40 honoree, made the Greeley Tribune Who's Who and the list of distinguished alumni at the University of Northern Colorado, but admitted that "I don't really like the recognition. I just do what I do. I advocate for my community, co-workers and customers."
What Galindo does, she said, is to always try to find "the right thing to do whether it's work or family, trying to put things in perspective — making the right decision, not the easiest one."
The banking industry as a whole has changed, Galindo said. "The Great Recession hit right after I started, and now we have this little mini recession. But for our company, we just try to do a good job being a little more regionalized, a better job of engaging with one another collectively.
"You can see the fruits of that mentality, which I really like."
Galindo studied and graduated from the Graduate School of Banking at the University of Colorado Boulder in 2015 and took the American Bankers Association's Advanced Commercial Lending course at Southern Methodist University in Dallas in 2019.
Outside the bank, Galindo served seven years as treasurer for Friends of A Woman's Place and on the board of Greeley Centennial Rotary, in which she remains a member. She has been treasurer for Greeley Area Habitat for Humanity since 2016, has volunteered with Junior Achievement and United Way, and graduated in 2011 from Leadership Weld County.
"My spare time is all about my kiddos and their sports," Galindo said. "Our oldest two girls (ages 14 and 12) play competitive softball, and my son (age 10) plays competitive baseball." Her husband coached University High School baseball for 15 years and now coaches on the college level. "And then in the winter we do competitive basketball, all three kiddos, and volleyball, and my husband coaches them," she said.
"That is our free time. When COVID hit and not having all that was kind of nice for one week — and then you have to get back out there. It's kind of boring without it."
Whatever she'll do in the future, Galindo said, she'll do it in Greeley.
"I'll never leave," she said. "I'm thankful that the bank and my position allows me to do what I do right here and I don't need to go down to Denver to do the big deals or have people manage me. I don't have to go anywhere. I can do it right here and it feeds right back into the community."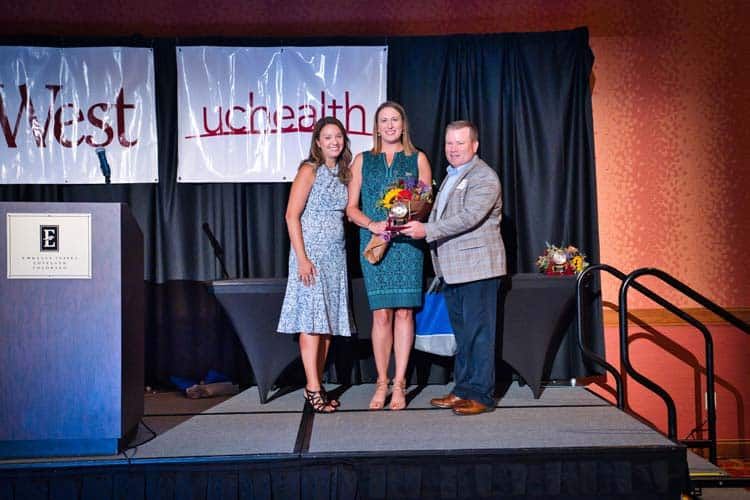 Dallas Heltzell
Staff writer
Latest by Dallas Heltzell: