Out Boulder County offers services for LGBTQ+ community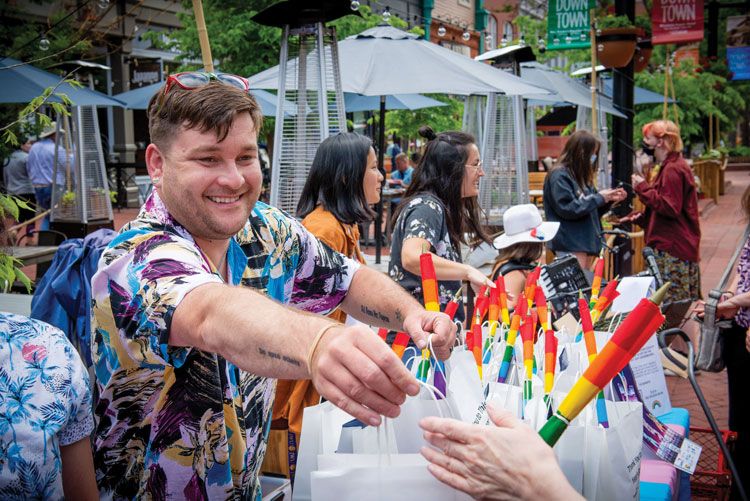 BOULDER — Out Boulder County has one-pagers for each of its services, but the 16 listed on the nonprofit organization's website fail to capture the breadth of its offerings.
"We try to meet all the needs of the LGBTQ+ community in the Boulder (area)," Out Boulder County deputy director Bruce Parker said."It's a one-stop shop that for such a large community, we really provide it all."
Out Boulder County's mission is "to facilitate connection, advocacy, education, research and programs to ensure LGBTQ+ people and communities thrive in Boulder County and beyond."
The Point, for example, serves as an entry point for the LGBTQ+ community members in Boulder County into mental health services if they are under-insured, uninsured or receive Medicaid or Medicare. The program, launched in October 2021, provides short-term therapy (up to three months) and case management to connect individuals to long-term providers and other supportive services in medical, behavioral health, housing, employment, education and other services. So far, The Point has served 157 people.
"It's an entry point into the mental health system," Parker said. "We also started to offer addiction services, a peer support specialist and activities for people in recovery."
Boulder County Pride, a week-long celebration of the local LGBTQ+ community to promote visibility, awareness and pride, runs this year from June 6 to June12. Activities include dancing, performances and social gatherings culminating with weekend Pride Festivals in Boulder and Longmont. The aim is to build community, make connections with other LGBTQ+ people and allies and celebrate the progress that has been made so far.
Out Boulder County's transgender programming includes the Trans & SOFFA BBQueer and Transgender Awareness Week and several support groups. The groups are Boulder County Gender Support, a peer support group for trans/nonbinary/gender-expansive people, the Queer and Trans Parent Support Group and the Supporting Transgender Family and Friends support group.
"To celebrate who they are is really important," Parker said. "We give them a safe place to be where they're valued for who they are."
Out Boulder County also runs a series of youth and adult groups, such as the QTPOC Program for Queer and/or Transgender People of Color, the speaking out volunteer speakers' bureau and the training program providing LGBTQ+ cultural competency geared toward businesses, service providers and nonprofits.
The speakers' bureau, for example, consists of members of the LGBTQ+ community, parents and allies who visit classrooms to discuss experiences of being LGBTQ+. The training program covers the meaning behind the LGBTQ+ acronym, related vocabulary, etiquette and ways to prevent discrimination and to not be discriminatory.
"Youth programming has always been at the heart of the organization," said Mardi Moore, executive director of Out Boulder County, adding that the nonprofit serves more than 1,000 youth a year and has served 400 youth so far this year.
Astrid Etemadi of Boulder sought Out Boulder County's services when she began living out her gender identity in high school and joined one of the nonprofit's high school youth groups.
"I was feeling very alone and did not have any connections with the LGBTQ+ community in Boulder," Etemadi said "Since being involved in Out Boulder County's services, I have made strong connections with the LGBTQ+ community in Boulder, and I definitely feel like a part of that community. … It provides a comfortable space for members of the community to connect and express themselves as well as it advocates for the community in Boulder and Colorado in general, making this place safer and more accepting of LGBTQ+ residents of Colorado."
Other annual events include Rainbows Over Boulder County, the Garden Party, Boulder County Pride, the Pool Party, the GAYLA and the Holiday Party.
Out Boulder County provides additional help and services such as direct aid for community members, including $100,000 in rent and bill assistance during the pandemic and $25,000 to those who lost their homes during the Marshall Fire in December 2021. The nonprofit also lobbies for legislation supportive of the LGBTQ+ community, such as HB22-1157, which would add demographic data in the health data collected by the Department of Public Health and Environment as a way to help address health inequities.
"A lot of our services help people live better lives," Parker said. "It's one thing to save a life; it's another to help people build better lives."
Out Boulder County originally was called Boulder Pride and was founded in 1994. As the LGBTQ+ community grew, so did the need for the organization to broaden its purpose beyond serving as a grassroots resource and emergency hotline for the LGBTQ+ community.
"An organized group of volunteers provided the services," Moore said. "The volunteers would take [turns] having stuff in their trunk, so if somebody was in need, they were in charge of the resources."
The nonprofit group became official in 1998 with a board of directors, six years later moving into a space rented to it by the First United Methodist Church of Boulder and opening a community center there called the Pridehouse.
Though the organization worked year-round, it remained associated with the annual Pridefest block party, so in 2010, the organization changed its name to Out Boulder to increase publicity and better represent the events, programs and services it offers. In 2016, Out Boulder became Out Boulder County to be inclusive of a larger area of the community.
In December 20021, Out Boulder County opened a larger, two-story community center and named it the Equality Center of the Rocky Mountains at 3340 Mitchell Lane in Boulder. The center is nine times the size of Pridehouse and allows for expanded programming and services. The basement is reserved for youth programming, the first floor for activities, classrooms and conference space, and the third floor for offices.
"Staff actually have space to work," Moore said. "We're still scrappy, but now we have space."
Out Boulder County operates with 14 full-time and three part-time employees, growing from an original staff of two. The budget also increased from $250,000 to $1.7 million a year.
"It's a process to build an organization," Moore said. "We've been painstaking about it and managing growth along the way."
Out Boulder County spreads awareness through its large and one-time events, outreach at other local events, a weekly newsletter and social media.
"It's our job to let people know the important issues that are impacting our community. … Our visibility matters and our representation matters," Moore said. "We try to show up in all kinds of spaces not built for us so we're included."
Boulder County residents "are pretty informed about LGTBQ+," Parker said, adding that he joined the organization six months ago and is impressed with what he's seen so far.
"I learned more and more about how much people and the organization do in the community," Parker said. "It is unique and amazing what it does for everyone."