Beef Sticks for Backpacks aims to fill every weekend food program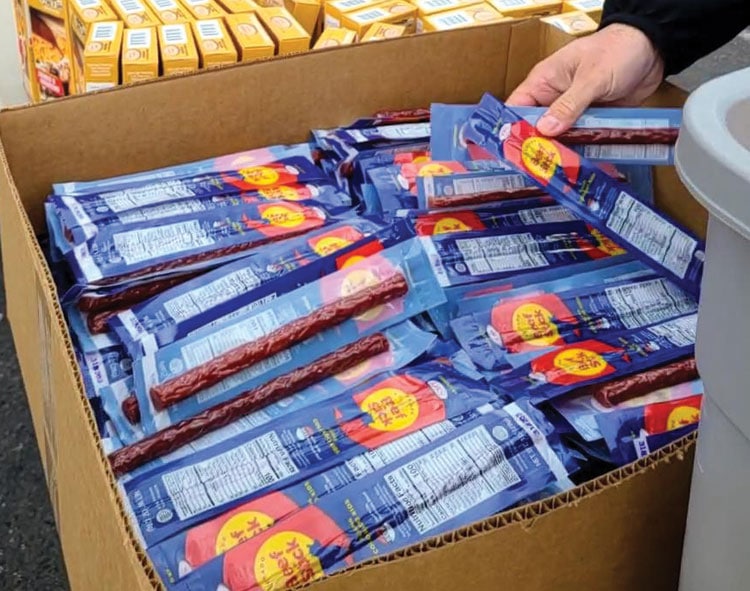 FORT COLLINS — Every week, 15,000 children across the state find a beef stick in their backpack — and by the end of next year, the nonprofit giving those out wants to double the number.
"Having the ability to increase production from 15,000 to 30,000 a week means we are reaching production and fundraising goals in addition to getting us closer to our final goal," Jordan Levi said.
Levi and his wife, Sharon, who moved to Loveland from Oklahoma in 2018, learned about a beef sticks donation program in Amarillo, Texas, and wanted to create something similar in Colorado. They started Beef Sticks for Backpacks in December 2019 with the goal to provide beef sticks to every hunger relief backpack program in the state.
"The agricultural business has been good to us. We wanted to have a way to give back as we ventured into this new place," said Levi, managing member and founder of Arcadia Asset Management LLC, which facilitated the purchase of the Five Rivers Cattle feeding operation in Johnstown.
The beef sticks add a protein source to the 12 to 14 shelf-stable items typically found in the food packs distributed to school-aged children facing weekend food insecurity. The children get the packs to make sure they have enough food over the weekend when they don't have access to school lunches. The sticks, containing 8 ounces of protein, end up being the most expensive item in the packs and aren't cost-effective for hunger relief programs to include.
"This allows the programs to spend money on other food they put in the backpacks," Levi said.
In Colorado, 30,000 to 40,000 of students are in a backpack program, representing up to 10% of students on free and reduced lunch. Beef Sticks for Backpacks aims to get one beef stick a week to every one of those students, an effort that takes a great deal of organization since each backpack program is independently funded and operated.
Beef Sticks for Backpacks initially started in Loveland after Levi learned about KidsPak, a backpack program started by the Loveland Rotary Foundation that now operates as a separate nonprofit. Volunteers pack shelf-stable items in grocery bags instead of backpacks, which are then distributed to schools in the Thompson School District.
"We are very, very grateful for the high-quality product that goes in our backpacks every week. … It's a high-quality protein and it complements the other food in the bags," said Tom Carrigan, chairman of KidsPak. "This is an incredible program they put together."
KidsPak sends out 550 food bags a week, while McBackpacks Organization, also in Larimer County, is at 400 bags a week and the Weld Food Bank backpack program that serves nine school districts in Weld County is at 1,800 bags.
Beef Sticks for Backpacks serves 10 backpack programs with the two in Larimer County, one in Weld County and one in Morgan County. To date, the nonprofit distributed 49,716 beef sticks to KidsPak, plus 32,455 to McBackpacks and 168,438 to the Weld Food Bank backpack program, which joined the program in fall 2020. The nonprofit produced and distributed a total of 552,040 beef sticks so far.
"We're excited about the progress we made in our first year of production," said Dan Byers, executive director of Beef Sticks for Backpacks.
Beef Sticks for Backpacks worked with several beef industry partners to procure the ingredients and produce the beef sticks. They include Levi's company as well as JBS USA, Meyer Natural Foods, Magnum Feedyards, the Colorado Cattlemen's Association, the Colorado Beef Council and Colorado State University's College of Agricultural Sciences' Department of Animal Sciences.
"We are real proud of the role the agriculture industry has had to play to get the beef stick program into play," Levi said.
JBS USA donated $750,000 worth of production equipment that is used to make the beef sticks and provides the raw materials on a weekly basis. The equipment is housed at CSU's Department of Animal Sciences in the JBS Global Food Innovation Center, where paid student staff members and faculty members do the work to turn the raw meat, spices and casing into beef sticks, using a proprietary recipe.
The pilot-size manufacturing center, called the meat lab, makes mainly meat products and serves as a learning area for a number of courses in the meat sciences program and as a site for graduate research.
This semester, a process meats course includes study of the steps and process for making the beef sticks. A new course proposed as an experimental elective class for the 2022-23 school year will look at the philanthropic and production aspects of making the beef sticks.
"It just formalizes it a little bit when you put it in curriculum format," said Bob Delmore, who holds a doctorate in animal sciences and is professor of meat science, meat quality and food safety for the Department of Animal Sciences. "I like the fact we're giving back. I like the fact that the system that we're building here helps our overall program in the animal sciences department."
The students working in the meat lab get an immersive, real-world commercial experience as they learn about maximizing production and measuring costs and yields on a monthly basis, Byers said. They are involved in the steps of meat production, including grinding and blending the meat and forming, cooking, chilling and packaging the final product, he said. They also test the product, pack it into cases, invoice it and get it out to "customers," which are the backpack programs, he said.
The students are learning what it takes to meet deadlines and safety requirements and do recordkeeping, Delmore said.
"They also learn how to work together as a group to make sure we get this done during the day," he said.
After the beef sticks are produced, food banks across the state pick them up and coordinate their distribution to the individual backpack programs. The food banks include the one in Weld County and the Food Bank of the Rockies and in 2022, the Care and Share Food Bank in Colorado Springs.
"We get volunteers from all the organizations that have been contributors, so the outreach has been tremendous," Byers said.
For more information or to give a donation, visit beefsticks.org/donate.