Fight against COVID gets a shot in the arm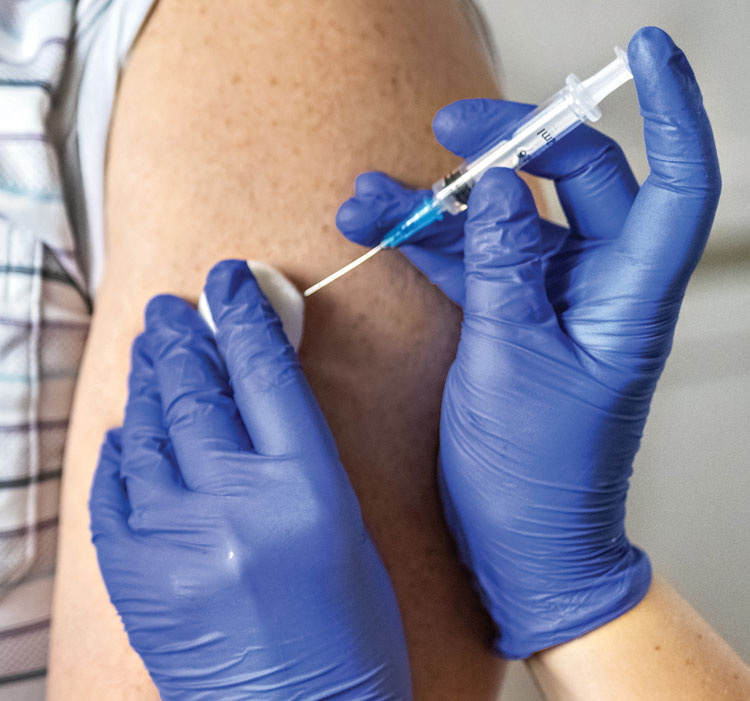 The rollout of vaccines designed to prevent infection with the coronavirus is prompting employers in the Boulder Valley, Northern Colorado and nationwide to take a wide range of actions — from mandates to incentives — to get needles into the arms of employees and customers alike.
The massive push for vaccinations — especially for health-care workers, teachers and people age 65 and older — comes as the state acts to jumpstart an economy battered by shutdowns, distancing rules and other restrictions ordered to try to stem the spread of the deadly virus.
Although the number of active COVID-19 outbreaks and hospitalizations continues to decline, the Colorado Department of Public Health and Environment still identified 741 outbreaks across the state during the final week of February.
One of the largest outbreaks occurred at Lifespring Covenant Church in Loveland, where four staff members and 16 attendees tested positive for the virus, CDPHE reported.
A similar spike in January prompted Fort Collins-based Columbine Health Systems to require that all staff members at its care facilities in Larimer and Weld counties receive COVID-19 vaccines by April 1. That decision was made after CDPHE reported 153 cases among employees and residents at Columbine's North Shore Health and Rehabilitation Center in Loveland. Three residents died at North Shore from the virus, according to the state.
Other health-care facilities have taken different approaches short of mandates.
At Centura Health, which runs several health-care facilities including Avista Adventist Hospital in Lafayette and Longmont United Hospital, "We are not mandating it at this time for our associates," said spokesman Kevin Massey. "We're strongly encouraging our caregivers to receive the vaccine. We've been working on campaigns to really encourage it, explaining the reasons we feel it is safe and effective, based on the science, but it is not a requirement."
In a written statement, Massey added that "COVID-19 vaccines were released under Emergency Use Authorization, and as such we do not feel it is ethical to compel our associates to receive the vaccine. This is true of most health systems across the country."
Labor-law experts do say COVID-19 vaccinations can be required as a condition of employment — but with certain exceptions.
In a guidance on pandemic preparedness written in 2009 during an H1N1 outbreak, the Equal Employment Opportunity Commission said U.S. employers could require employees to be vaccinated against influenza. However, University of Michigan law professor Kate Andrias told Healthline there are a number of exceptions.
Under the Americans with Disabilities Act, she said, "an employer must provide reasonable accommodations to workers who have medical conditions that make them unable to take the vaccine, if a reasonable accommodation is possible."
Also, under Title VII of the Civil Rights Act of 1964, she said, employers might refuse vaccinations if they have a sincerely held religious belief that precludes the shots and if not being vaccinated doesn't impose an undue hardship on the employer.
However, she added, "a personal or political opposition to vaccination is not sufficient."
Holly Helstrom, who teaches First Amendment rights for employees at Columbia University, told Healthline that "employers can and have fired employees based on lifestyle choices related to their health, including if they smoke cigarettes or drink alcohol," so "refusal to get a COVID vaccine if your employer is requiring one could get you fired and your employer would be within their legal rights to do so" — especially "if you work for a private-sector at-will employer."
At Columbine, health systems director Yvonne Myers defended the decision to mandate vaccinations.
"We will not get out of this pandemic unless we can get everyone vaccinated," she said. "The vaccine is the only way we can get out of this."
Columbine didn't require vaccinations at first, Myers said, but low staff participation forced its hand. "And then when we mandated it, we saw staff digging in and asking more questions. They had a lot of concerns — but based on a lot of misinformation in the social-media space.
"You could do a whole sociological study on the journey of vaccine acceptance," she said.
Myers estimated that about 50 of Columbine's approximately 1,525 staffers pushed back against the mandate. "Some employees have gone ahead and given their notice, saying they're not going to take the vaccine," she said. Others have sought exemptions based on medical or religious reasons, and Columbine is considering them on a case-by-case basis, Myers said. "And then people are notified whether it's granted or not."
Columbine can't do in-house vaccinations until it acquires a medical-grade freezer, so Walgreens had been holding clinics at Columbine facilities. With that contract now expired, Columbine applied with other suppliers until UCHealth in late February agreed to vaccinate staffers.
"So now, because we got UCHealth to be the interim between Walgreens and getting our own," Myers said, "we can tell staff, 'As long as you have registered and have an appointment, you don't have to have gotten the vaccine by April 1 to continue working for us."
Some employers are offering juicy incentives for their employees to get vaccinated.
Target stores, for instance, announced in February that it would offer up to four hours of pay for all its hourly workers if they get the two shots; Target also will cover the cost of Lyft rides to vaccination appointments as long as the trip doesn't exceed $15.
Orlando, Florida-based Darden Restaurants, whose brands include Olive Garden, announced that it would give its hourly workers two hours of pay for each shot they get. Trader Joe's grocery stores offered the same incentive, and Dollar General stores will give workers a one-time payment equivalent to four hours of regular pay after they receive a completed COVID-19 vaccination.
More than 2,500 employees of JBS USA's Greeley meat-processing plant will be able to get vaccinations beginning March 5. Early in the pandemic, an outbreak at the plant left 500 workers testing positive and six dead.