Bill signed to improve work chances for people with disabilities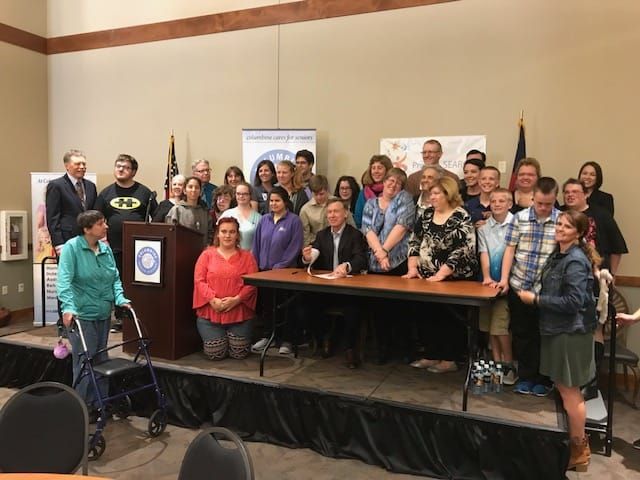 FORT COLLINS — Gov. John Hickenlooper used Fort Collins on Friday as a setting for the signing of a bill that will expand opportunities for people with disabilities to find employment.
Hickenlooper signed SB18-145, a bill authored by Sen. John Kefalas and Rep. Joann Ginal, both D-Fort Collins. The bill does four things, according to Kefalas.
It provides better training and requires certification of job coaches so that they can help people with disabilities find and adapt to their jobs.

It requires the state to track the numbers of people with disabilities who find work and record that information by geography and industry.

It sets up use of a discovery process so the Division of Vocational Rehabilitation can help individuals determine what they want to do in their work lives.

And it leverages the Colorado Business Leadership Partnership — a private sector group of employers — to help drive participation of private sector employers in efforts to employ people with disabilities.
"We want to be able to serve people with needs and help them find opportunity in their lives," the governor said before signing the bill. The preamble to the bill itself said that 85 percent of adults with intellectual and developmental disabilities are unemployed or under-employed.
Sen. Kefalas thanked local organizations who helped him draft the bill and pass laws benefiting people with disabilities. He especially called out The Arc of Larimer County, which, according to its website, "promotes and protects the civil rights and overall well being of people with intellectual and developmental disabilities." Kefalas also said Columbine Health Systems, where the bill signing occurred, is "a private sector employer that gets it."
Yvonne Myer, chief operating officer of Columbine, said in a conversation before the event that hiring people with disabilities can help employers fill critical positions — a task that is increasingly difficult given low unemployment rates.
"In the end, it's all about collaboration. What can we do in the private sector and in the public sector to help people get employment," Kefalas said.
Said Rep. Ginal, "Everyone deserves a chance to work."
Ken Amundson
Managing Editor
Latest by Ken Amundson: