Spirit of 76: Spiraling costs, oil and gas fuel growth along metro Denver's northeast gateway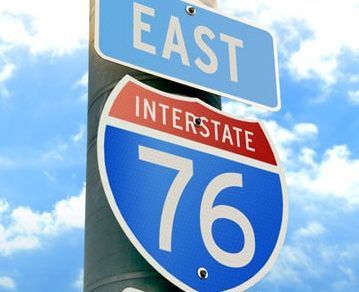 Interstate 76 may not be metropolitan Denver's most glamorous point of entry.
Trendy hotels and high-tech corporate towers don't crowd its exits, and scenic, forested hills don't line its shoulders. The flavor of the route that parallels the South Platte River is decidedly blue-collar, more known for agriculture, railroads, heavy industry, and oil and gas.
But as costs of housing and commercial space soar in the Mile High City and its collar counties, the once-sleepy rural communities that line the interstate — notably Lochbuie, Hudson and Keenesburg — are seeing increased interest from businesses looking for room to grow and first-time homebuyers being forced to "drive 'til you can buy."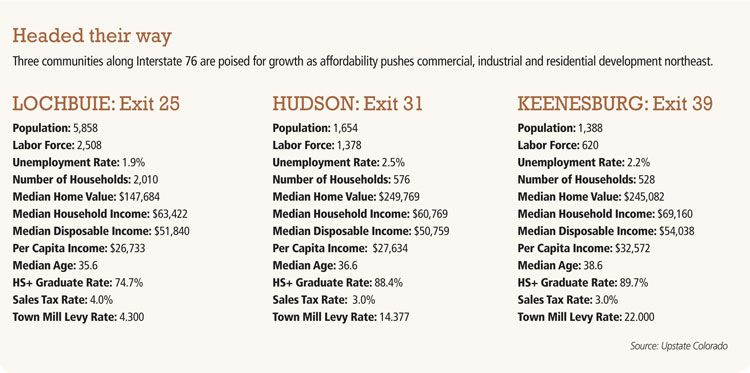 Affordability and space are just part of the draw for a corridor variously described as "underutilized" and "ignored." There's the quick access to Denver International Airport, location along a vital transportation link to Chicago and the populous Northeast, and proximity to energy development in the Denver-Julesburg Basin. It's an alluring story, and economic-development groups such as the Southeast Weld County Chamber of Commerce and Upstate Colorado are eager to tell it.
"Having worked 10 years in economic development for the town of Hudson, I'd say 'ignored' is an appropriate assessment," said Dan Hamsmith, vice president of the Southeast Weld Chamber. "I-25 has always been the key point of discussion from the state level, north and south, and I-70 west. That essentially leaves I-76 and I-70 east as the two areas I think need to have more focus.
"For our particular area, one of the things that has been lacking is that some of the municipalities from Lochbuie east have not typically had economic-development representation. If you look at the corridor as a whole — Arvada all the way to Julesburg (on Colorado's northeast corner) —– it's kind of a hit and miss."
"What people are looking for, as density grows in population centers, are alternatives, whether it's commercial, industrial or residential space," added Richard Werner, president and chief executive at Upstate. "We provide support to all of our Weld County communities, and highlight all the critical assets along that I-76 corridor."
Both organizations and the chambers of commerce in the communities along the route have resorted to conducted bus tours and even an annual expo hosted by the Wild Animal Sanctuary in Keenesburg to show potential developers what's available and help them envision the possibilities.
"One of the things we decided to do four years ago was to take that responsibility as a regional advocate," Hamsmith said. "We started with a bus tour leaving from the Prairie Center Mall in Brighton. We had two tour buses filled with business developers, those kind of folks, with representatives of the municipalities explaining what they were seeing and the possibilities for residential, retail and industrial growth. We'd end up at the sanctuary, and then we'd do follow-ups after that.
"When we did the first bus tour, we had people arriving in Brighton well before the tour and breakfast, and they were apologizing for arriving early, saying, 'We just didn't realize we could get here this quickly.' There's just not a lot of congestion out this way. It's very open, very agricultural. People tend to think it's a drive they don't want to make, but you can see it's not as problematic as people think it is.
[advert]
"So we just tell 'em, 'Here's I-76! It connects Interstate 70 and 80. It makes us great for logistics, for transportation.'  That's why the goal of Southeast Weld holding this expo is to bring eyeballs in and help them imagine what business could look like on I-76. Now Fort Lupton wants to join us — and out to Brush and maybe out to Sterling. We're getting a much bigger footprint."
For the past two years, they've focused on the annual expo at the Wild Animal Sanctuary. This year's expo will be from 9 a.m. to 2 p.m. Sept. 13.
"Vendors set up booths to be available to help people come out and look at the southeast Weld County area, and highlight key industries and strengths. We'll be identifying properties, zoning, access. We'll be highlighting three components: health and wellness, advanced manufacturing, and food and agriculture. We'll be setting up a speaker list to help that process through.
"If municipalities have joined with us, they'll have some availability to market themselves."
Hamsmith credited Upstate's Werner for helping to develop the united effort that originally was called the "I-76 Economic Development Initiative."
"He helped facilitate these things," Hamsmith said. "Our region just didn't have a lot of money devoted to economic development. The money was lacking for a major marketing initiative. So with that, we decided as a chamber and municipalities that we'd look at our partners to provide assistance and expertise we didn't have at the time."
Partners now include the Greeley-based East Colorado Small Business Development Center, local chambers of commerce and the state Office of Economic Development and International Trade. "That level of partnership is important to us," Hamsmith said.
Several officials also credited the completion and expansion of Weld County Road 49, the arrow-straight north-south artery connecting I-76 with U.S. 34 east of Greeley.
"These are the kinds of advance projects that drive the potential for this growth," said Debra Chumley, town manager in Keenesburg. "Most of the time, these kind of arteries don't expand until the demand is past due. But 49 is right on the cusp. By expanding that road the way they did, it gave us another beltway for transportation. It's a major asset to have in place."
"It's amazing, the infrastructure that's back there along 49 that's relatively new, within the last decade," added Guy Patterson, town manager in Hudson. "There's been a real uptick in production of oil extraction. That's creating new pressures that places like Hudson haven't seen before — and most of it's residential. You need bodies out there working that industry."
One of the tangible results of the increased marketing of the corridor is the launch of the 76 Commerce Center, a 1.8 million-square-foot Class A industrial park in Brighton. Hyde Development and Mortenson are developing the 122-acre site in Bromley Industrial Park. It is the largest speculative project in the Denver area, according to a news release.
The center is located on the I-76 corridor and will be located in an enterprise zone. It will have bulk and office warehouses, flexible building size options and state-of-the-art building features.
Another project is the long-awaited ground-breaking on a $100 million rail park in Hudson being built by Fort Worth, Texas-based BNSF Railway Co. (NYSE: BNI). The 430-acre BNSF Logistics Center Hudson will include loading and warehouse facilities for the railroad as well as 16 shovel-ready parcels of varying sizes that the railway will lease to companies that want to develop near the center — with infrastructure provided by BNSF.
Greeley-based Upstate Colorado is helping publicize the center to prospective tenants, Werner said.
"We've been doing a tremendous amount of work with BNSF on their regional rail terminal," he said, "helping them recruit companies and federal grants for infrastructure planning.
"But that corridor as a whole is a regional asset, from Weld County Road 49 all the way out to Fort Morgan and the rest of the Midwest. It's a simple model of growth that's occurring. Especially with the continued pressure of congestion and cost, our communities will benefit."
That pressure is being felt especially in the residential sector. The latest S&P CoreLogic Case-Shiller Indices showed 8.4 percent growth in metro Denver home prices in February alone, a pace that tied with Detroit for fourth-fastest growth in the nation and trailed only the double-digit gains seen in Seattle, Las Vegas and the San Francisco Bay area. Employers in the metro area are hiring at a pace 2.5 times faster than the nation as a whole, but a Trulia survey found that the inventory of starter homes was down 26.7 percent in the first quarter of 2018 from a year earlier, and that shortage has pushed prices for the lowest-cost homes up nearly 15 percent.
"That's why residential growth is starting to happen farther out," Hamsmith said, "and with that comes retail growth, primary employers, secondary employers."
Samantha Byrne, assistant town administrator in Lochbuie, the town nestled between Brighton and I-76, said growth there is primarily residential, with "a couple different developments pulling permits this spring."
The Silver Peaks development on County Road 2 currently has 415 homes with room to add another 400 to 500," she said, and Blue Lake, off County Road 37, has 372 and also could add another 400. Lochbuie Station, in the portion of town in Adams County, has 198 homes.
"Most of those are priced in the mid 300s," she said. "They're not cheap, but we get a lot of people commuting either to metro Denver or DIA. It's an easy drive to both of them."
"We've also got homes from the low 200s that you just can't touch anywhere else," added David Ott, a Lochbuie town trustee. "It used to be, all we had was a Subway, a Family Dollar, a liquor store, a bar and a gas station — but it's really starting to look like a town now."
The growth has prompted the need for additional infrastructure in Lochbuie, including Meadow Ridge Elementary School, which will open in August in the Silver Peaks neighborhood, as well as voter-approved widening of Weld County Road 2 from two to four lanes, a roundabout on the I-76 frontage road, and improvements to the water treatment plant that were aided by an $800,000 grant from the Colorado Department of Local Affairs.
"You could buy an acre foot of water for $4,200 in 2009; now it's almost $9,000," Ott said. "We make our developers bring their own water."
Patterson noted the pressure for residential development in Hudson, pointing to the Hudson Hills development that "sat in wrappers for about a decade" but now is burgeoning with "high-quality homes and great views of the Front Range.
"Even here, we're finding higher price points because you can get a little more acreage."
He's not surprised that growth finally is heading northeast.
"All development is low-hanging fruit. You do the easy stuff first," Patterson said. "All the other land available — Parker, Greenwood Village, Golden — all that was the much lower hanging fruit. Over 30 years, that has been saturated, and so you're getting to those remaining points, where we're next in line.
"Look at a place like Elizabeth in Elbert County. A completely different vibe. Trees, rocks, hilly. You would think they would have boomed. But now they're ready for a rocket ride, just like we are."
The population of Hudson had been relatively steady, he said, "but it's definitely going to uptick. I get a lot of interest, people kicking the tires about annexation. The town board is expecting growth. The consultants are expecting growth. I think it's definitely ramping up. So part of our discussion is how do we mitigate the traffic that's coming before it happens."
The next exit east is Keenesburg, where LGI is proposing 349 homes in "Evans Place," a residential development planned for a parcel previously zoned for business. Evans Place will be presented to town planners May 3 and to the town board May 7, Chumley said.
"Our grade school is only at half capacity, so this is a very good thing for the school district and they are very excited about it," she said.
"We don't have any housing inventory, just a small development that's doing some infill, but only has five lots left. We don't have anything else that's ready to go — so I believe that's what has attracted LGI out here."
"A lot of the people coming out of the metro area come to escape the large city," said Christine Roskop, owner of the Colorado Country Homes real estate agency in Keenesburg. "They want the small-town atmosphere, but I don't know if they're quite prepared for it. It's a huge change for a lot of folks. You don't have a movie theater, you don't have major shopping.
"But if they want to go someplace with a little less pricing and low commute times, I-76 is the place."
Interstate 76 may not be metropolitan Denver's most glamorous point of entry.
Trendy hotels and high-tech corporate towers don't crowd its exits, and scenic, forested hills don't line its shoulders. The flavor of the route that parallels the South Platte River is decidedly blue-collar, more known for agriculture, railroads, heavy industry, and oil and gas.
But as costs of housing and commercial space soar in the Mile High City and its collar counties, the once-sleepy rural communities that line the interstate — notably Lochbuie, Hudson and Keenesburg — are seeing increased interest from…
THIS ARTICLE IS FOR SUBSCRIBERS ONLY
Continue reading for less than $3 per week!
Get a month of award-winning local business news, trends and insights
Access award-winning content today!
Dallas Heltzell
Staff writer
Latest by Dallas Heltzell: