Christine Chin, Colorado State University — College of Business
2018 Northern Colorado Women of Distinction - Education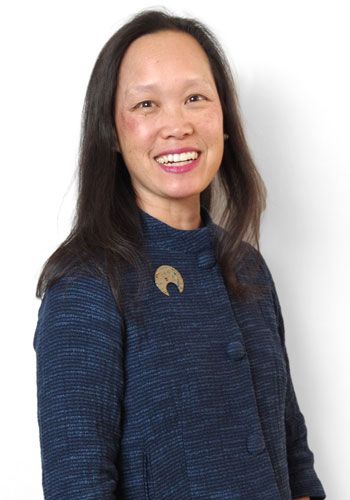 As director of executive programs at Colorado State University's College of Business, Christine Chin is responsible for implementing the blended classroom/online executive master's in business administration degree program and reimagining the college's executive education professional-development programs.
"In the immediate future," she said, "I'd love to continue building the executive programs to be a valuable resource for working professionals to be the best manager they can be, and move their teams forward and help them make a difference in the world."
If that's not enough to fill her plate, in December she also began leading the team that's launching a Global Business Academy summer program for high school students.
"Each area I've done work in has been a unique experience and I've learned something," she said. "I've valued and treasured every experience I've had. Each thing has been a unique challenge, with different solutions and wonderful people."
Chin's previous roles at the College of Business have included stints as director of strategic initiatives and interim director of the CSU business school's Institute for Entrepreneurship.
"I want to be inspired, challenged, be able to work with smart people to help visualize and deliver the next model for higher education," she said. "It will be a combination of delivery platforms — online and knowledge-as-a-service."
Before coming to CSU, she started Chin & Associates, a business consulting company that provided strategic and operational planning, market research and market development, and leadership and team development know-how to corporations, startups and emerging companies.

Before all that came a 20-year career in journalism-related ventures with media companies Knight-Ridder and Gannett. She held leadership positions around the country in marketing, strategy, circulation, and human resources, then served as president and publisher of the Bellingham (Wash.) Herald and the Fort Collins Coloradoan. She spent time at the helm of the Allied Daily Newspaper Association and was active in the Newspaper Association of America.
Chin's charitable work includes work on the boards of Poudre Valley Health and Medical Center of the Rockies. A former trustee of the Women's Foundation of Colorado, she also founded Give Next, a youth philanthropy program in Larimer County in partnership with Bohemian Foundation and the Community Foundation of Northern Colorado.  As a board member of the Poudre School District Foundation board, she helped launch a digital educator program that increased the use of technology in Poudre School District classrooms.  She also has sat on the boards of the Fort Collins Area Chamber of Commerce, Western Washington University Foundation, Whatcom Family YMCA, United Way of Whatcom County, and the UCLA Alumni Association.
Chin graduated magna cum laude and Phi Beta Kappa with a bachelor's degree in communication studies from UCLA and earned an MBA from Harvard Business School. She enjoys reading, baking, relaxing by the ocean, watching Formula 1 auto racing, and spending time with her husband and daughter.
View 2018 Women of Distinction publication.