Kalinski: Boulder Valley housing shifts to more-balanced market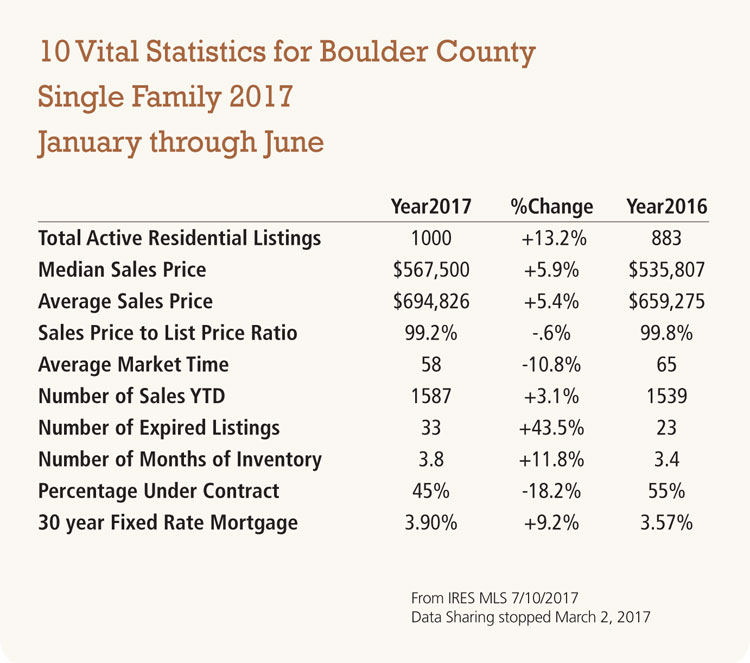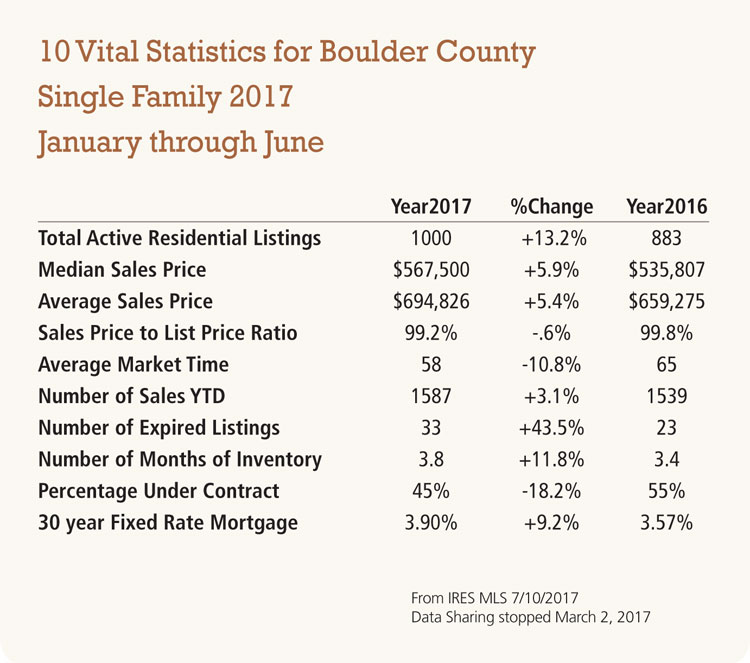 Real estate in the Boulder Valley has been red hot for the past five years, and while this is still the best place in the country to invest in residential real estate, the 10 Vital statistics we track indicate that our market is starting to recede from a strong seller's market and is shifting to a more-balanced market.
Overall, the Federal Housing Finance Agency still shows that Boulder County real estate has appreciated 354.78 percent  since the beginning of 1991, more than any other place in the United States. However, Boulder has dropped to 12th place nationally in terms of one-year appreciation, which was 11.23 percent. Nevertheless, this is the third year in a row that SmartAsset has named Boulder the No. 1 market for real estate growth and stability.
(Note the accompanying chart showing of the 10 vital statistics that we track for single-family homes.)
Let's take a brief look at what these numbers mean.
Total active residential listings: The more listings there are on the market, the better it is for buyers.  From 2010 through 2016, Boulder County had fewer listings on the market in each succeeding year.  2017 is the first year this decade during which there has been a year-over-year increase in the number of homes available on the market. This 13.2 percent increase indicates that the market is shifting toward buyers.
Median & average sales prices: Both of these indicators are up more than 5 percent, showing that we are continuing to appreciate. Last year, however, those figures were both more than 14 percent, showing that our appreciation is indeed slowing.  Slower appreciation is favorable to buyers.
Sales-price-to-list-price ratio: In the first half of this year, sellers are getting 99.2 percent of their asking price, which is an incredibly strong figure.  However, it is down from last year's mark of 99.8 percent, which is yet another indicator of the market shifting in favor of buyers.
Average market time: This is the average time it takes a home to close from the day it goes on the market. As you can see, homes are actually selling 10.8 percent faster this year than they did last year. This indicator favors home sellers.
Number of sales YTD: The number of sales is up 3.1 percent so far this year, which is arguably good for both buyers and sellers, as it shows more overall market activity.
Number of expired listings: While 33 expired listings throughout the county is still a very low number, the fact that it is up 43.5 percent over last year is a strong message to sellers that they have to be more careful when deciding on a listing price — coming on the market too high can mean that your house fails to sell.
Number of months of inventory: As I've noted before, a balanced market between buyers and sellers is generally expressed by about six months of inventory on the market (that is, if no more homes came on the market, how long would it take to sell the existing inventory of homes). While 3.8 months of inventory continues to indicate a seller's market, it is moving toward a balanced market compared to last year.
Percentage under contract: This year, 45 percent of the homes on the market are currently under contract, which is down 18.2 percent from last year.  Fewer homes under contract is good news for buyers as they have more inventory to choose from.
30-year fixed-rate mortgage: Average interest rates are a national figure, but they still have an impact on a buyer's ability to purchase a home.  This rate is up from last year, and generally goes against buyers, but these rates are still near historic record lows. If interest rates continue to increase, it could have a chilling effect against buyers.
On the whole, the 10 vital statistics show that, while we are still in a seller's market, we are unmistakably beginning to shift back toward a balanced market.  For any buyers who have been waiting to jump into the market, it seems now would be a great time.
Jay Kalinski is broker/owner of Re/Max of Boulder.