Why these four entrepreneurs moved to Longmont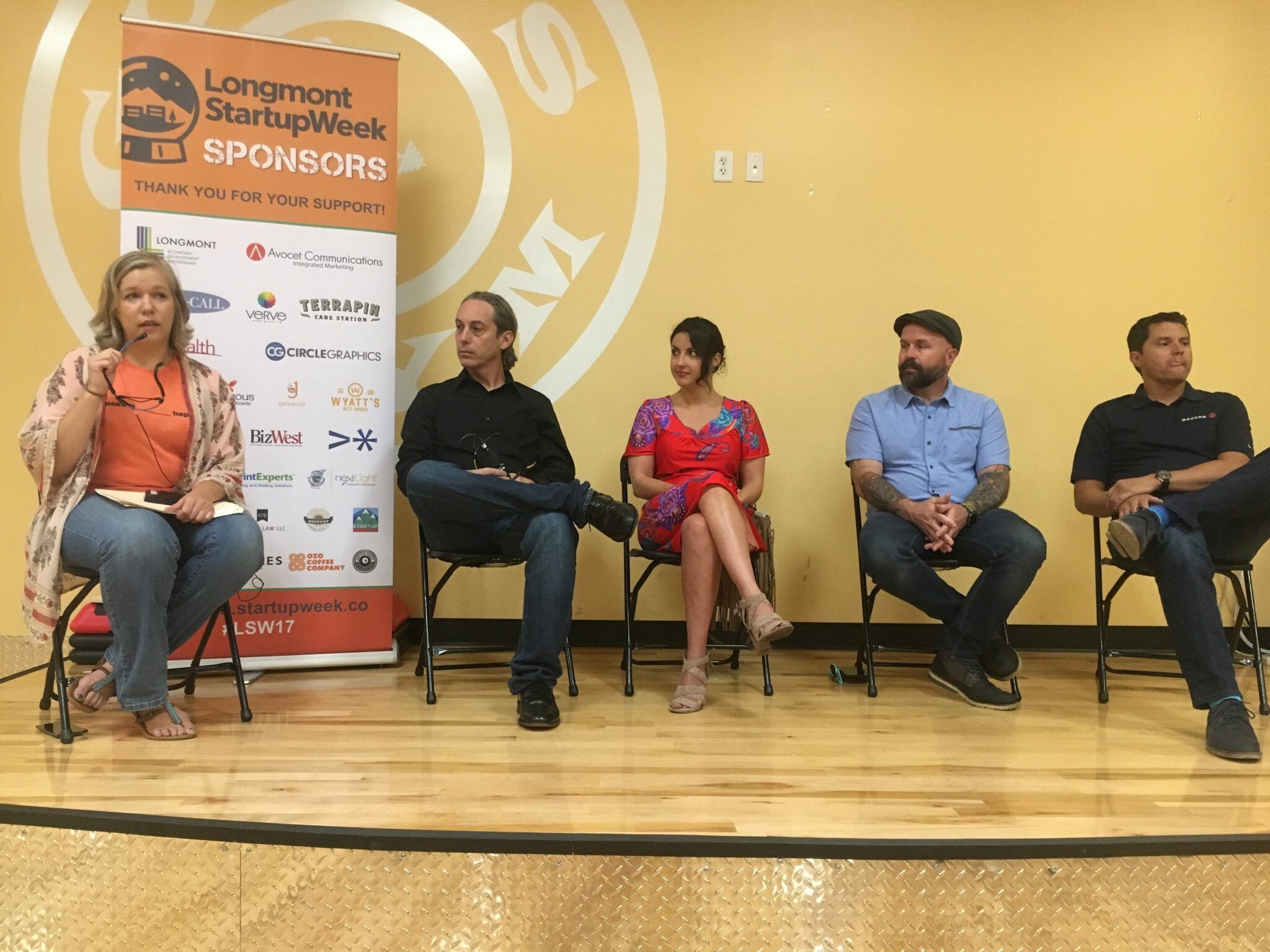 LONGMONT — Entrepreneurs and business leaders believe Longmont has the ingredients needed to be a hub for Colorado's tech and startup community.
Four small-business owners spoke at a panel during Longmont Startup Week about why they were attracted to the area, why they stayed and what it has been like operating a business in Longmont.
John Rokos, founder/CEO, Enemy Tree LLC
Rokos moved to the area from San Francisco, after spending six years working at Tesla and prior to that as the brand manager for White Out at Big Pens.
"Post-Tesla, my wife was a director of a nonprofit and she was ready for her next challenge," Rokos said. "We were burned out on the California culture: 24/7 work, the prices of everything. We wanted to be somewhere else with more community."
Rokos said he and his wife, who are from the Midwest, looked at the four places many entrepreneurs look at: Seattle, Portland, Boulder and Austin.
"The second we pulled into town in Boulder, my wife was into it," he said. "But when we did the research, the value wasn't there in Boulder anymore. The prices were almost as bad as the Bay Area. We wanted more community and so we started looking around there. Longmont started to really raise to the top of the stack. It was down the road from Boulder, super affordable and everyone we ran into was so giving of their time."
Rokos said when he learned about Next Light's gigabit Internet service, it was the straw that broke the camel's back.
"It's got this, that: the people, the talent, the community, and it's got the fastest Internet in the country," he said. "We immediately looked at houses and moved here."
Jessica Tishue, serial entrepreneur, director of marketing, Disruptive Marketing
Tishue moved to Longmont just a few months ago, after building her business in San Diego.
"I had an entrepreneur friend visit me in San Diego," she said. "I was used to friends being impressed with the glamorous life I had built. But this friend was not impressed at all. They said, 'Colorado is where it's at.' Intrigued, I came to the Boulder/Longmont area and instantly fell in love with the beautiful mountains, quality of life, everyone's values of sustainability. I kept visiting for three years."
Tishue said she too was tired of the quality of life in San Diego and the 24/7 work lifestyle. When she started speaking to Jessica Erickson, president and CEO of the Longmont Economic Development Partnership, Tishue said she was blown away with how helpful they were in supporting her.
"The prices in Longmont are really good for homes," she said. "I have an entire view of the Front Range. Everything I love is around me. I can bike to get my eggs, which is important to me, as is a sense of protection on the land. The taxes are cheaper and the Internet is fat. I've only been here a few months, but I feel I've made deeper connection here than I felt I ever made in San Diego."
Dan Lance, owner, The Roost and Jefes Tacos & Tequila
Lance, who also moved from Northern California, has a background in nonprofits and live music, where he combined the two to host and perform live shows to raise money for adoption issues.
While touring with a group of musicians, he came through Boulder and liked the area.
"My buddy, a best friend since college, moved from Reddng to Longmont and loved it," Lance said. "When we moved, I wanted to be close to friends. So I picked Longmont that way."
Lance said he was struggling with work at first, until he traveled to Colorado Springs to perform at a venue and saw it was a combined restaurant and performance space.
"I thought, you know what, I could do that," he said. Lance contacted his now-business partner, Sean Gafner, who was still in California overseeing restaurants as part of a conglomerate. Also wanting to do his own thing, the two decided to partner opening a restaurant concept in Longmont, where 10 percent of the profits would go back to adoption and live music would happen three times a week.
The two opened The Roost, on Main Street, in 2015. A year later, a second restaurant concept also on Main Street, Jefes Tacos & Tequila, opened.
"Denver has the fastest growth for restaurant startups in the country," Lance said. "Literally, this right here is the place to start a restaurant."
Lance said the two spots are growing and have been embraced by the Downtown scene.
Doug Campbell, president, Roccor LLC and Solid Power Inc.
Campbell has lived in Longmont for the past 15 years, but opened his businesses in Louisville.
"I had co-workers then who said Longmont was lame, but I ignored it," Campbell lame. "I drove through here, loved Old Town and bought a house 15 years ago. It's been really phenomenal to watch the community grow and mature. For whatever reason, all of my businesses were born out of Louisville. When I had the opportunity to pull (Roccor) out of Louisville I brought it to Longmont."
For Campbell, a benefit to having his business in Longmont is it's attractive to his customer base, which is mostly international.
"They love coming here to Colorado and Longmont," he said. "Every visit here they seem to tie it into a weekend to do something. It's a fantastic community in Longmont and Colorado as a whole."