Solix Algredients' pivot from biofuels to natural-food additives pays off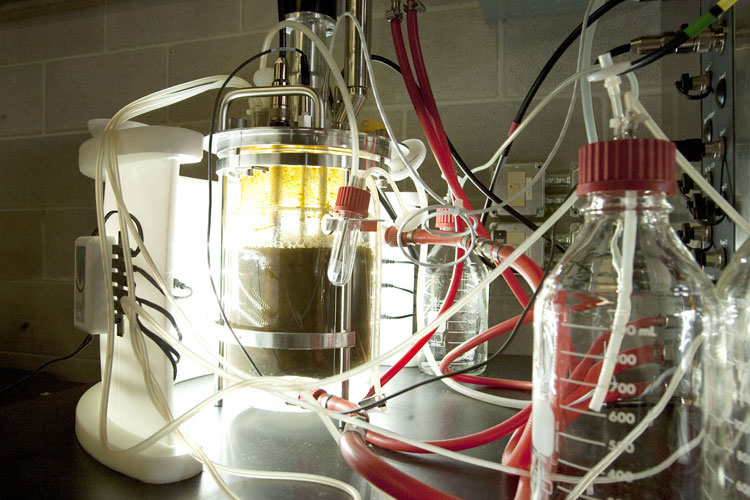 FORT COLLINS — The ability to adapt to a changing marketplace has put Solix Algredients Inc. on a healthy growth curve.
The Fort Collins-based firm got its start in 2006, looking to generate biofuels from algae. "When you go back to [that time], the price of oil was heading up towards $150 a barrel," Austin Maguire, president and CEO of Solix Algredients, explained. "There were lots of supply concerns and lots of focus on biofuels."
Early on, the firm patented an algae-growth system that Maguire calls "one of the best technologies" in the industry. Unfortunately for Solix, the timing couldn't have been worse, as the price of oil then began to fall substantially.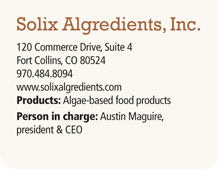 "It completely changed the economics of biofuels," Maguire said. "And around 2013, the company decided that investors weren't going to fund biofuel development any longer."
So Maguire was brought on board to help move Solix in a different direction. A chemical engineer hailing from Dublin, Ireland, he started his career with Exxon before moving to Tate & Lyle PLC, where he oversaw the British firm's global Splenda sweetener business for more than a decade. Later, he served as a consultant on development of the Stevia sweetener brand. And when a recruiter called him about Solix, he was ready for the challenge.
"The mandate at the time was to develop a strategy for the company that pivoted over into high-value food ingredients," he said in his classic Irish brogue, "to move away from biofuels but leverage all the experience the company already had in growing algae."
But the transition from fuel to food-based products also brought quality issues. "We have very stringent quality requirements – that's really part of my DNA," Maguire said. "I came from an FDA-regulated food industry, so I was very familiar with FDA good manufacturing practices, and one of the first things I did was to recruit a quality director from the pharmaceutical industry."
Maguire said the company has received verification from independent organizations such as the Natural Product Association and consumerlab.com, and their products are manufactured to USP (United States Pharmacopeia) standards.
Those products include SolastaAstaxanthin, an all-natural, non-genetically modified extract used in dietary supplements. Solix also has an omega-3 DHA — comparable to fish oil — that's just now hitting the market.
"And our main selling point is that this is a vegetarian, non-fish sourced product, grown from algae," Maguire noted.
Another unforeseen change of plans — relocating the algae-growing operations. The original strategy was to grow algae in Colorado, but due to economic factors, the company decided to outsource that aspect to farmers in various locations around the globe — locations the company won't reveal, considering it proprietary information.
Rather than market its own product, Solix operates on a business-to-business level. "We deal with branded companies and manufacturers that take astaxanthin, put it into soft-gels, package them and label them and send them to the retailers," Maguire said.
Even as a relative newcomer to the field, Maguire believes the company is starting to make some waves. "We're a little disruptive in the marketplace, and we have some big competitors who are entrenched, but I think we're producing very high quality products … and we have a supply chain that gives us a lot of advantages."
Prior to the transition, when biofuels were all the rage, the firm raised an estimated $63.8 million in venture capital, according to PitchBook.com, including a $31 million Series C funding round led by 12BF Global Ventures.
And so far, those investors are sticking around.
"Right before I joined the company they agreed to continue to fund us as we moved into the food-ingredients space," Maguire offered. He also mentioned the possibility of seeking additional funding in the next year or two in order to accelerate development of new products.
Solix in January filed a Form D with the U.S. Securities and Exchange Commission, stating that the company had raised $1.33 million of a planned $5 million debt offering, taking its total funds raised thus far to more than $65 million.
"It's quite a change for a company to pivot after six or seven years — that's required a change in mentality, a change in the organization," Maguire said.
And it appears to be paying off.
"If you look at the amount of product we sold last year, we hope to sell multiples of that this year," he said.
Editor's note: This article has been corrected to reflect that Austin Maguire is a chemical engineer, not a mechanical engineer.