Help wanted, stat! New hospitals trigger healthy competition for workers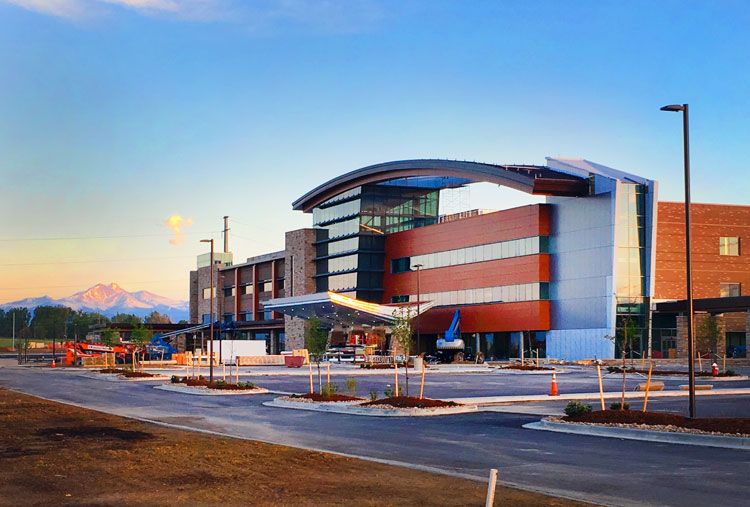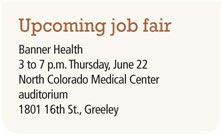 Drivers heading north from Denver on Interstate 25 aren't yet confronted with a road sign reading "Hospital: Next 14 Exits" — but it may not be long.
Major new health-care facilities have sprouted along the busy I-25 corridor in Fort Collins and Loveland, a new hospital will open on the eastern edge of Longmont late this summer, and another is likely to be up and running by 2019 in Greeley — not to mention a new hospital that opened last year in Broomfield. In addition, new clinics, urgent-care facilities, assisted-living and senior-care centers seem to pop up every month.
So many are opening or planned that Gov. John Hickenlooper last year even considered pushing a proposal to create state certificates of need for hospitals, asking the Legislature's Joint Budget Committee, "Should we have as many hospitals as we have?"
Growth projections for Northern Colorado and the Boulder Valley indicate the need is there — but how will all these new health-care facilities find enough workers to staff them — especially with the area's unemployment rates at or near national lows?
"Low unemployment's a problem, and we've been predicting a registered-nurse shortage for a long time," said Yvonne Myers, health-systems director for Fort Collins-based Columbine Health. "Everyone's fighting for a good nurse."
The hospitals and other care centers are competing not only for nurses and doctors, but also for technicians as well as clerical, information-technology, maintenance and other workers.
"Sometimes, we're looking for a chef too," Myers said.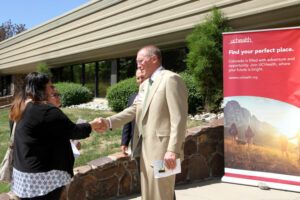 "We have a significant number of positions where we have a tremendous amount of interest, and others where we've not had as many applicants as we need," said Dan Robinson, chief executive of University of Colorado Health's new $192 million Longs Peak Hospital, which is receiving its finishing touches in Longmont. "We've hired over 210 people as of today, but it's going to take 300 to open our hospital later this summer. We need OR nurses, specialty nurses, radiology technicians, cardiac techs. We have another 80 or 90 to hire before we actually open, so we're anxious about the next couple months — even though we have a great resume pool.
"We have a lot of applicants, but we're concerned that the application pool is becoming smaller."
Robinson said his greatest staffing challenge is finding enough nurses for operating rooms and other specialties, but added that "those are also challenges at other health-care institutions. The shortage is not just us; it's within the industry. We're competing for the best talent with other organizations."
Margo Karsten, Banner Health's chief executive for Northern Colorado, echoed the need for experienced specialty nurses — especially for critical care, the emergency and operating rooms  — but also cited difficulties finding enough experienced lab managers, phlebotomists and medical assistants, as well as food and nutrition specialists, office help and maintenance people.
"High demand, low supply," she said.
"Each modality of care needs a specialized radiologist," Karsten added. "We haven't seen a shortage of those yet, but we're still watching it."
The Colorado Division of Labor and Employment ranked nursing seventh on a list of jobs projected to be most in demand through 2024, but first by a mile for the number of job ads posted during April — nearly double the second-place profession, truck drivers.
Driving the health-care construction boom is rapid population growth along the northern Front Range, and much of that population is aging Baby Boomers.
"As the population grows and ages, we know we have to have more health-care facilities to take care of that need," Robinson said.
That aging demographic falls squarely into the wheelhouse of Columbine Health, which provides housing and care for seniors at many levels. The challenge for Myers is finding workers who can relate to them.
"We always work on that prospective employee who likes to take care of older adults. If you love that, you want to stay," she said. "But if you're a new grad, you're not thinking of that — so we have a program to get them to think about caring for people in their 80s and 90s."
Younger arrivals, however, largely are attracted by Colorado's world-renowned quality of life — especially that mountainous horizon to the west.
Longs Peak Hospital "is positioned so Longs Peak is very prominent in the background when you drive into Longmont, going west on 119," Robinson said. "That environment is conducive to people wanting to move here."
When UCHealth decided Longmont needed a second major facility to join Centura Health's Longmont United Hospital, it looked at figures showing that the city and the surrounding communities including Niwot, Erie, Firestone, Frederick and Dacono had a combined population of 195,000 that probably would swell to 215,800 just three years from now.
UCHealth determined that central Weld County also needed a second hospital because more than 6,000 of the 65,000 patients its Greeley-area clinics treated in the past two years had to leave town to be admitted to another UCHealth hospital — Poudre Valley in Fort Collins or Medical Center of the Rockies in Loveland. Ground was broken in April for the 53-bed Greeley hospital, planned to be the centerpiece of a $185 million medical campus southeast of U.S. Highway 34 and 71st Street.
Conventional wisdom would suggest that the population boom would mean plenty of workers from which to choose. A thorn in that rosy scenario is the area's cost of housing, which many nurses on the message boards at allnurses.com called too steep to be affordable on the salaries health-care facilities were offering.
"As competition increases, it does create pressure to raise wages," Robinson said. "It does increase our costs, but it is expected. National and local averages are increasing at a more-frequent rate than we would have expected. To compete, in some cases we have to pay a bit more for moving expenses, or our on-call compensation may need to be increased for nurses and physicians to take hard-to-fill positions. To me, that's just a reflection of the growth of health care within our region."
At Banner Health, whose facilities include North Colorado Medical Center in Greeley, McKee Medical Center in Loveland and the 2-year-old Banner Fort Collins Medical Center, "We do an annual review and look for any key triggers to see if there is movement where we're falling behind," Karsten said. "We watch the data closely and listen to our staff."
How to lure health-care workers and stand out above the competition? "Constantly always putting your best foot forward," Myers said.
Health-care facilities try to market themselves as great places to work, she said. "Great health care in a great area brings great workers."
Myers said Columbine Health stresses local ownership and decision making, plus "relationship health care" — from rehabilitation to short patient stays, but also serving those with progressive debilitative diseases, "so we really get to know them and deal with their families. We have a resident who lived with us for 21 years," she said, "and our owner's mom is 101; she's been here since her 80s. So we look for people who want to make relationships with that senior and walk that journey with them."
Patients aren't the only ones who journey, she said.
"The best thing about nursing is you can change. We end up sharing the same nurses as they travel their lives too –– from 'med surg' to a doctor's office to senior care."
At UCHealth, Robinson said, "it's not an unexpected challenge, trying to create a cultural environment so we're the place people choose to work, patients choose to receive health care and doctors choose to practice. We have had great success recruiting talented positions from across the country.
"One of our strengths is that we have what I believe is a very strong benefit program for employees, which has helped us recruit some hard-to-recruit positions."
For Karsten at Banner Health, one incentive is bolstering the sometimes contentious relationship between doctors and nurses. "Our physicians' relationship with our clinical staff is the best I've seen in 20 years," she said.
"How can we be better at retention? We're going to make this the best place to work so that people are not going to want to leave us."
To meet the increasing demand for workers, especially in nursing, the officials hold frequent job fairs and advertise positions locally as well as nationally, but said another key is to work with colleges and even high schools. For instance, Banner has sought out interns from Greeley-Evans School District 6 as well as working with Front Range and Aims community colleges.
Myers said Columbine Health has helped Front Range assemble its program for licensed practical nursing and create career pathways for students. Columbine also has its own program for certified nursing assistants, she said.
"We're also trying to encourage men into health care," she said. "Some older people are going back to school and saying 'I couldn't do it before but I can now.' "
Robinson said UCHealth also collaborates for training with nursing programs at colleges around Colorado, "with an opportunity to become employed with us when they are trained. We also work with school districts to provide opportunities for them to volunteer, tour, talk to clinicians and physicians, which would create the opportunity for them to go into health care."
Part of meeting the hiring challenge is working together, through organizations such as the Northern Colorado Health Sector Partnership.
"We bring all the providers together and there's a workforce committee," she said. "They look at what are the predictions of needs in the future. What do you need next year? Next two years?
"We can all come together with a bigger voice so we collectively say 'We need 80' or 'We need 380.' Nobody loses ground or gives away secrets."
All that effort is driven by what the officials see in the headlights.
"We're one of the fastest-growing areas in the country," Robinson said, "so we can't sit back and wait. We've got to figure out how to staff the facilities of the future."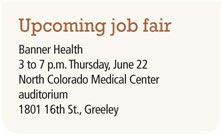 Drivers heading north from Denver on Interstate 25 aren't yet confronted with a road sign reading "Hospital: Next 14 Exits" — but it may not be long.
Major new health-care facilities have sprouted along the busy I-25 corridor in Fort Collins and Loveland, a new hospital will open on the eastern edge of Longmont late this summer, and another is likely to be up and running by 2019 in Greeley — not to mention a new hospital that opened last year in Broomfield. In addition, new…
THIS ARTICLE IS FOR SUBSCRIBERS ONLY
Continue reading for less than $3 per week!
Get a month of award-winning local business news, trends and insights
Access award-winning content today!
Dallas Heltzell
Staff writer
Latest by Dallas Heltzell: