Boulder-based company secures $200,000 DoE grant to reduce diesel emissions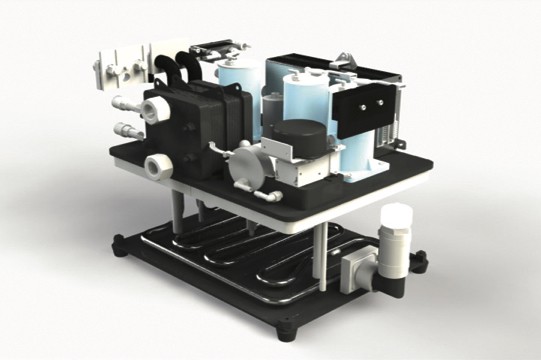 BOULDER — Clean-energy company BoostBox H2 is the recent recipient of a $200,000 grant from the Department of Energy, which will go to testing the company's hydrogen-based method for reducing diesel emissions.
The Boulder-based company partnered with Atlanta's NG1 Technologies and is subcontracting with Pasadena,Calif.-based CALSTART.
"We started working on a way to reduce the emissions from diesel engines," David Rechberger, CEO of BoostBox H2, told BizWest. "Right now, the leading technology to reduce emissions is a filter. But if the filter gets full, you have to maintenance them. And they can be concerning because they collect a lot of things that don't burn and become a hazardous-material containment issue. We believe the best way to reduce the emissions is without filtration."
To solve the problem, BoostBox is a hydrogen-on-demand system, which uses electrolysis to create hydrogen.
"A lot of people have been trying to come up with a way to efficiently generate hydrogen without caustic or hazardous chemicals," Rechberger said. "We found a way to do it using pure distilled water. We've had cells running over seven years that have had zero degradation and no additives but water."
Using his system, Rechberger said hydrogen — which burns hotter, faster and with less energy than diesel — can be used as a catalyst to pre-ignite diesel fuel, which reduces the unburnt soot you see coming out of the exhaust pipe of a diesel engine.
That system, combined with NG1's exhaust system, could be a major improvement on reducing diesel emissions without relying on a filter, which Rechberger said can cost $15,000 to $20,000 — about double the cost of a BoostBox over its lifetime.
The $200,000 grant is being used to test out this system. A sponsoring freight company is testing the system now, using a variation of BoostBox, NG1's product, the combination of the two and various fuels to see what works.
Rechberger said the impact of BoostBox's hydrogen-based system, which just uses distilled steamed water and eventually could test using reclaimed or gray water, could be massive.
"This is bigger than just automobiles," he said. "Think about diesel used in stationary power or off-road construction equipment. Farming or agriculture. Barging, shipping or freight. This is anything with engines."
In addition to the financial benefit of being more affordable than filters, BoostBox also doesn't require the maintenance that filters require.
Perhaps one of the biggest benefits is having a secure way of meeting emissions requirements.
"What happened with Volkswagen couldn't be a better spokesman for us when it comes to diesel emission," Rechberger said. "It showed the way our society tested this equipment and what's actually going in the atmosphere had no relevance to what's being produced by the engine. That's what was exposed by Volkswagen. We want to meet requirements."
Right now, products to meet those requirements are designed for big polluters — semi-trucks and large engines, but BoostBox could be rolled down to passenger vehicles as well.
"Eventually, it could be so not only do you go to the gas station and top off your fuel tank," Rechberger said, "but you add a gallon of distilled water."
Tests for the product are currently underway, and Rechberger said results should be published within a year.