UCAR, NREL to co-anchor The Innovation Corridor at WTC Denver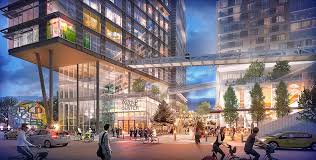 BOULDER — The University Corporation for Atmospheric Research and the National Renewable Energy Laboratory have agreed to set up shop at the World Trade Center Denver campus when it opens in 2019.
UCAR, based in Boulder, and NREL, based in Golden, will co-anchor The Innovation Corridor, a platform designed to connect federally funded labs with private industry to foster economic development and job creation.
The trade center at 38th Avenue and Blake Street in Denver's River North neighborhood is being developed by Formativ LLC, a Denver-based real estate and community development. The World Trade Center Denver will have a mix of WTC services, business headquarters, education, retail space and cultural events. Construction on the $200 million project is expected to begin late this year, and the first of three phases will open in  2019, according to Formativ.
"The resources associated with these two labs are unlike anything else in the world," said Eric Drummond, president of global strategy and chief legal officer of Formativ. "We are absolutely thrilled to have them as founding partners of The Innovation Corridor."
The U.S. Department of Energy's NREL is the federal government's primary laboratory dedicated to research, development, commercialization, and deployment of renewable-energy and energy-efficiency technologies.
UCAR manages NCAR on behalf of the National Science Foundation. It helps raise awareness of the value of federal investment in the Earth systems science community, including improved forecasts of weather, water, climate and solar storms.
The Innovation Corridor will allow scientists to demonstrate their technology and meet with potential business partners and investors.
"Private companies throughout the Front Range and beyond will now be able to harness breakthroughs by our scientists more effectively, thanks to this new partnership," UCAR' president, Antonio J. Busalacchi, said in a prepared statement. He said The Innovation Corridor will "leverage cutting-edge science in ways that will generate jobs, advance technologies needed to protect life and property, and boost U.S. competitiveness in the global economy."