Kalinski: Boulder Valley sees softening seller's market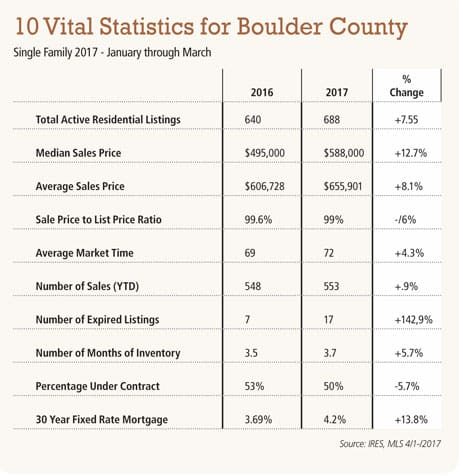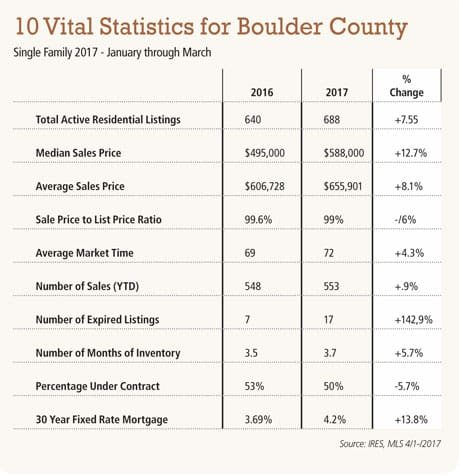 In February, I noted that the Boulder Valley seller's market continued through the end of 2016, but that changes could be coming. The first quarter of 2017 has started to bear this prediction out. The seller's market persists, but more and more indicators are pointing to the market softening in favor of buyers.
Boulder Valley still on top for appreciation
Boulder has appreciated more than any other metropolitan area in the country since 1991. The average home in Boulder County has appreciated 341.20 percent, up from last year's 303.62 percent. Boulder County, however, dropped from 7th place nationally to 15th place for home-price appreciation, with a 10.15 percent increase last year.
Seller's market continues, but weakens
The Boulder Valley has been in the midst of a strong sellers' market for several years, but there are now growing indications that the pendulum is moving back slightly toward a balanced market. In the first quarter, the average sale price of a single-family home in Boulder County appreciated by 8.1 percent over the first quarter of 2016, which is 0.7 percentage points below last year's appreciation rate. However, the unevenness we saw among markets last year has increased this year, with the city of Boulder appreciating only 2.6 percent, while Louisville appreciated 16.7 percent and Longmont 13 percent. As a side note, Longmont had been the last city within Boulder County with average single-family home prices below $400,000.  After this quarter, however, Longmont's average climbed to $415,518.
Another indicator of the weakening seller's market is the decrease in the sales-price-to-list-price ratio in the Boulder Valley. In the first quarter of 2017, homes and condos in Boulder County sold for 99 percent and 100.1 percent of their listing price — a decrease from last year of 0.6 percentage points and 2.1 percentage points, respectively. Last year on the condo side, each of the cities in Boulder and Broomfield counties averaged over a 100 percent sales-price-to-list-price ratio. And while that has held true in the first quarter of 2017, every city except Broomfield saw a decrease in the sales-price-to-list-price ratio.
Months of inventory is another indicator pointing to a softening seller's market. In Boulder County in the first quarter of last year, there were an average of 3.5 months' of inventory of single-family homes. In the first quarter of this year, months' of inventory are up to 3.7 months' and, while not a big jump overall (about six months' of inventory indicates a balanced market), some markets are up even more. For example, the city of Boulder has 4.7 months of inventory, and Longmont has 3.3 months, both up over 6 percent from last year.
One final sign of our shifting market is this year's increase in inventory.  For each of the last several years, the Boulder Valley had set an all-time low for inventory.  This year, however, the inventory of single-family homes in Boulder County increased 7.5 percent over last year. The attached-home market made an even bigger turnaround, with a 53.6 percent increase in total active listings compared with last year.
Buyers rising
While we are still in a seller's market, a number of indicators are pointing in buyers' favor. Buyers now have more homes and condos from which to choose, those home are appreciating more slowly, and sellers are not getting as much above asking as they have been recently.
Savvy buyers may have to act quickly, however, to take advantage of this situation.  While interest rates are still near historic lows (currently just over 4 percent for a 30-year fixed conventional loan), the Fed has signaled its intent to increase rates two more times this year, so buyers may want to buy now before they see their buying power diminished by increasing rates (remember the 1 percent = 10 percent  rule we discussed here: https://bizwest.com/2017/01/16/increasing-interest-rates-mean-local-home-buyers)
Jay Kalinski is broker/owner of Re/Max of Boulder.