CLOSINGS
C.B. & Potts Restaurant and Brewery will expand its brewing operation in the Denver Tech Center, using equipment currently being used in Fort Collins at its Campus West Taphouse on Elizabeth Street. The company began searching for a new brewing site in November after selling its West Elizabeth Street property, where the company has been brewing beer. The company will continue to brew beer at that location until May 1, when it must vacate the building. The taphouse on Elizabeth Street has closed.
J. C. Penney Co. Inc. (NYSE: JCP) released a list of 138 department stores slated for closing, including its store in Longmont, part of a previously announced downsizing. J.C. Penney will close four stores in Colorado, including the one at 955 S. Hover Road at the St. Vrain Centre in Longmont, plus stores in Fort Morgan, Glenwood Springs and Sterling. Most stores will begin liquidation sales April 17 and close in June.
Sunflower Bank announces an expansion of its Business Banking team and client offering in Boulder, Longmont, and Broomfield as part of its commitment to creating possibility and economic growth in its communities.
Pateros Creek Brewing planned to close its doors this month at 242 N. College Ave. in Fort Collins, citing rising rents driven by a $9 million remodeling project on the block where it's located. Pateros Creek co-founder Steve Jones said he's exploring whether to reopen at a new location or contracting with another brewery to produce Pateros Creek beers.
Longmont United Hospital is closing its Homestead Adult Day Services program. The nonprofit program, which assists 30 senior citizens in maintaining self care, will close April 28. The Homestead program provides a break for a day for caregivers and seniors with challenges such as dementia.
CONTRACTS
Private jet-charter firm Mountain Aviation, based in Broomfield at Rocky Mountain Metropolitan Airport, is joining the Aviation Marketplace to offer single-seat rentals on its flights. The marketplace, created by MemberJets LLC in Overland Park, Kan., lets members who otherwise could not afford it access private jet services.
Studio Architecture, a Boulder-based architecture and urban-design firm, was selected to provide on-call architectural services to the city of Longmont. The one-year contract may be renewable for four more one-year periods. Studio will provide architectural, engineering and technical services for a variety of city departments.
Roccor LLC, an aerospace supplier, signed a licensing agreement with the Air Force Research Laboratory. Roccor will license patents to use the lab's technology. Roccor said it will use those patents, called High Strain Component technology, to help devices handle high pressure and high strain and use it on spacecraft solar panels. Roccor plans to mass-produce the solar panels. Roccor, founded in 2011, recently expanded its Longmont facility.
Pearl Izumi, a designer and manufacturer of cycling apparel, has become a sponsor of USA Triathlon. It will be the exclusive provider of cycling apparel, training apparel and cycling shoes for the USA Triathlon National Team, USA Paratriathlon National Team and Team USA. USA Triathlon will give Louisville-based Pearl Izumi cycling gear to national champions at all four USA Triathlon-owned national championships. USA Triathlon members will receive Pearl Izumi benefits, including special offers on PearlIzumi.com through a personalized discount code, and teams and clubs can receive up to 20 percent off Pearl Izumi custom orders.
Boulder-based Zayo Group Holdings Inc. (NYSE: ZAYO) was selected by an unnamed Infrastructure as a Service company to provide colocation, wavelengths and IP solutions. The financial terms of the deal were not disclosed. A spokesperson for the company would not say who the customer is, citing that the customer prefers to be kept a secret, but the client will use space and power in Zayo data centers in Denver, Chicago and Atlanta. The client will also use wavelength circuits connecting locations and a dedicated IP service.
Biodesix Inc., a Boulder-based developer and manufacturer of blood-test kits, signed a deal to have its blood tests for patients with advanced lung cancer marketed and distributed in Israel. Tel Aviv-based Progenetics Ltd. will handle Biodesix's kits for its GeneStrat and VeriStrat liquid biopsy tests. Financial terms of the deal were not disclosed.
EARNINGS
Surna Inc. (OTCMKTS: SRNA), a Boulder-based tech firm that designs and manufactures products used for the indoor growth of cannabis, reduced its loss in 2016 compared with the previous year. Net loss was $3.3 million, or 2 cents per share, compared with $5.3 million, or 4 cents per share. The company reported revenue of $7.6 million for the year, down from $7.9 million in 2015. Surna's backlog — sales amounts under contract but which were not yet completed and not included in revenue — was $2.6 million at the end of 2016, up substantially from $1.4 million at December at the end of 2015. Fourth-quarter revenue grew 20 percent year-over-year and 72 percent compared with the third quarter. Revenue was $2 million, compared with $1.7 million in the fourth quarter of 2015 and $1.2 million in the third quarter of 2016.
UQM Technologies Inc. (NYSE: UQM), a developer of alternative-energy technologies, reported a loss of $8.7 million for its most recent quarter that ended Dec. 31. The Longmont-based manufacturer of electric motors, generators, power electronic controllers and fuel-cell compressors, generated revenue of $1.7 million for the quarter, up from $1.3 million posted for the same quarter a year ago. The $8.7 million loss, or 18 cents per common share, compared with a loss of $1.4 million, or three cents per common share, for the same period last year.
KUDOS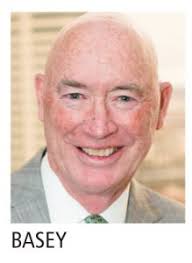 Centennial Bank and Trust chief executive Jim Basey received the Colorado Bankers Association's 2017 Bankers of Distinction award. Basey has more than 47 years of banking and community leadership experience. Centennial, a subsidiary of Heartland Financial USA Inc. (Nasdaq: HTLF), has 17 Colorado locations including Boulder, Broomfield, Erie and Nederland.
Broomfield and Boulder counties are two of the healthiest in the state, according to the 2017 County Health Rankings from the Robert Wood Johnson Foundation. The rankings look at health outcomes and the health factors that influence a county's overall health. For overall health, Larimer County came in at No. 9 while Weld County ranked 17th.
Longmont-based Eight Black Transport was named 2017 Operator of the Year for companies with one to 10 vehicles during the International Limousine Charter and Tour Show held March 14 in Las Vegas.
FIRST Robotics Team 43788 (Ridgebotics) from Fossil Ridge High School in Fort Collins will compete April 19-22 in the FIRST championships in Houston. The team is sponsored by Poudre Valley REA, the Denver Broncos, HPK Restoration LLC, Metal Distributors, Fort Collins Dodge Chrysler Jeep, RBC Wealth Management, Interstate Batteries, Walker Manufacturing, Blue Margin, Batteries Plus, Dykeman Trophies, Exponential Engineering Co., Western Belting and Wolf Robotics.
Niwot-based Parascript, which specializes in data extraction powered by machine learning, was selected for the second year as one of the "100 Companies That Matter in Knowledge Management" by KMWorld, an information provider for the latest trends and best practices in knowledge, content and document management, KMWorld chooses companies that represent the best in applied innovation dedicated to helping businesses manage their knowledge base.
Alliant National Title Insurance Co., a title insurance underwriter that partners with independent agents to improve their competitive position in the marketplace, has completed its third-year surveillance audit and maintained the ISO 27001 Certification for 2017.
The Colorado State University Bookstore in Fort Collins was named the 2017 Collegiate Retailer of the Year by the NACS Foundation, a subsidiary of the National Association of College Stores. The honor was announced this month at CAMEX (Campus Market Expo) 2017 held March 3-7 in Salt Lake City.
Fort Collins-based RLE Technologies was named to CRN's 2017 Data Center 100 List as part of the "Data Center Management Provider" category. One of only 20 firms to receive this designation, RLE was recognized by CRN for its tools which detect environmental hazards in data centers and other critical facilities.
Level 3 Communications Inc. (NYSE: LVLT) was recognized by Gartner as a global network services company to watch. The Broomfield-based telecommunications company was included in Gartner's magic quadrant, a metric that ranks technology companies as leaders, challengers, visionaries and niche players based on their completeness of vision and ability to execute.
The Longmont Economic Development Partnership announced finalists for its annual Cornerstone Awards, which were to be held at a networking and dinner event April 12, when winners will be announced. The nominees and award winners in some of the categories were selected by a committee of Advance Longmont Partner organizations that included the Longmont Area Chamber of Commerce, Small Business Development Center, TinkerMill, Startup Longmont and Longmont Downtown Development Authority. The 2017 Cornerstone Awards nominees in each category are: Primary Job Creator: Sticker Giant, Droplet Measurement Technologies, Intel Corp. and Roccor. Project of the Year: ChromaDex, Sticker Giant, BC Services and Droplet Measurement Technologies. Rising Star: Left Hand Design Corp., Preferred Packaging Products, Premium Powder Coating and Akonia Holographics. Local Business: Journey Learning Center, Eye Care Center of Northern Colorado, Dairy Queen and Ziggi's Coffee. Startup: SensorNova, Colorado Tech Shop, St. Vrain Cidery and XY Motion.
MERGERS AND ACQUISITIONS
The U.S. Department of Justice has approved Danone's acquisition of The WhiteWave Foods Co., under the condition that Danone divests of organic milk manufacturer Stonyfield Farms.
Danone announced March 31 its plan to divest of Stonyfield Farms as a way to expedite its $12.5 billion acquisition of WhiteWave, which has a major operation in Broomfield.
Boulder-based PivotDesk Inc., an online marketplace for office sharing, was bought by one of the largest high-end co-working companies, Brooklyn-based Industrious, which has 18 co-working spaces, including in Los Angeles, Chicago, Atlanta and Denver. Terms of the deal, including acquisition price, were not released, and spokespeople for PivotDesk and Industrious did not return requests for comment by the time of publication.
Beleaguered biotech company GlobeImmune Inc. entered into a definitive purchase agreement for a majority stock sale of nearly 13 million shares of its common stock to California-based NantCell Inc., a wholly owned subsidiary of NantWorks and an immuno-oncology company. NantCell is paying GlobeImmune $100,000 in cash for the stock, as well as 200,000 shares — or $2 million worth — of NantCell's common stock.
Boulder-based Zayo Group Holding Inc. (NYSE: ZAYO) closed on its acquisition of Electric Lightwave. The deal closed on March 1 and was immediately integrated into Zayo's operational performance, the company said. Zayo did not update what the deal closed for, but previous reporting listed that the agreement was for $1.42 billion.  With the acquisition, Zayo said it expects its total EBITDA to be about $1.33 billion by the end of the year and for its revenue to grow in the mid single digits.
Chicago-based Conagra Brands Inc. (NYSE: CAG) agreed to acquire Boulder firms Thanasi Foods LLC, maker of Duke's meat snacks, and BIGS LLC, maker of BIGS seeds. Financial terms of the deal were not disclosed. The transaction, subject to regulatory approval, is expected to close this summer.
Shareholders for Broomfield-based Level 3 Communications Inc. (NYSE: LVLT) and CenturyLink Inc. (NYSE: CTL) overwhelmingly approved all proposals related to the merger of the two companies announced in October and valued at $34 billion.
Bank of Colorado and its parent, Nebraska-based Pinnacle Bancorp Inc., agreed to acquire AmFirst Bank located in Nebraska and Colorado, a wholly owned subsidiary of AmFirst Financial Services Inc. Financial details of the transaction were not disclosed. The deal is expected to close in July, pending regulatory approval.
Greeley-based beef, lamb and pork processor JBS USA Food Co. plans to acquire Danish Crown A/S' U.S.-based bacon, ham and deli meat business, Plumrose USA, for $230 million.
Greeley-based JBS USA, a wholly owned subsidiary of JBS SA in Brazil, expects the transaction will close during the second quarter of this year after clearing regulatory review and approval, and customary closing conditions.
MOVES
CBRE Group Inc., a commercial real estate services and investment firm based in Los Angeles,  moved its office in Boulder to the city's downtown area in the Wencel Building at 1301 Walnut St., on April 3. CBRE (NYSE: CBG) is moving the office from 1600 Range St., which it opened in 2014. It also operates offices in Fort Collins, downtown Denver, the Denver Tech Center and Colorado Springs. CBRE is leasing the 2,000-square-foot space from W.W. Reynolds Cos., owner of the Wencel Building. Lease rates were not disclosed.
SpotX, a Westminster-based ad-technology company, is moving from Westminster to Broomfield. The company has signed a lease for two floors, or 38,700 square feet, at 8181 Arista Place. SpotX provides advertisements used in online video. Advertisers place bids to space that is recognized by the system as available.
The Loveland Reporter-Herald was to move its offices from its current location at East Fifth Street and North Cleveland Avenue in Loveland to 801 N. Second St. in Berthoud as of April 10. The move will house the publication at the Berthoud printing center owned by parent Prairie Mountain Media, based in Boulder. The move follows a similar consolidation for the Longmont Times-Call, which in February moved its operations to a Boulder building that houses the Prairie Mountain-owned Boulder Daily Camera.
NAME CHANGES
Northern Engineering Services of Fort Collins and Ketterling, Butherus & Norton Engineers of Greeley merged two years ago, allowing both firms to expand the depth and reach of services offered to clients. The firm discontinued the KBN tradename and will move forward transacting all business as Northern Engineering.
The Professional Independent Insurance Agents of Colorado changed its name to the Trusted Choice Insurance Agents of Colorado.
Atomic20, an advertising firm that focused on using freelancers, is rebranding as Teem as it doubles-down on the contractor and gigging economy.
OPENINGS
Oskar Blues Brewery is opening its first Boulder location with a taproom and live music venue on Pearl Street. The Longmont-based brewery will lease the former World of Beer space at 921 Pearl St. and expects to open in late summer.
Greeley-based general contractor Hensel Phelps Construction Co. leased space in Thornton, where it will open an office, expanding its presence in Colorado. Hensel Phelps leased 17,425 square feet of space at 12121 Grant St. and is in the process of building out the office.
ProsperOats will open a breakfast/lunch cafe in May on the Arista development's main street in Broomfield. The Denver-born concept will bring oatmeal, yogurt and açai bowls, as well as local coffee, tea, fresh juices, and snacks to go. The store will be at 8001 Arista Place, Suite 125.
Elevations Credit Union will move its headquarters within Boulder as part of an expansion plan as it adds branches in Boulder and Fort Collins. The headquarters, currently at 2300 55th St. in Boulder, will be moved to its recently renovated branch at 2960 Diagonal Highway, which served as the credit union's headquarters from 1996 through 2003.
Technical Framework, a full-services information technology company in Fort Collins, has opened an office at 1120 38th Ave. in Bittersweet Plaza in Greeley.
Glenwood Springs-based Alpine Bank is planning to build a branch bank at 2375 Canyon Blvd. in Boulder. This will be the employee-owned community bank's 39th location in Colorado, where it's been operating since 1973.
The building that housed a Johnny Carino's Italian Restaurant in Longmont has been acquired by Beau Jo's, a chain of pizza restaurants based in Lakewood. Owner Chip Bair expects the restaurant will be open by this summer. Beau Jo's Longmont LLC paid $2.6 million to real estate developer David Chaknova of Niwot for the 6,938-square-foot restaurant and the 1.5 acres it sits on in the Village at Burlington at 2033 Ken Pratt Blvd., according to public records. Johnny Carino's constructed the restaurant in 1999, and it has been empty since the restaurant closed in April 2014. After the restaurant closed, Chaknova acquired the property from a group of investors in 2015 for $1.23 million, according to public records. That group had acquired the property from Carino's in 2003 for $2.5 million.
PRODUCT UPDATE
Loveland-based Innvictis Crop Care introduced Crossover Pro as a first-of-its-kind formulation combining Propiconazole and Lambda Cyhalothrin for superior insect control while adding disease protection at an economical cost to the producer.
VetDC, a veterinary cancer-therapeutics company based in Fort Collins, began selling Tanovea-CA1, its drug that treats lymphoma in dogs to licensed veterinarians in the United States.
InvitedHome, a vacation-home-rental company that specializes in luxury houses, developed a new platform to make it easier for homeowners to monitor the abodes they are renting out. The Boulder company released HomeCraft, a dashboard that lets the owners of the vacation homes see when their home is being used, how much revenue they're bringing in and when the house needs a capital improvement, among other features.
SERVICES
Lucky's Market, a Boulder-based chain of natural-food grocery stores, will begin offering its Sip 'n' Stroll program to shoppers at its store at 695 S. Broadway in South Boulder. The program, already offered in Lucky's Market stores outside Colorado, allows customers to buy a $2 pint of local tap beer from the Lucky's Café and drink it while shopping for groceries. Lucky's Market stores in North Boulder and Longmont are not offering the program.
Boulder-based Gaia Inc., a yoga and meditation video-streaming service, is now available on Comcast Xfinity On Demand. The subscription service, which streams its videos on services such as Roku and Apple products, can now be accessed by Comcast Xfinity TV customers. They  can subscribe for $9.99 per month directly from their TV. New content — including documentaries, films and guided practice — will be added each month. In addition to the yoga and spiritual content of Gaia, customers can also access Gaiam TV Fit and Yoga, which is focused on yoga and fitness.