Kalinski: Strong housing market continues, but some indicators softening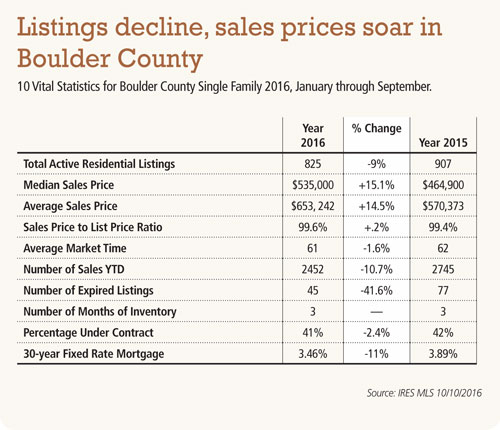 The strong housing market continued in the third quarter, in Colorado in general and the Boulder Valley in particular.  The latest statistics published by the Federal Housing Finance Agency rank Colorado as the third-fastest-appreciating state in the nation over the last year at an impressive 10.21 percent (compared with the national average of 5.61 percent).  Boulder County is even more impressive, leading the entire nation for appreciation in the past year (14.72 percent) and since 1991 (329 percent).  According to Veros Real Estate Solutions, Boulder County is projected to appreciate another 10.5 percent through Sept. 1, 2017, which places it as the No. 2 residential real estate market in the country.[i]
Single-family homes
For single-family homes in Boulder County, the strong seller's market has persisted.  Looking at the key indicators, total listings continue their downward trend (-9 percent), average sales prices are up about 14.5 percent to $635,242, the average market time is down slightly (61 days from listing to closing), and the months of housing inventory has remained at three (with about six months indicating a balanced market). The biggest surprise on the single-family side has been the appreciation of homes in suburban mountains, which have enjoyed a 40.2 percent price appreciation from January through September, up from $490,372 to $687,696.  It seems this price surge has not escaped current mountain-home owners, many of whom have decided that now may be the time to sell, resulting in a 21.6 percent jump in the total number of listing on the market there.
Attached dwellings
For attached dwellings (condos and townhomes), the signals are more mixed. On one hand, the average and median sales prices are up a whopping 17.9 percent and 30.1 percent, respectively, and the average sales-price-to-list-price ratio is 101.7 percent (meaning, on average, that sellers are getting more than asking for their units).  This price jump has led to a 38 percent spike in the number of attached listings on the market, as sellers sense that now is a good time to sell. On the other hand, this reaction by sellers has resulted in a 40 percent increase in average market time and a nearly 5 percent drop in the percentage of units under contract.
What the number mean
While this is still a strong seller's market, these numbers above indicate that it is a great time for buyers looking for an attached unit in Boulder County, as there are more places for buyers to consider, and it is taking listings a bit longer to go under contract. Louisville stands out as a particularly good places for buyers, with a 180 percent increase in the amount of total active listings and more than five months of inventory.
On the single-family side, it is still more decidedly a seller's market, but now is a better time to look compared with next spring, when there will be more buyers in the market and prices will likely appreciate more quickly once again as we see the return of multiple offer bidding wars.
Jay Kalinski is broker/owner of Re/Max of Boulder.