Safarik: Master mediator and visionary
2013 Women of Distinction - Government, Energy, Utilities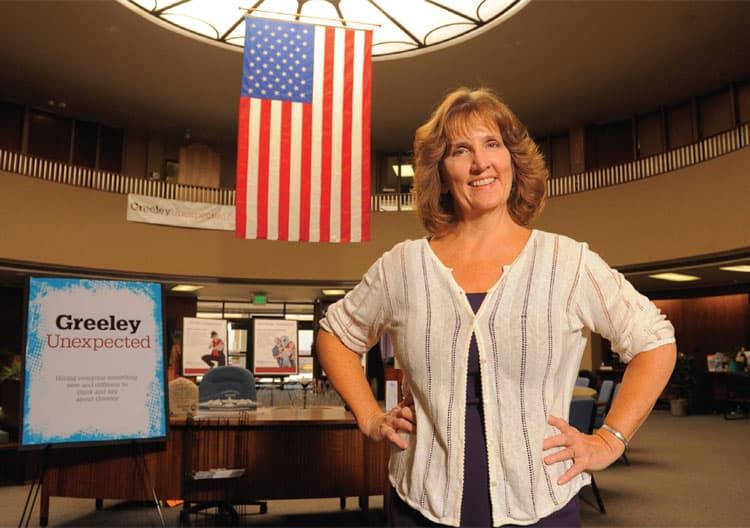 Look anywhere in Greeley, and you will find Becky Safarik's work. Described by colleagues as the "backbone" of city planning, Safarik has had a hand in every major project in Greeley for more than three decades.
Safarik, 59, is being honored as a 2013 Woman of Distinction for her work in government. Credited with numerous revitalization and historic preservation projects, Safarik spearheaded the development of the Leprino Foods site, bringing 500 jobs to Greeley.
"Becky is one of the most intelligent and creative people I have ever known," said Roy Otto, Greeley city manager. "Working with her has been and is one of the biggest blessings in my life."
Safarik created the funding plans for redeveloping the city's former sugar beet factory. She also laid the groundwork for Greeley's University District. Right now she's helping guide the proposed $13 million hotel and conference center in the heart of downtown. She's even helped kick off a bus tour to show off all that the city has to offer.
Currently Greeley's assistant city manager, Safarik has worked in planning and development for the city since 1978, stepping away from planning once to serve as interim director of the city's parks and recreation department for nine months.
Known as a master mediator, "She can take a room full of differing opinions and in a calm and intelligent manner, create a consensus for moving forward," said one colleague. "She rarely takes the credit she deserves."
That ability, coupled with her passion for the city, has won her praise far beyond the borders of the city. Greeley's Neighborhood Building Blocks program received top honors from the International Chiefs of Police for fostering partnerships within and throughout the community to provide safe, supported neighborhoods. Neighborhood Building Blocks was also recognized by the National League of Cities as a model of community policing.
Arts and the environment are also a passion for Safarik, who currently serves as board chair for the Greeley Creative Arts District and is a founding member of the Poudre River Trail Corridor. The 21-mile recreational area recently received a $5 million grant to expand its open spaces and trails. It's a project that brings her great pride.
"It will have a profound impact on preserving and increasing the outdoor enjoyment of our wonderful river corridor in Northern Colorado for years to come," she said.
When not working on city development projects, Safarik is active in community work including service on the boards of the Weld Mental Health Association, A Woman's Place shelter, Creative Arts Center, CASA, the Sexual Assault Recovery Center, the Foreclosure Prevention Taskforce, Greeley Rotary and United Way of Weld County.
As for advice to others in the workplace, Safarik keeps it short and simple: "Do what you love and give each day your best."
It's advice she's used to make the entire community a better place.