Rossman's work a national model
2013 Women of Distinction - Health Care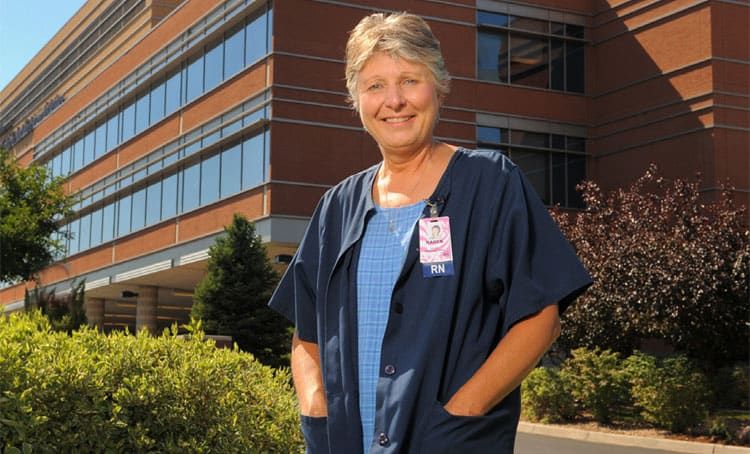 Karen Rossman hopes to one day make her job obsolete. As lead lactation consultant for the North Colorado Medical Center Outpatient Lactation Clinic for 14 years, Rossman works to knock down barriers to breastfeeding in Colorado and throughout the country.
Rossman, 57, is being honored as a 2013 Woman of Distinction for her work in health care. Serving hundreds of clients a year, the clinic, under Rossman's leadership, helps new mothers navigate the complexities of breastfeeding – from initiation to weaning. This self proclaimed "breastfeeding detective" and her colleagues provide nearly 24-hour support for breastfeeding moms who are struggling with the process. Each mother and child face unique issues and Rossman, an international board-certified lactation consultant, helps mothers figure out how to provide vital nourishment for their newborns.
"There is most definitely an art and a science to breastfeeding," said Kelly Brown, mother to a premature baby who consulted with Rossman. "Clearly she has mastered that art and science in an incredibly loving and kind way. She is an advocate for breastfeeding, but she never leaves vulnerable parents feeling judged."
Rossman began a nursing career after graduating from the University of Northern Colorado's nursing school in the late 1970s. During her second year as an RN she began working in the hospital's nursery and intensive-care nursery where she developed her love of serving newborns and their mothers. That love fueled her work at the lactation center, where she and her team have created a lactation consulting facility that's a national model.
"New mothers don't have the resources that they need, they don't have the mentoring and the educated support that they need to succeed. That's the biggest problem in the United States," said Rossman.
Along with helping new mothers with nursing issues, Rossman has worked to help pass legislation ensuring that Colorado's workplaces make accommodations for nursing mothers – something she hopes to see pass nationwide.
And because breastfed babies have fewer health problems as infants and as adults, Rossman's work over time can result in billions of health care dollars saved nationwide. That's another reason she's so committed to her work.
"I'm right where I'm supposed to be. I love what I do, and do what I love."